Ben Carson's Race Campaign
The presidential candidate avoids talking about race on the stump, but he's placing spots on conservative talk radio offering a very different message.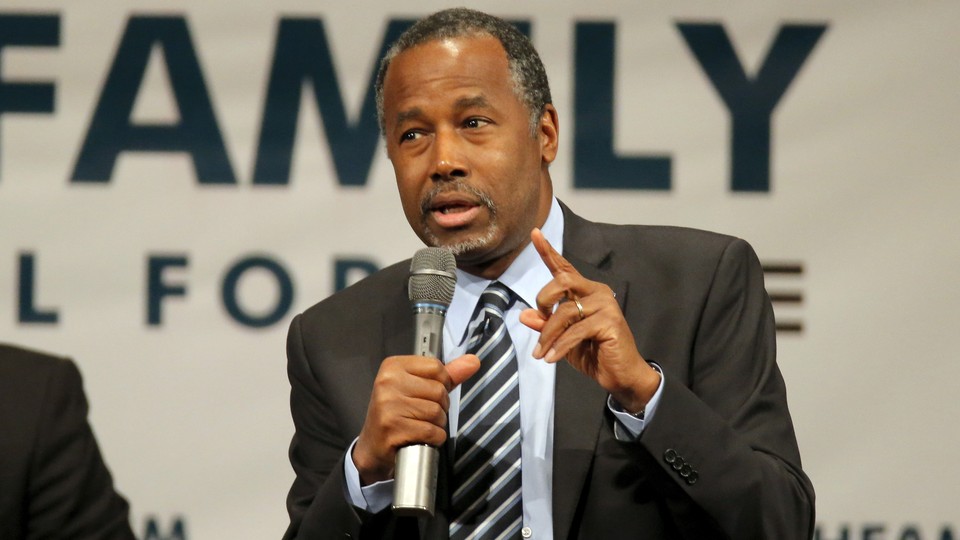 Ben Carson, the retired neurosurgeon and Republican presidential candidate, doesn't mention race in his stump speech. Asked about it, he tends to deflect, rejecting racial distinctions as divisive.
But Carson's ad campaign in the runup to last week's South Carolina GOP primary was a different story. On right-wing talk radio in the state, his campaign had two race-based ads in heavy rotation. One inveighed against affirmative action as "racial entitlement," while the other depicted black crime as a "crisis." Taken together, the ads were a striking attempt to provoke white voters' racial attitudes by a candidate who has otherwise avoided the subject.
The first ad began with a timely invocation of the late Supreme Court Justice Antonin Scalia, who, the female narrator says, "thought affirmative action was wrong—that racial entitlement preserves the way of thinking that produced slavery, racial privilege, and hatred." It continued:
More than anyone else running for president, Dr. Ben Carson knows about race and hatred. He was raised in the ghettos of Detroit. He saw the face of hatred, bigotry, and violence firsthand. So when Dr. Carson says we should replace affirmative action with compassionate action, that it's a fairer way to treat people, we should listen to him. Judge Scalia's life has taught us, if you've lived the life you believe in, you've earned the right to speak about what it has taught you. The rest is just political correctness.
The second ad began by describing the recent meeting between Al Sharpton and Bernie Sanders, which it depicted as a pandering photo-op. "Al Sharpton loves posing for pictures," the male narrator says, "but what has he done to ease the plight of African Americans?" It went on:
FBI crime statistics show 52 percent of murders were committed by African Americans last year. It's a national tragedy. Only one candidate knows firsthand what it takes to overcome poverty and racial violence: Dr. Ben Carson. Growing up on the mean streets of Detroit, he lived it, day in, day out. So when Dr. Carson says government dependency leads to more poverty, broken homes, crime, and incarceration, we should take note. He's a leader who's spent his life helping others, saving lives. And he can spot the difference between a crisis and a photo op.
Such sentiments—that affirmative action harms blacks, that black crime is the biggest threat to the black community—are a staple of black conservative rhetoric, but they are usually directed at black audiences, urging African Americans to lift themselves up by changing their ways rather than seeking policy solutions. (Liberal critics charge that this type of talk ignores the structural racism that prevents black people from rising on their merits.) But Carson's commercials were airing on conservative talk radio, where the audience is overwhelmingly white.
I asked Carson's communications director, Larry Ross, about the ads and whether Carson was running a race-based campaign. He said he was not, but that Carson had "a message of empowerment for the African American community." Ross pointed to Carson's campaign rhetoric about getting away from a culture of dependence and creating "ladders of opportunity" as instances of that message.
Carson, Ross said, was hoping to appeal to the 30 percent of the South Carolina electorate that is black. When I expressed surprise at the idea that an ad on conservative talk radio would be aimed at a black audience, Ross said it was aimed at everybody. In Saturday's primary, the electorate was 96 percent white.
In Carson's speeches that I have attended, race has not been mentioned. That was the case when he spoke in Florence, South Carolina, on Friday; he railed against dependency and the absence of faith from the public square, but made no explicit reference to racial issues.
Carson came in last in Saturday's primary, and his campaign seems to be flailing after a high-profile shakeup and a series of missteps since his brief moment near the front of the pack last fall. But he still has a powerful appeal for a segment of the conservative electorate. His appearance in Florence had to be moved from a barbecue restaurant to the convention center due to demand, and drew about 600 people.
The audience members I spoke to, almost all of whom were white, admired Carson's sense of conviction, and they bristled when I asked if his race was a factor. "I don't think race plays into it at all," Dave Thomas, a 65-year-old sales manager, told me. Carson's success, he said, "proves that if you work hard and stay out of trouble, you can succeed, no matter who you are or where you come from."
Despite his campaign's dim hopes, Carson appears to be proceeding out of a sense of near-messianic drive. "People ask me constantly, 'Is it really worth going through all you have to go through to run for president?'" he told the crowd here. "Being attacked and having your family attacked, to be always on the defensive—the answer to that is no. Not if you're doing it for yourself. But the answer is a resounding yes if you're doing it for the nation."