A Death That Reshapes U.S. Politics
The passing of Antonin Scalia roils the presidential campaign and could leave the Supreme Court deadlocked until 2017. Will the Senate even consider a replacement nominated by President Obama?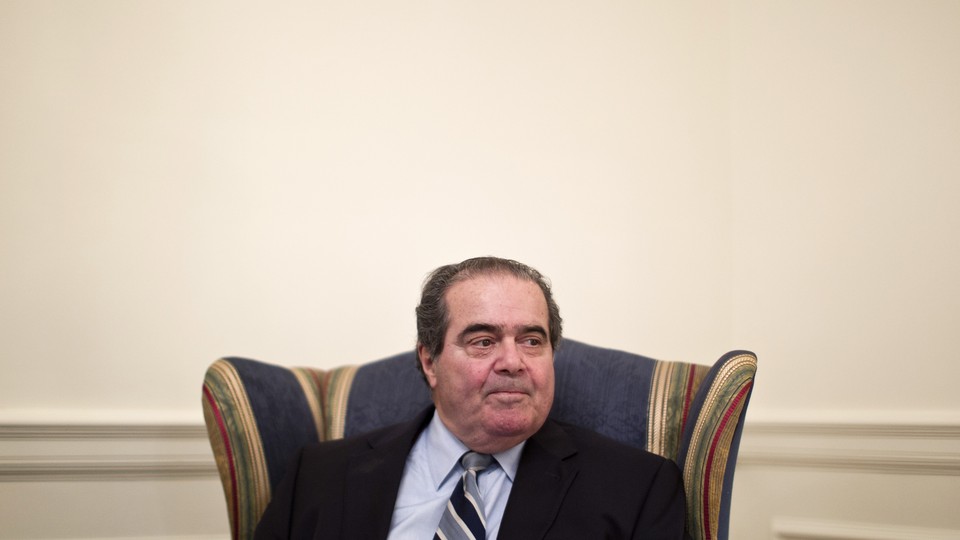 The sudden death of Antonin Scalia, an associate justice of the United States Supreme Court, on Saturday morning will shake up American politics like few events in recent memory, reshaping the 2016 presidential campaign and potentially leaving the Supreme Court deadlocked for more than a year.
In the short term, President Obama will have to decide who to nominate to replace the voluble conservative jurist, and the Republican-led Senate will have to decide whether to even consider the president's pick in the heat of the election campaign. Majority Leader Mitch McConnell immediately signaled that an Obama nominee would not get a vote this year. "The American people should have a voice in the selection of their next Supreme Court justice," the Kentucky Republican said in a statement. "Therefore, this vacancy should not be filled until we have a new president." CNN reported Saturday evening that Obama intends to nominate a new Supreme Court justice, setting up a potential confrontation with Republicans that would play out both on  Capitol Hill and on the campaign trail.
The news of Scalia's death broke just hours before Republican candidates were to debate in South Carolina, and Senator Ted Cruz swiftly called for blocking any nominee Obama sends to the Senate.
Justice Scalia was an American hero. We owe it to him, & the Nation, for the Senate to ensure that the next President names his replacement.

— Ted Cruz (@tedcruz) February 13, 2016
In a statement, Senator Marco Rubio praised Scalia and joined Cruz in calling for "the next president" to choose his replacement. Glowing testimonials also came in from President George W. Bush and his brother, Jeb. House Speaker Paul Ryan hailed Scalia's Catholicism and said he "did more to advance originalism and judicial restraint than anyone in our lifetime." Senator Orrin Hatch, a Republican, said in a statement that Scalia "led a much-needed revolution in the law" and then told Fox News that his death creates "probably the most important judicial vacancy in history."
A spokesman for Senator Mike Lee, a Republican member of the Judiciary Committee, tweeted that the chances are "less than zero" that the Senate would confirm a new justice nominated by Obama, who has already appointed two of the court's nine members. Even before Scalia's death, the Senate's process for confirming lower-court nominees had ground to a near halt.
Yet because of the close ideological divide on the Supreme Court, the vacancy caused by Scalia's death could freeze action on several important cases, including major upcoming rulings on abortion rights, Obama's Clean Power Plan to combat climate change, and the legality of his executive actions on immigration—all of which were expected to be decided by June. Whether or not Obama nominates a replacement, the makeup of the Supreme Court will now be a top issue both in the presidential race and the parallel campaign for control of the Senate this fall. With a large number of Republican senators in swing states up for reelection, a nomination battle could reshape the fall elections.
The Senate hasn't rejected a Supreme Court pick since Ronald Reagan nominated Judge Robert Bork in 1987, and a nominee hasn't been filibustered since Lyndon Johnson nominated Abe Fortas, then an associate justice, to be chief justice in 1968.
Democrats immediately called on Obama to submit a nominee to replace Scalia.
The President can and should send the Senate a nominee right away. The Senate has a responsibility to fill vacancies as soon as possible.

— Senator Harry Reid (@SenatorReid) February 13, 2016
Would be unprecedented in recent history for SCOTUS to go year with vacancy. And shameful abdication of our constitutional responsibility.

— Senator Harry Reid (@SenatorReid) February 13, 2016
If Obama does try to test the Senate, who might he nominate? Speculation quickly turned to Judge Sri Srinivasan, 48, who was confirmed by a 97-0 vote by the Senate in 2013 to serve on the U.S. Court of Appeals for the D.C. Circuit. That court is considered the the second most prestigious in the country and has served as a stepping ground for numerous justices on the high court, including Scalia and Chief Justice John Roberts. Cruz and Rubio both voted in favor of his nomination. Another possibility is Judge Merrick Garland, 63, who also serves on the D.C. Circuit appellate court. Garland was an appointee of Bill Clinton and was considered as a possible safer choice before Obama nominated Elena Kagan to replace the retiring Justice John Paul Stevens in 2010.