Why Wasn't Antonin Scalia Given an Autopsy?
In death, the Supreme Court justice was treated as an ordinary citizen, equal before the law.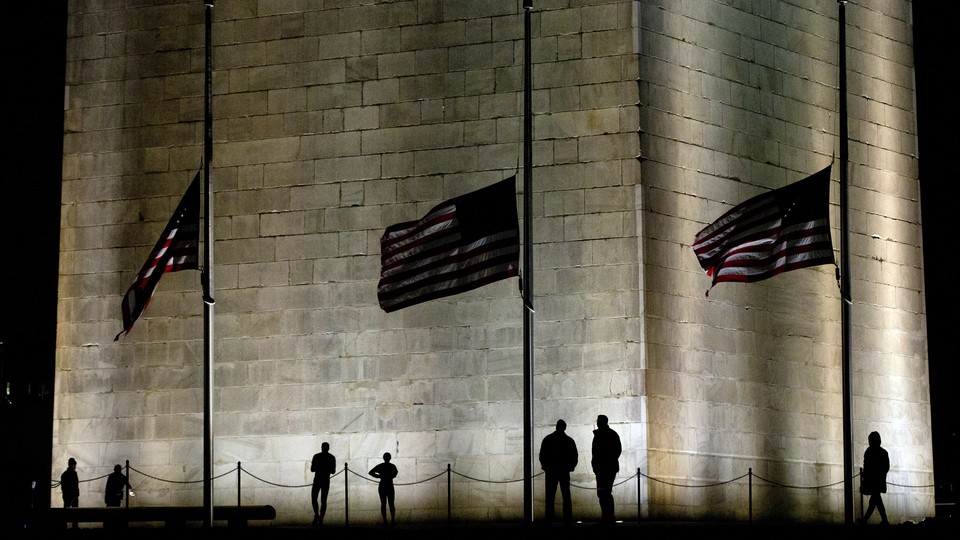 It's been just four days since Supreme Court Justice Antonin Scalia was found dead at a West Texas ranch, and already his death has generated conspiracy theories promoted by "truthers" and Donald Trump alike. Local law enforcement personnel at the scene of his death, including deputy U.S. marshals, indicated that no foul play was involved, and Scalia's own personal physician and family reportedly believe he died a completely natural death.
Their determinations, though, haven't wholly sated an American public hooked on criminal procedurals and concerned about the justice's fate. The layperson might think the death of a Supreme Court justice would trigger all manner of in-depth federal investigation. But after Scalia died, it was Texas state law, not any federal framework, that guided officials' actions—and left a single judge to make the call that an autopsy wasn't needed.
Asked if high-profile officials' deaths are ever given special consideration in Texas, Thea Whalen, an attorney with the Texas Justice Court Training Center, said "everyone should be treated the same" in the eyes of the court system. But there's "certainly the human tendency to say, 'Well, wow, this is a very important figure in our country.' That I'm sure can come into play into the decision-making."
After Scalia was found—without, as was previously suggested, a pillow on top of his face—the ranch owner called the authorities, and emergency workers and officials from the U.S. Marshals Service arrived at the ranch. Typically, justices are protected by marshals while they're traveling and by the Supreme Court Police while they're in D.C., said a spokeswoman from the Marshals Service. But Scalia declined protection for this trip, which justices have the latitude to do. After Scalia was found, and law enforcement was on the scene, local justices of the peace were called to handle the inquest into his death. When they weren't available, a county judge—who has the same inquest authorities as a justice of the peace—conducted the investigation over the phone.
In Texas counties that lack a medical examiner, including Presidio County where Scalia was staying, justices of the peace handle inquests, or investigations, into deaths. It's not clear what exact circumstances of Scalia's death led law enforcement to call for a justice, but, for example, state law triggers their input when the cause of a person's death is unknown. They're tasked with determining the cause, manner, and time of death, said Whalen, who teaches classes for justices of the peace about their duties. One of the tools these officials can use to draw conclusions is an autopsy, and it's largely left to their discretion whether one needs to be performed. Families, too, can request autopsies, but the Scalia family was against having one performed.
That the judge handling Scalia's case didn't think one was necessary led to some confusion in the days after Scalia's death was reported: How could an autopsy not be needed when a Supreme Court justice suddenly dies? But Whalen said there's nothing in Texas law that would require an autopsy to be conducted. The judge, Cinderela Guevara, said in deciding against an autopsy, she took cues from law enforcement, including the marshals, about how Scalia was found, and consulted with Scalia's physician about his health. (Scalia reportedly had high blood pressure and heart issues, and wasn't strong enough to have surgery after he recently injured his shoulder.) In a statement to NBC News, Guevara said she was "respect[ing] the wishes of the Scalia family" in not ordering an autopsy. "I did this based upon credible reports to me from law enforcement and from Justice Scalia's personal physician." In Texas, the only time autopsies are required is if the death of a child is linked with suspicions of abuse, or if a district attorney insists that one be performed. Whalen said justices of the peace don't have any obligation to "seek measures" for an official like Scalia that they wouldn't seek for another person. In the case of the judge who worked on Scalia's case, "I can imagine where a different judge would've taken" his identity "into consideration, but there's nothing that would've required them to," Whalen said. (Indeed, one justice of the peace in Presidio, Juanita Bishop, said she would've ordered an autopsy.)
That Guevara handled the inquest remotely also raised questions, but her over-the-phone investigation was legal under Texas law. Geographic and time constraints can preclude justices of the peace from traveling to the scene of a death in a state as sprawling as Texas, Whalen said. And while "best practice" would suggest they go to the scene, it's not unusual for investigations to be conducted remotely. First responders on the ground are trained well enough to indicate whether a justice of the peace needs to show up, she said. It sounds like that's what happened after Scalia died: A U.S. marshal reportedly told Guevara that she didn't need to come.
Conspiracy theorists' doubts about Scalia's death probably won't dissipate anytime soon—particularly if they're fueled by a presidential candidate with the loudest microphone in the country, who probably won't walk back his earlier claims. But the investigation itself seems to have been conducted by the book.