An Elegy for Martin O'Malley
The former Maryland governor's love of Irish poetry provides a fitting send off to his candidacy.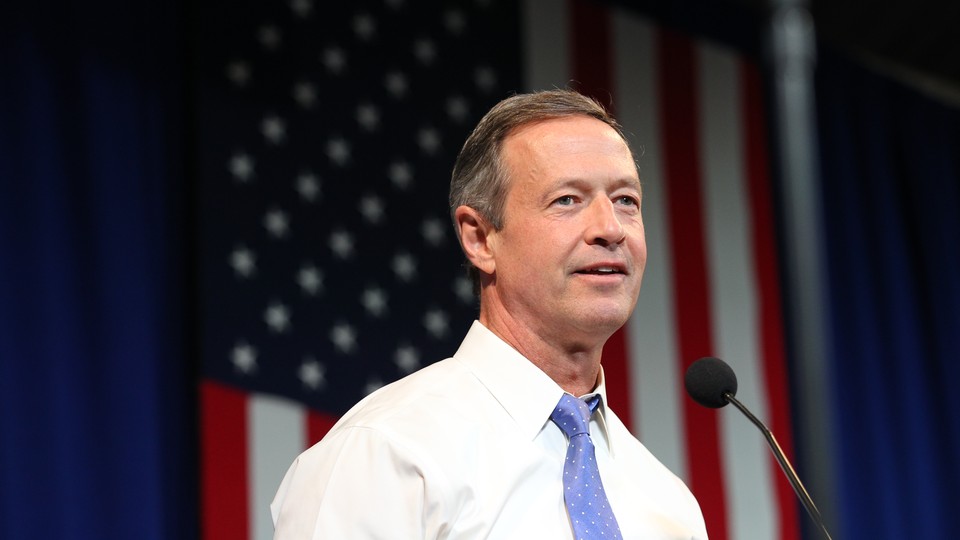 On Monday night, Martin O'Malley announced that he would suspend his campaign for president. O'Malley struggled to stay above even 4 percent in national polling. But in Iowa, he was shut out as Hillary Clinton and Bernie Sanders dominated the race.
Back when he announced his candidacy in May of last year, O'Malley looked like a promising aspirant to the presidency. He was a generation younger than his two main rivals, a handsome former governor of Maryland who ran on a platform that included stricter gun-control laws and comprehensive immigration reform. He was an inspiration for Tommy Carcetti on The Wire, for Pete's sake!
There was one other thing that made O'Malley stand out: his enduring, and endearing, love of Irish poetry. To be sure, plenty of politicians have been known to flirt with an interest in poetry, quoting it in speeches or toting around prestigious tomes. Jimmy Carter even published a collection of his own verse, though it was apparently not his finest work. (The prominent Yale literary critic Harold Bloom once called Carter "literally the worst poet in the United States.")
O'Malley doesn't just carry around the latest award-winning collection. He spouts obscure lines off the cuff. In 2011, O'Malley told The Irish Times that the Irish poet John O'Donohue was his current favorite. He kept a copy of O'Donohue's "A Blessing for Leaders" ("When the way is flat and dull in times of grey endurance, / May your imagination continue to evoke horizons.") under the glass on his desk at the governor's office and quoted O'Donohue frequently. In May, he quoted the contemporary poet Seamus Deane on unemployment and violence to George Stephanopoulos. And here he is reciting Eavan Boland's 1986 poem "The Emigrant Irish" last July to a crowd of Iowa picnickers. O'Malley knows the poem by heart, though he changed a Boland's "dusk" to "dawn"—probably an innocent mistake, though it's an appropriately sunny tweak for a politician.
O'Malley once had his own Irish band, O'Malley's March, and his Irish-American identity is obviously a touchstone for him. To be fair, it's hard to separate shtick from sincerity on the campaign trail. Maybe it's wishful thinking, or wistfulness now that his campaign has reached its its end, but the fluency with which O'Malley made reference to poetry made it hard to interpret it as a cheap campaign ploy. Not to mention the fact that "demonstrated passion for Irish poetry" is not exactly a known lure for American voters.
In November, a Rolling Stone reporter found him quoting Padraic Pearse off the cuff in New Hampshire:
The next day, O'Malley begins his morning with a town-hall meeting at Wayfarer Coffee Roaster, a coffee shop in Laconia. (After leaving, he excitedly mentions "The Wayfarer" is one of his favorite poems by writer and Irish revolutionary Padraic Pearse. He clears his throat and recites the first lines: "The beauty of the world hath made me sad/This beauty that will pass.")
Pearse, like O'Malley, was better known for his political activity than poetry. He was a leader of the notorious "Easter Rising" rebellion in 1916: a revolt that technically failed, but still managed to inspire. Pearse wrote "The Wayfarer," one of his best-known works, on the eve of his execution at age 36. Somehow it seems a fitting bit of verse to send O'Malley off with:
The beauty of the world hath made me sad,

This beauty that will pass;

Sometimes my heart hath shaken with great joy

To see a leaping squirrel in a tree,

Or a red lady-bird upon a stalk,

Or little rabbits in a field at evening,

Lit by a slanting sun,

Or some green hill where shadows drifted by

Some quiet hill where mountainy man hath sown

And soon would reap; near to the gate of Heaven;

Or children with bare feet upon the sands

Of some ebbed sea, or playing on the streets

Of little towns in Connacht,

Things young and happy.

And then my heart hath told me:

These will pass,

Will pass and change, will die and be no more,

Things bright and green, things young and happy;

And I have gone upon my way

Sorrowful.
A bit maudlin for the moment, perhaps. O'Malley is merely going home to Maryland, not to the firing squad. But it seems fair to suspect that a true fan of Irish poetry doesn't object to a little sentimentality now and again.