Where Do Americans Think the Economy Is Headed?
A new poll finds that despite progress, people are spilt on how they feel about country's financial health, and how much Obama has helped our hurt it.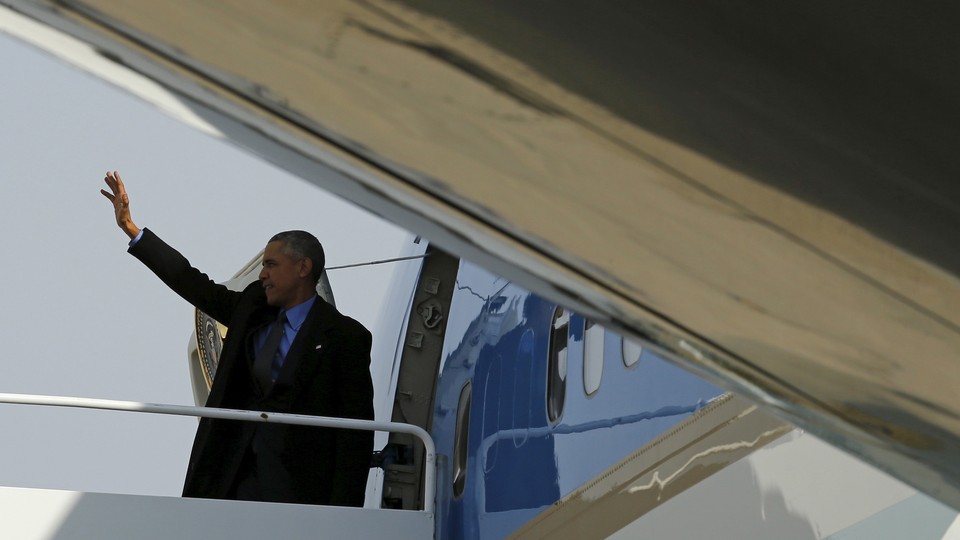 Close divisions over President Obama's record and a continued anxiety over the pace of the economy's recovery point toward a volatile and polarized 2016 presidential election, the latest Allstate/National Journal Heartland Monitor suggests.
Despite months of steady job growth, the survey finds most Americans gloomy about the trajectory of the national economy and split closely over prospects for their own finances. Respondents divide almost exactly in half over Obama's impact on the economy as well as his overall job performance, with each question separating Americans along deeply etched grooves of race, age, and party allegiance.
Cumulatively, the results capture the durability of the divisions that now define American politics and the precarious balance between Republican and Democratic coalitions that are antithetical in their demographic and geographic composition yet almost exactly equal in strength. The results also show the contending forces that are likely to collide, like tectonic plates, to shape the 2016 competition. A sustained dissatisfaction with the economy—and more broadly, with the country's direction—will boost Republicans, while continued strength among demographic groups that are expanding within the electorate will bolster Democrats.
In a measure of how narrowly balanced these competing forces have left the country, respondents split exactly in half on Obama's job performance—47 percent approve, 47 percent disapprove. This placed Obama well above George W. Bush in most surveys at this point in his second term, but behind Ronald Reagan and Bill Clinton.
This latest Heartland Monitor Poll marks the 25th survey in the series, which began in April 2009. For this poll, we have reprised some of the most important questions asked earlier, mostly from the survey's first two years, to document how American attitudes have changed, or haven't, since the depths of the Great Recession in 2008 and 2009.
For Democrats hoping to keep control of the White House, unease with the country's direction and with the pace of economic recovery represents the survey's most ominous finding. On the broadest question, just 25 percent of those surveyed said they believe the country is headed in the right direction, while 62 percent said it's on the wrong track. In the 10 Heartland Monitor polls during Obama's second term, only twice has even 30 percent of adults said the country was on the right track.
Likewise, the verdict on the state of the national economy is still downbeat. Just 21 percent of those surveyed described the economy as excellent or good, while 78 percent called it fair or poor. Those numbers have barely budged in a year, although by most measures the economy has improved. Democrats (at 39 percent) are considerably more likely than independents (16 percent) or Republicans (just 12 percent) to give the economy an excellent or good grade; yet fully 61 percent of Democrats rate it as only fair or poor.
​The poll's respondents were only slightly more optimistic about the economy's future course. Only 27 percent said they expect it to get better over the next year, while 24 percent expect it to deteriorate. (Forty-four percent expect no change.) Since September 2013, the proportion of adults who've expected the economy to improve over the next year has varied only between that low of 27 percent and a high of 32 percent.
Americans offer far more bullish, though still equivocal, assessments of their personal finances—45 percent of those polled described their financial situation as excellent or good, while 54 percent termed it fair or poor. Those numbers have varied little in recent years; since September 2013, positive responses to this question have ranged from 42 percent to a high of 45 percent in the latest poll. On this question, whites (at 48 percent) are much more likely than nonwhites (at 35 percent) to say their finances are excellent or good.
Several other questions in the survey filled out the picture of an economy that has left many families feeling as if they're living on the edge.
The most positive finding was that 37 percent of respondents agreed they "can live comfortably and save an adequate amount for retirement or other needs." That is 10 percentage points higher than in July 2009, in the immediate aftermath of the Great Recession. The share that said they "find it hard to make ends meet every month" has declined from 22 percent to 15 percent since 2009. Even so, about half of those surveyed (46 percent now, compared to 50 percent in 2009) still said, "I can get by every month, but I find it difficult to save and invest, whether for retirement or other purposes."
On a separate measure, 45 percent described their personal financial situation as excellent or good, while 54 percent termed it only fair or poor. Those lackluster numbers have displayed remarkable stability: Since September 2013, the percentage terming their finances fair or poor has varied only between 54 percent and 56 percent, a shift well within the survey's margin of error.
Other measures track even less progress since the depths of the downturn. The new survey found virtually no improvement since April 2009 in the fraction of adults who said they are confident they won't lose their job or suffer a significant dip in income during the next five years. In the latest poll, 71 percent of respondents said they are confident that their income will remain stable for the next five years, while 26 percent aren't—both numbers almost unchanged from 2009 (when 72 percent were confident and 25 percent were not). Just as startling, the new poll also registered a decline in the share of adults who say they have sufficient financial assets "to provide a reasonable cushion of security for yourself and your family if you were to experience a job loss or significant decrease in your income." In April 2009, 59 percent said they were confident they had enough saved to weather such a setback, while 38 percent weren't. Now, just 51 percent express confidence, and 46 percent don't. On this question, a far higher percentage of college-educated whites (about two-thirds) express confidence than do either minorities or whites without a college degree (in both cases, just over two-fifths).
Strikingly, the survey also found virtually no improvement since January 2010 in the percentage of adults who experienced any of several serious financial strains during the past year. In reporting their troubles, nearly half of those surveyed experienced "significant reductions in spending, including putting off major purchases"; about a third withdrew money "from savings or pension funds to make ends meet"; nearly a third had "lost a job or been unemployed for a sustained period"; about three in 10 had "reduced contributions to a 401(k) or other … retirement fund"; about one in four had "gone without health insurance for a sustained period"; and about one in six had "fallen behind on paying [their] mortgage or rent." These numbers have hardly changed in the past six years. This time, in a new question, 41 percent of respondents said they had stayed in a job longer, even though they didn't like it, because they feared not finding another.
Political scientists often say elections are shaped more by expectations about the future than by assessments of the present. And on that front, the Heartland Monitor again finds Americans closely divided over whether they expect to gain ground in the months ahead—or just to hold their ground. Forty-two percent of those surveyed said they expect their financial situation to improve over the next year, while 46 percent expect it to remain the same. Just 9 percent expect it to deteriorate. These numbers again have varied relatively little during Obama's second term: since June 2013, those expecting improvement have varied only between 38 percent and 47 percent.
But this question does expose more of the partisan divides that are likely to define the 2016 race. Several crucial elements of the Democratic coalition are far more optimistic than groups that lean Republican. While 69 percent of African-Americans and 53 percent of Hispanics said they expect their finances to improve, just 35 percent of whites agreed. Similarly, members of the millennial generation (62 percent are optimistic) were far more likely to express optimism that members of Generation X (45 percent), much less baby boomers (only 31 percent) or the oldest respondents (just 13 percent, for people born before the mid-1940s).
Whites older than 50, a group that now leans strongly Republican, were especially pessimistic about their financial prospects, with just 24 percent expecting their bottom line to improve. That's only about half the proportion of whites younger than 50 who expect gains (47 percent).
The grooves are cut even more deeply in assessments of Obama's impact and performance. On one measure, the president continues to face mostly negative reviews, as he has throughout the Heartland poll. Just 25 percent of respondents said they believed Obama's agenda will "increase opportunity for people like you to get ahead." (That number has not exceeded 32 percent throughout Obama's second term.) Slightly more respondents—30 percent—in the latest poll said Obama's agenda would "decrease opportunity for people like you to get ahead." The remaining 41 percent expected no impact.
As throughout Obama's presidency, this question opens a racial chasm: While 40 percent of nonwhites say his agenda has increased their opportunities, a mere 17 percent of whites agree. Over twice as many whites (36 percent) say he has diminished their chances—and that's the lowest negative rating Obama has received on that measure during his second term. For much of 2013 and 2014, more than half of white respondents in Heartland surveys said his agenda was constricting their opportunities.
Obama achieves an even split in attitudes on two other measures that most fully capture the nation's close partisan balance. Asked about the impact of the policies he pursued during the recession, 46 percent said they helped to "avoid an even worse economic crisis, and are laying the foundation for our eventual economic recovery." Another 48 percent endorsed the negative statement that Obama's policies had "run up a record federal deficit while failing to end the recession or slow the record pace of job losses."
This question starkly separates the electoral coalition that each side now relies upon. Obama receives mostly good marks for his impact on the economy from African-Americans (69 percent positive), all minorities (59 percent), Hispanics (57 percent), the millennial generation (55 percent), and college-educated white women (53 percent). Those are core elements of the modern Democratic coalition that all have been growing as a share of the electorate. Jessica, a white college-educated nurse from Philadelphia (who declined to provide her last name), encapsulated the perspective of many of these respondents. "He's doing more for the middle class, which is where most of us lie," she said. "That's helping us out. He doesn't buy into special interests for the rich, and he's doing what he can."
Karen Smith, a college-educated white woman—an education professor—from Farmington, Maine, was also positive. "I think based on the statistics that have been presented, we clearly have come out of the recession, and unemployment rates have dropped," she said. "I think the auto industry has certainly turned around, [and] it was obviously in shambles when Obama entered office. So I think there's more, more, more work to be done on the economy, but I think we have made some progress since the recession and since he entered office."
By contrast, Obama gets lousy grades from the groups Republicans now rely on most: college-educated white men (55 percent negative); whites older than 50 (56 percent); white women without a college degree (58 percent); and, above all, noncollege white men (a resounding 63 percent negative).
"Too much of the stuff that is happening is getting away from our American people working hard and earning a living," said Rick Meyers, a white college-educated tennis instructor from Abilene, Texas. "There are way too many entitlements and distribution-of-wealth things, where those of us who do work hard are having to give up too much of our money to people who end up not working hard and are getting too much free stuff. It's just that simple. It's just like with Obamacare—our premiums and deductibles have more than doubled since this has taken over. It's just not fair."
Similar patterns resurface on assessments of Obama's overall performance. The even split (47 percent to 47 percent) represents the highest approval rating Obama has registered in a Heartland survey since June 2013. The now-customary divisions are apparent, with Obama drawing majority approval from minorities, from millennials, and (barely) from college-educated white women, and mostly negative ratings from the Republican-leaning groups. Blue-collar white men, the same group fueling Donald Trump's rise in the GOP presidential contest, are especially negative; just 22 percent approve of Obama's performance, and 72 percent disapprove. The numbers are only slightly better among whites over 50: 35 percent approve, and 61 percent disapprove.
No single number may be more important in shaping the 2016 election than the voters' verdict on Obama's performance as he concludes his term. The exit polls conducted on Election Day found that roughly four-fifths of voters who approved of Ronald Reagan in 1988, Bill Clinton in 2000, and George W. Bush in 2008 voted for their party's nominee to succeed them. Eighty-eight percent of voters who disapproved of Reagan and Clinton voted for the other party's candidate; for Bush, the proportion was two-thirds.
That means every percentage point that Obama gains, or loses, in public approval between now and November will cast a long shadow over the competition to succeed him.
---
Janie Boschma contributed to this article.
The latest Allstate/National Journal Heartland Monitor Poll is the 25th in a series examining how Americans are experiencing the changing economy. This poll reprises central questions that the survey has explored, mostly in its first two years, to document how American attitudes have changed since the Great Recession. It surveyed 1,000 adults by landline and cell phones from Jan. 2 to Jan. 6, and has a margin of error of plus or minus 3.1 percentage points. The survey was supervised by Ed Reilly and Joseph McMahon of FTI Consulting's strategic communications practice.