All Bets Are Off as Republicans Caucus in Nevada
Donald Trump has the lead, Marco Rubio has the momentum, Ted Cruz has the organization, and all three have a shot in the Silver State.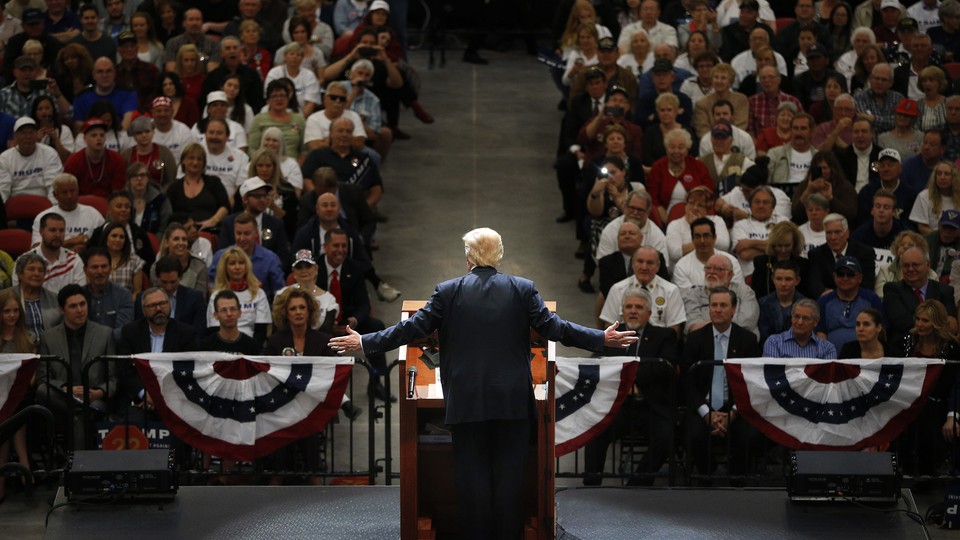 The Republican presidential race moves from South Carolina to a pit stop Tuesday night in Nevada—also known as the land of the political unknown.
Donald Trump is once again the favorite in the Silver State caucuses. After two consecutive double-digit victories, how could he not be? But because of its caucus process and its relatively recent entry into the early voting rotation, Nevada is a graveyard for polling. Only two surveys on the Republican race have been publicly released in the last month, according to RealClearPolitics, and while Trump has led them both comfortably, a victory for the front-runner is far less assured than it was in New Hampshire or South Carolina.
Marco Rubio has undeniably captured some momentum in the days since his second-place finish in South Carolina. He has won a slew of endorsements following the withdrawal of Jeb Bush from the race—from national Republican figures like Bob Dole and Tim Pawlenty, from a number of current U.S. senators, and, perhaps most importantly for Tuesday night, from Nevada Senator Dean Heller and two of the state's congressmen. Rubio now has the support of the state's entire Republican congressional delegation. And the Florida senator already had the deepest Nevada roots of any of the GOP contenders: His family lived in Las Vegas for six years when Rubio was a child, and they briefly joined the Mormon church. (One quarter of Republican caucusgoers in Nevada in 2012 were Mormon, according to entrance polls.)
Ted Cruz finished just about 1,000 votes shy of Rubio in South Carolina, but he has had a rough aftermath, and if anyone truly needs a strong showing in the caucuses, it's him. Under fire for playing dirty in Iowa and South Carolina, Cruz abruptly fired his chief spokesman, Rick Tyler, on Monday night after Tyler spread a false story suggesting that Rubio had disparaged the Bible. Cruz usually speaks in front of a banner that says "TrusTED," and the incidents were clearly giving him a reputation. At the same time, Cruz has devoted considerable resources to organization, which paid off handsomely in Iowa, when he overcame a polling deficit to overtake Trump in the caucuses. Organizational strength is just as important in Nevada, so it's possible Cruz could surprise again.
With Super Tuesday just a week away and just 30 delegates at stake, it's unlikely that the results in Nevada will dramatically shift the trajectory of the GOP race. A Trump win would further solidify the front-runner status he has gained in the last few weeks. A Rubio upset would only speed up the Florida senator's momentum as the establishment-favored alternative, and it could be an early indication that he's benefiting most from Bush's departure. A Cruz victory clearly would slow Rubio and stabilize Cruz's campaign. Ben Carson, meanwhile, hasn't been much of a factor in months, and John Kasich has already looked beyond the early states to the Midwest, which will make or break his hopes in March.
The Nevada caucuses are really a three-man race, and more than anything else, it's one of the last chances for Cruz or Rubio to stop the runaway train named Trump.