A Tipping Point for Automatic Voter Registration?
Advocates are hoping to build on success in Oregon and take the idea nationwide. But as momentum is growing, so is the opposition.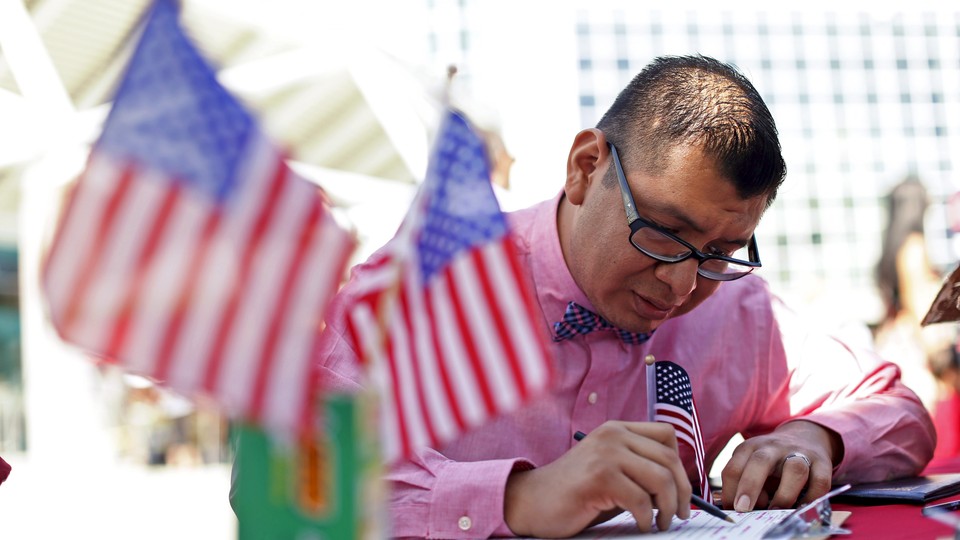 The state-by-state push to enact automatic voter registration laws is nearing a tipping point.
Or so its supporters hope.
Oregon began proactively adding unregistered citizens to its rolls last month. California will soon follow suit under a state law signed last year. Serious efforts to enact similar proposals through legislative action or citizen ballot initiatives are underway in several other states, including Illinois, Maryland, and Ohio. The drive has won endorsements in the last year from President Obama and both Democrats running to succeed him in the White House.
Those are all indisputable signs of momentum for an idea now at the core of advocacy efforts to expand access to the ballot box—that state governments should make it easier to vote by simply registering their eligible citizens, rather than forcing them to do it themselves. Yet while the campaign has gained steam, it has also cleaved along party lines in a way that threatens to turn automatic registration into one more partisan flashpoint in the battle over voting laws.
"I have met many Democrats that are convinced that Republican are trying to keep their party from voting, and I've met many Republicans that are convinced that Democrats are cheating," said Kim Wyman, the top elections official in Washington state. "And it's really hard to convince either side otherwise."
Wyman is Washington's secretary of state and a rare Republican who has joined Democrats in pushing for a new automatic registration law. The proposal she supports passed the state House with some bipartisan support, but it is likely to get bottled up in the Republican-controlled Senate. "There are very, very long odds right now," she said.
The automatic voter registration laws in Oregon and California passed on strict party-line votes, and while proposals in states run by Democrats stand the best chance of moving forward, the effort is running into complications in part because of another progressive priority: expanding rights for undocumented immigrants. Proposals modeled on the Oregon bill call for the state's motor vehicle department to run the registration program by adding people to the rolls when then apply for a driver's license. But in states like Maryland that have recently signed off on giving licenses to undocumented immigrants, new laws prohibit DMV officials from checking a person's citizenship status and verifying whether they are actually eligible to vote.
"It does present a very practical problem," said Matt Clark, a spokesman for Governor Larry Hogan of Maryland. In December, Democrats in the state legislature introduced an automatic registration law, which Hogan, a Republican, has yet to take a position on. "He's waiting to see what the condition of the bill is," Clark said. Democrats have a veto-proof majority in Maryland, but party leaders have not said whether passage of the registration bill will be a priority in this year's session. Republicans in the state believe Democrats are trying to bait Hogan into taking partisan stands on a host of issues, including the registration proposal. While Hogan's stayed quiet so far, Clark cited concerns with the bill's cost to local counties and its handling of eligibility verification. "It runs in stark contrast to another law," he said. "It completely ignores the problem of checking eligibility for folks."
The state Republican Party is strongly opposed to the automatic registration proposal, executive director Joe Cluster said. Calling the idea an example of "big government," Cluster urged Hogan to follow his "mentor," Governor Chris Christie of New Jersey, who vetoed a similar, Democrat-backed proposal last year. "It's a waste of money, because we already have the mechanisms for people to vote and register to vote," Cluster said. "There is nothing that stops someone being registered to vote other than that person not wanting to be registered to vote." He also warned that automatic registration would eventually lead to compulsory voting and fining people who don't turn out, like in Australia. "Are we going to do that next?" Cluster asked.
Supporters of automatic registration note that all of the new laws and proposals give people the opportunity to opt out. Oregon began implementing its program through the state's DMV at the beginning of the year, and through the first six weeks, 7 percent of people who received cards alerting them to their new registration returned the cards asking to be taken off the rolls. But the state registered more than 10,000 new voters over that same time period, dwarfing the monthly average of 2,000 new registrations it previously reported. Officials have projected that as many as 300,000 new voters could be added to the 2.2 million already signed up in Oregon.
The bipartisan legislation in neighboring Washington state is more limited, since lawmakers are proposing that only state agencies with the ability to screen for eligibility process the new registrations. So instead of all new applicants for driver's licenses, only people applying for enhanced driver's licenses and commercial licenses would be automatically registered, along with those who apply for certain benefits through state health programs. For people who the state determines to be clearly eligible to vote, Wyman said, "what's the downside of adding them to the rolls?"
Supporters like Wyman say that beyond the argument for making it easier to vote, automatic registration serve an administrative function that modernizes the running of elections and helps to give officials a better picture of the electorate. With 21st century technology, concerns about determining eligibility should be easy to overcome, said Myrna Pérez, deputy director of the democracy program at NYU's Brennan Center for Justice. "There is no dispute that the system needs to be well-designed to make sure that people who are not eligible don't get on the rolls," she said. "But this is a database-management and record collection problem, which we have tools in the 21st century to be able to address."
While Oregon pioneered the push at the state level by passing its law a year ago, automatic voter registration has gone national as an issue with endorsements from President Obama, Hillary Clinton, and Bernie Sanders. Obama made a point of pressing Illinois lawmakers—and the state's Republican governor, Bruce Rauner— to approve legislation when he spoke in the General Assembly chamber in Springfield earlier this month. "Let's set the pace — encourage other states across the country to follow our lead, making automatic voter registration the new norm across America," Obama said. A group called iVote led by alumni from his campaigns is now organizing in Illinois and several other states, including in Ohio, where they are trying to put a referendum on automatic voter registration on the ballot in November.
Pérez said she hoped the trajectory of automatic voter registration would mirror the push for states to allow citizens to register to vote online. As recently as 2010, just six states had online registration, while 33 do now. "I think we will see these other states come, and this will become something that is commonplace and normal, but somebody needs to be trailblazers," she said. "We're totally in the trailblazing phase."