A Dinosaur's Primary
One stuffed animal's view of the 2016 election.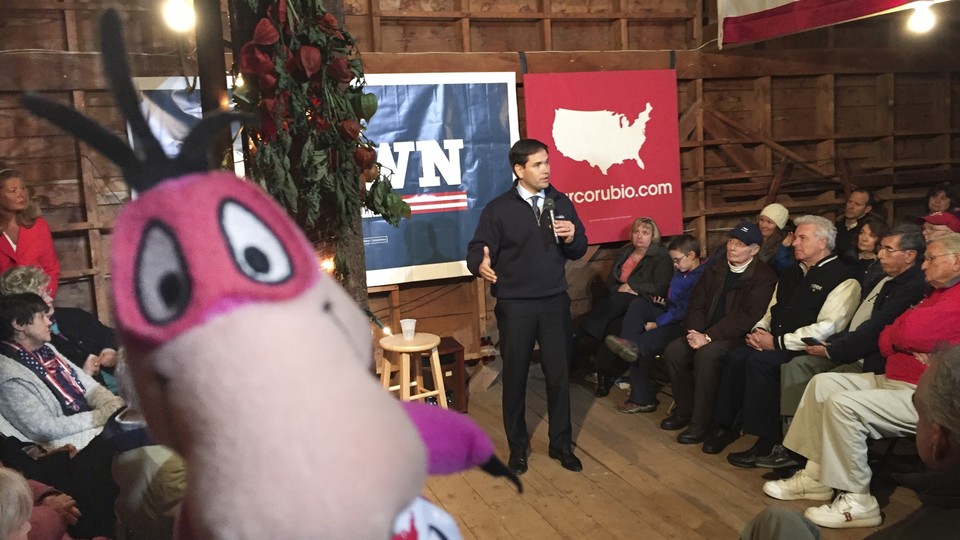 The former secretary of state was making her way down the velvet-rope line, and I was positioned perfectly to meet her—the result of showing up at a New Hampshire elementary-school event two hours early. A couple of Secret Service guys were alternating their gaze between me and my pink stuffed animal. I was careful not to make any sudden gestures as I gradually raised Dino Flintstone to Hillary Clinton's face.
"Hillary, I have a campaign good-luck charm," I said in an upbeat tone, pointing to a "Hillary" sticker stuck to his stomach. "Could you please pose for a picture with Dino?"
For me, this campaign season has been the "Dinosaur Primary," a silly pursuit to photograph as many White House hopefuls as possible with my favorite childhood cartoon. I've been taking snapshots of Dino on road trips and vacations for more than two decades. Friends have brought him along on their own travel adventures—to expand his horizons. He's the perfect icebreaker for starting conversations with strangers abroad. Dino has climbed Mt. Kilimanjaro, hung out in Moscow's Red Square, jumped from an airplane over Connecticut, and danced with pigeons in Barcelona. He has even mingled with celebrities—Daryl Hannah, Donnie Osmond, Justine Bateman, and Erik Estrada.
As a New Hampshire native, I decided it was time to extend my goofy hobby to the presidential primary. This project would be a bit unconventional: A grown man in his 40s, with no kids in tow, asking self-important politicians to pose with a toy. It would be easy to dismiss me as frivolous; there was zero PR risk in brushing me aside. Still, I knew my mission was at least possible—an Iowa guy pulled it off with his Mr. Potato Head in 2008. Barack Obama, Hillary Clinton, Rudy Giuliani, and every major contender that year posed with the plastic spud—except for one, future Vice President Joe Biden, who declared he didn't "take pictures with funny hats or funny toys."
During my quest, which took six months—chasing candidates at diners, parades, campaign headquarters, and house parties—only two candidates viewed me with suspicion. Rand Paul said I was welcome to hold Dino while standing next to him; he was apparently wary of touching Dino even after shaking so many germ-infested hands. And Clinton, too, insisted that I get in the picture with her. (Eight years ago, she posed with Mr. Potato Head alone. Alas.)
My project was apolitical with no hidden agenda, but I couldn't blame candidates for being suspicious. The Internet is littered with gotcha moments, and candidates have only seconds to determine if a photo-op is friendly or an underhanded trick. Luckily, most of the 2016 candidates recognized my stuffed-animal request for what it was: a lighthearted moment on the campaign trail. Lindsey Graham earnestly promised to put Dino on the endangered-species list if elected. Scott Walker told me his kids once won a Flintstones-themed costume contest. Martin O'Malley put down his Guinness and told me I looked exactly like the trombone player in his band.
It's tempting to analyze the body language of the candidates as they held Dino, like the pundits do at debates. Some confidently grabbed him with one hand (Marco Rubio, Chris Christie). Others adopted a more nurturing approach, cradling him with both hands (Ben Carson, Carly Fiorina, John Kasich). A few weeks before he dropped out of the race, Governor Rick Perry pinched Dino's neck and held him like he was a dead fish.
But beyond proving how seriously the candidates take themselves, I'm not going to pretend my Dino photos have captured any valuable insights into who belongs in the Oval Office. If one of these men or women can balance the budget, defeat ISIS, and humanely handle illegal immigration, it won't be because they like the same cartoons I do. Besides, the Dino project is about ignoring politics and enjoying the candidates as real people. That's the magic of the New Hampshire primary: After a campaign speech, you can have an unscripted moment with the next leader of the free world.
---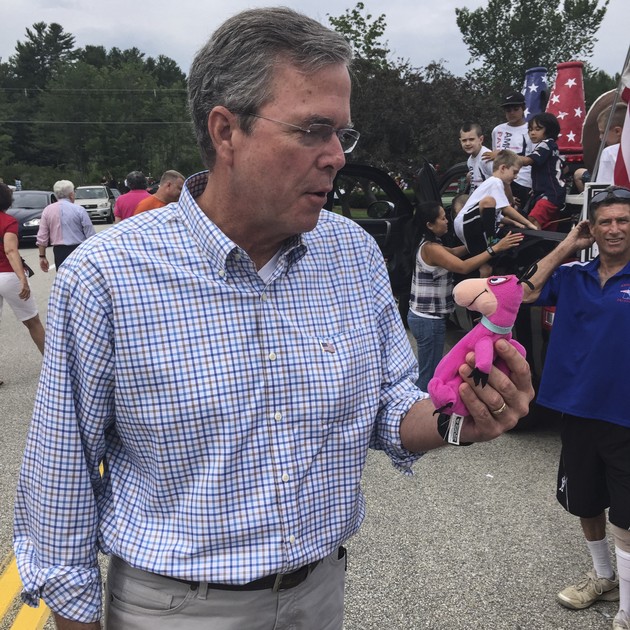 Jeb Bush
Independence Day Parade                                                                                                               Amherst, New Hampshire                                                                                                                           July 2015
At the Fourth of July parade staging area, I was surprised to see then-front-runner Jeb Bush standing alone without any entourage. The 6-foot-3-inch former Florida governor was chatting with an Uncle Sam on stilts and looking very diminutive by comparison.
Without the pressure of a crowd, I was able to test my stump speech for the first time: "Governor, there's a new New Hampshire tradition that you might not know about. Whoever gets the endorsement of Dino Flintstone wins the primary." Bush looked into Dino's eyes and said: "Hi Dino, what do I need to do to get your endorsement? Don't I need to meet each voter six times?"
---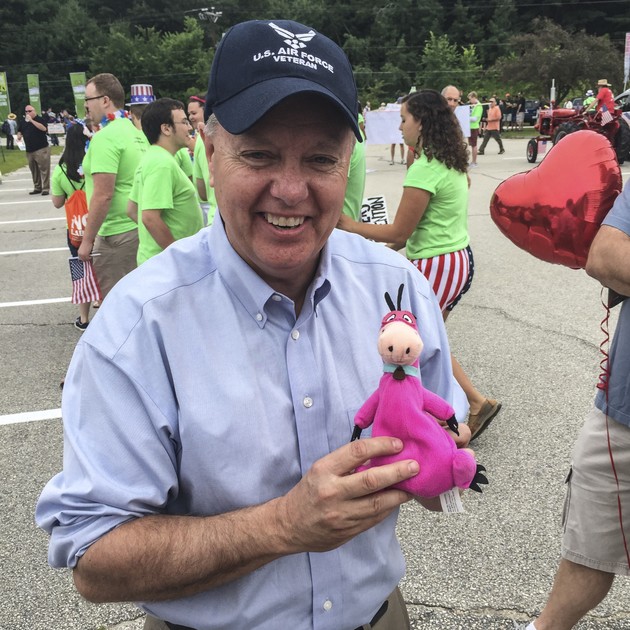 Lindsey Graham
Independence Day Parade                                                                                                               Amherst, New Hampshire                                                                                                                           July 2015
In a jovial mood, Senator Lindsey Graham also talked directly to Dino after hearing my dubious claim about it being good luck. "Dino, I'm going to put you on the endangered species list," he promised, later adding: "I'm a Flintstones fan. I like Barney Rubble the best!"
Maybe that's because Graham's buddy John McCain was portrayed as Barney Rubble on political buttons at the 2004 Democratic National Convention. (The buttons poked fun at his "prehistoric" age.) Graham was a good sport. But after 28 campaign visits to New Hampshire, the South Carolina Republican dropped out of the race on December 21, 2015.
---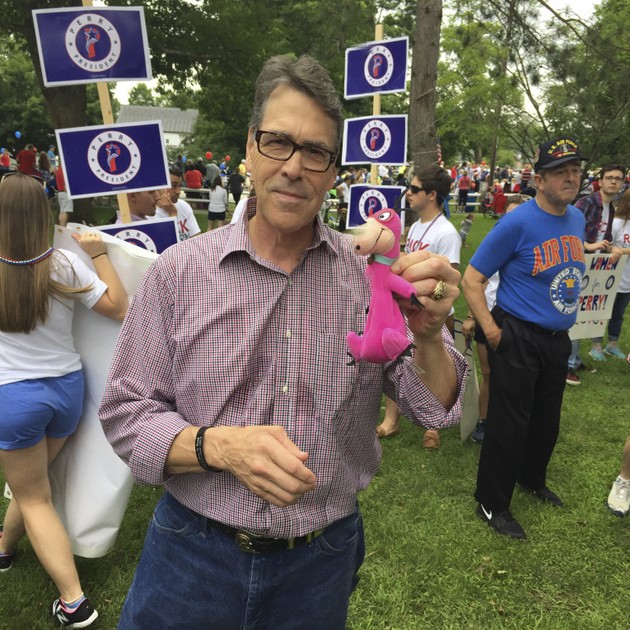 Rick Perry
Independence Day Parade                                                                                                               Amherst, New Hampshire                                                                                                                           July 2015
I handed former Texas Governor Rick Perry my stuffed animal while he was posing with campaign volunteers. Perry was unique in the way he held Dino, pinching his neck as though trying to touch Dino as little as possible while still holding him aloft. But Perry gamely played along with the photo-op, asking, "I'm guessing I'm the fifth or sixth candidate today to get Dino's endorsement?" Unfortunately, I accidentally got bumped, creating a slightly distorted image. Perry dropped out of the race on September 11, 2015.
---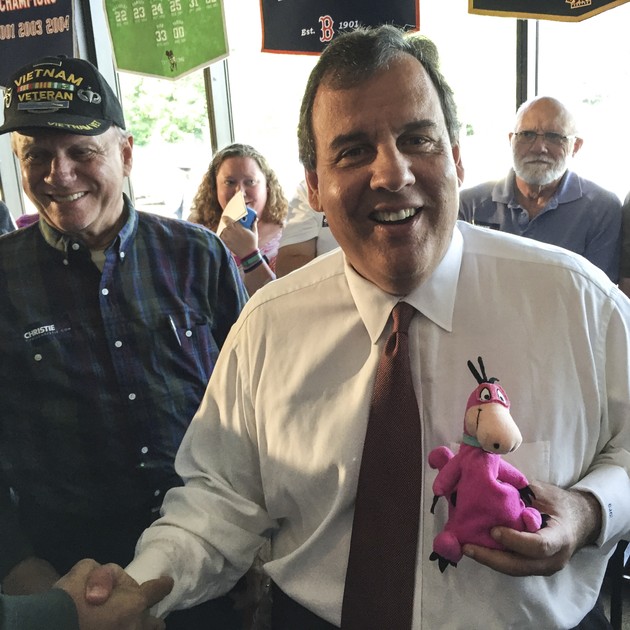 Chris Christie
"Tell It Like It Is" Forum                                                                                                              Chapanga's Griddle & Grill                                                                                                                   Milford, New Hampshire                                                                                                                           July 2015
After listening to New Jersey Governor Chris Christie share his recollections of 9/11 and reveal his plan to defeat ISIS, it seemed awkward to discuss my stuffed-animal photography project. While Christie was shaking hands with supporters, I added the phrase, "On a lighthearted note," to my opening pitch.
Dino's colorful body is hard to miss in a crowd. In mid-handshake with another voter, Christie grabbed the toy with his free hand and said in a bemused tone, "Dino Flintstone?" Then, to no one in particular, "You'll do anything when you're trying to get elected!"
---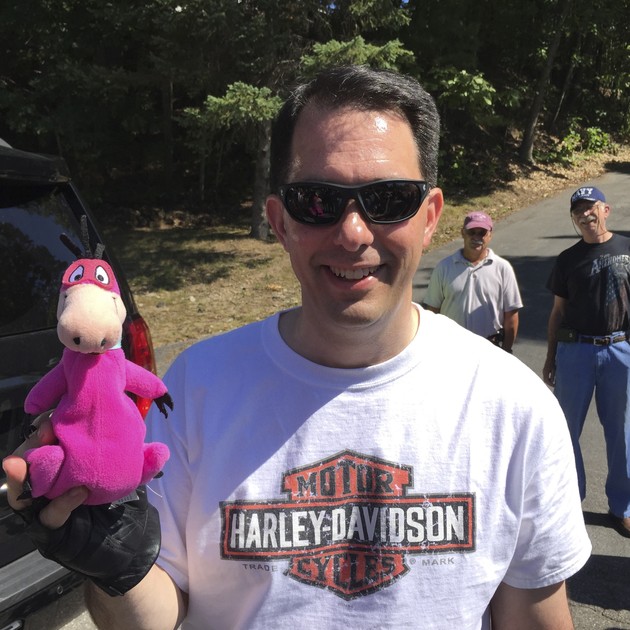 Scott Walker
Motorcycle Rally                                                                                                                                         VFW Post 4368                                                                                                                                         Milford, New Hampshire                                                                                                                           September 2015
I was one of the first voters to crowd around Wisconsin Governor Scott Walker's black SUV as he arrived at the motorcycle rally. Getting ready for his cross-New Hampshire Harley tour with supporters, Walker chatted with the media as he applied sunscreen to his arms and face. Walker smiled at Dino and mentioned that his two sons once entered and won a costume contest tied to the (horrible) movie The Flintstones 2: Viva Rock Vegas. The film was a box-office flop, but it scored the Walker family a free vacation to Orlando. The governor said he didn't remember the characters his kids were channeling, but their outfits both involved giant Styrofoam bones. Walker dropped out of the race September 21, 2015.
---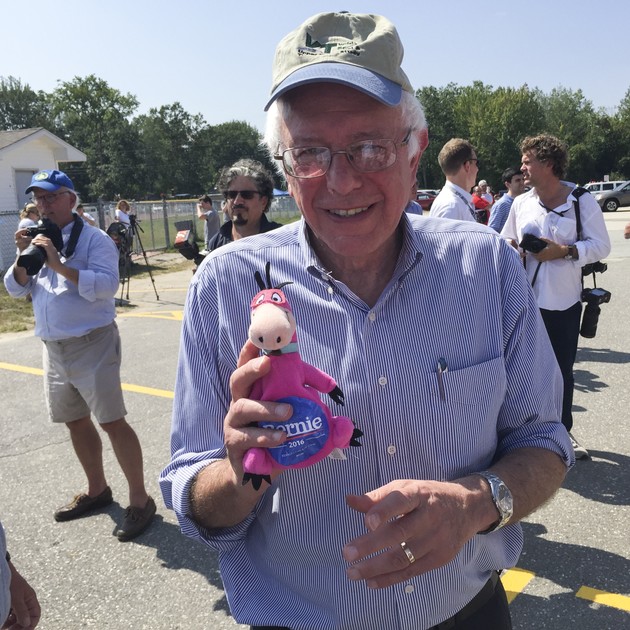 Bernie Sanders
Milford Labor Day Parade                                                                                                                             Milford, New Hampshire                                                                                                                           September 2015
My Bernie Sanders experience convinced me to change my entire Dino strategy. At the parade staging area, I overheard two staffers talking about the senator's pending arrival. I casually followed them and stepped into the candidate's path. "Bernie, there's a new New Hampshire Primary tradition—" I said, before being cut off.
"Now hold on!" Sanders barked, sticking out his arm like the Heisman Trophy running back. "You can't just interrupt me like that." And then he disappeared into a crowd of supporters. I didn't think I was being overly aggressive, but I reevaluated my opening. Perhaps Sanders thought he was being ambushed by one of those global-warming or campaign-finance-reform activists that hound candidates everywhere.
After being rejected, I stuck a "Bernie 2016" sticker on Dino's stomach and approached Sanders again about 15 minutes later. "Bernie, I have a campaign good luck charm," I said, waving the dinosaur. "Would you pose with Dino?"
"Sure," Sanders said, showing no signs of remembering (or acknowledging) our first encounter. I guess the key to "Feeling the Bern" is catching the Vermont Democrat in the right mood.
"See what I'll do to get elected?" Just like Chris Christie!
---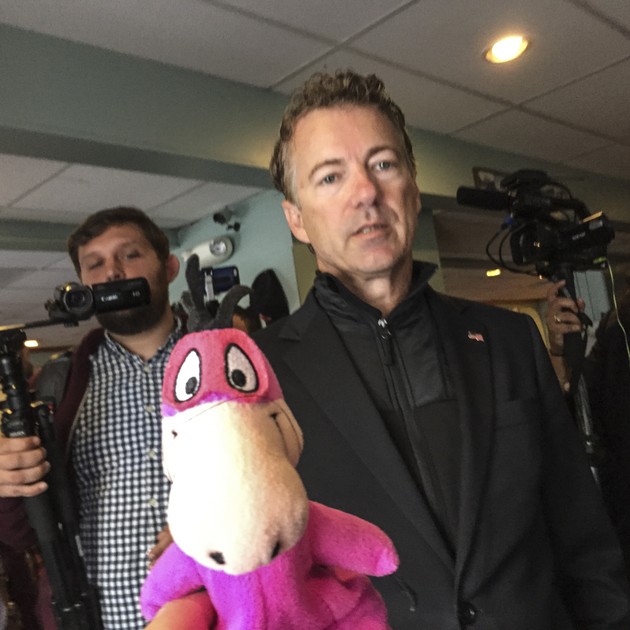 Rand Paul
Chez Vachon Diner                                                                                                                                         Manchester, New Hampshire                                                                                                                         September 2015
I staked out a booth at Chez Vachon and ordered a veggie omelet. But the restaurant is really famous for its poutine, a French-Canadian dish combining french fries, cheese curds, and gravy. During the 1992 New Hampshire primary, it was a Bill Clinton favorite, though he ordered his with ground beef.
When I asked Senator Rand Paul to pose with Dino, he looked at me like I was wearing a "Hillary Clinton" T-shirt. "You're welcome to hold it," he said, "and I'd be happy to stand next to you." Instead, I quickly raised Dino in front of my cell phone and photographed the two of them in the same frame.
I asked the Kentucky Republican if he ever watched The Flintstones as a kid. "Yes," he curtly replied, ready to move on to another voter. Paul dropped out of the race February 3.
---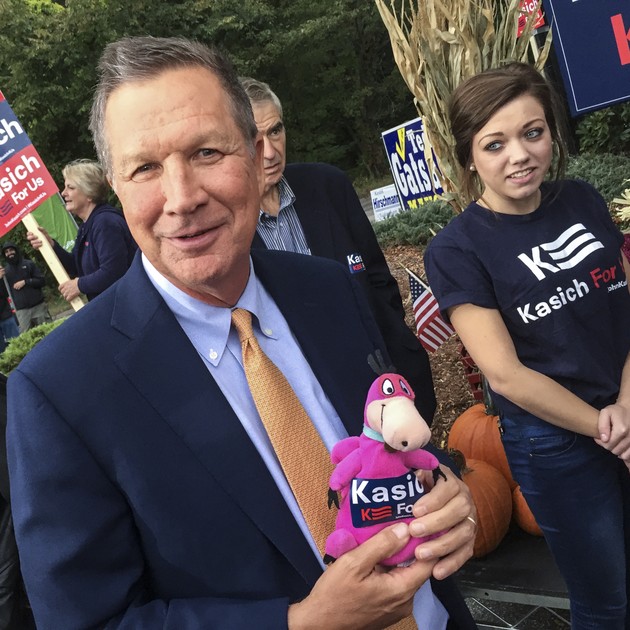 John Kasich
Kasich Headquarters Opening                                                                                                                      Manchester, New Hampshire                                                                                                                         October 2015
At the opening of Ohio Governor John Kasich's New Hampshire HQ, nothing seemed to go right. The campaign's surprise guest, former Senator Gordon Humphrey, was late to his own endorsement announcement. Plus, the candidate was not happy with the song being used to rev up the crowd: Journey's "Don't Stop Believin'."
"Who chose this music?" he asked, looking genuinely perturbed.
Kasich started to deliver his prepared remarks and then paused midstream. Flustered that Humphrey had not arrived yet, he told the crowd he wanted to wait for his special guest and began to shake hands with supporters to kill some time. That's when I pounced. The Ohio governor smiled when he saw his campaign sticker on Dino and asked: "Is this for me? Can I keep this?"
Like I'd give Dino up.
---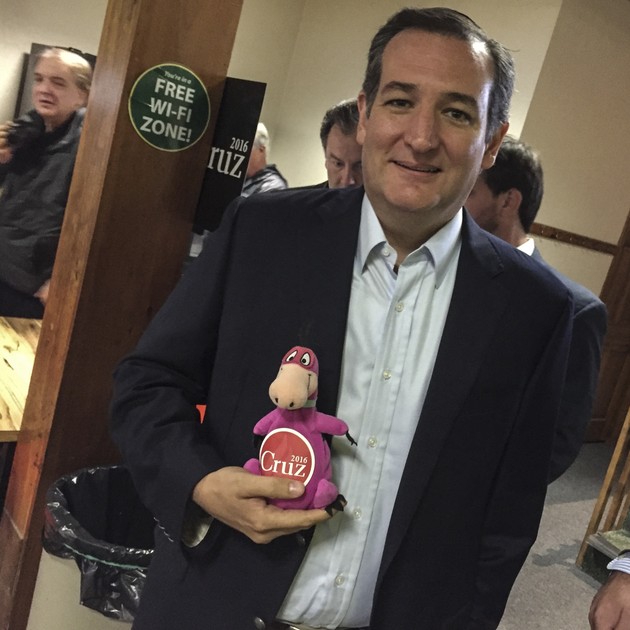 Ted Cruz
Funspot Family Fun Center                                                                                                                           "Largest Arcade in the World"                                                                                                                   Laconia, New Hampshire                                                                                                                           October 2015
As a photography buff, I was excited that Senator Ted Cruz would be making a campaign stop at the self-declared "Largest Arcade in the World." Funspot, home of the world Donkey Kong championships (immortalized in the documentary The King of Kong: A Fistful of Quarters), is famous for its collection of classic 1980s games. Maybe I could get some creative angles of Cruz while he hammered away at Ms. Pac Man, Dig Dug, or my favorite, Rampage, in which you are Godzilla and your mission is to destroy New York (it seemed a natural choice for Cruz).
Alas, Cruz walked straight to the arcade's pub without inquiring about any games. I caught him as he entered the building and our interaction was friendly but uneventful. Brady Carlson, a reporter for New Hampshire Public Radio, overheard our conversation and thought that the Texas Republican should have been more excited about holding a "campaign good luck charm."
"Who wouldn't want a campaign good luck charm?" Carlson asked. "When there are 16 Republican candidates in the race, you figure you would try anything that could give you even the slightest edge."
---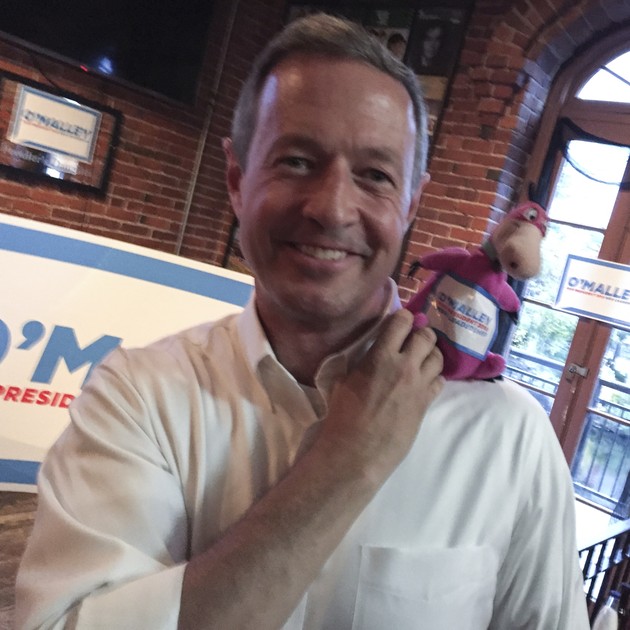 Martin O'Malley
Peddler's Daughter Pub                                                                                                                                  Nashua, New Hampshire                                                                                                                           October 2015
After a cozy town meeting with about two-dozen supporters, former Maryland Governor Martin O'Malley offered to balance Dino on his shoulder. He was mostly unsuccessful. In a chatty mood, O'Malley told me that I looked and acted like the trombone and harp (!) player in his Irish folk-rock band, O'Malley's March. I can see the resemblance. O'Malley dropped out of the race on February 1, after a poor showing in the Iowa caucuses.
---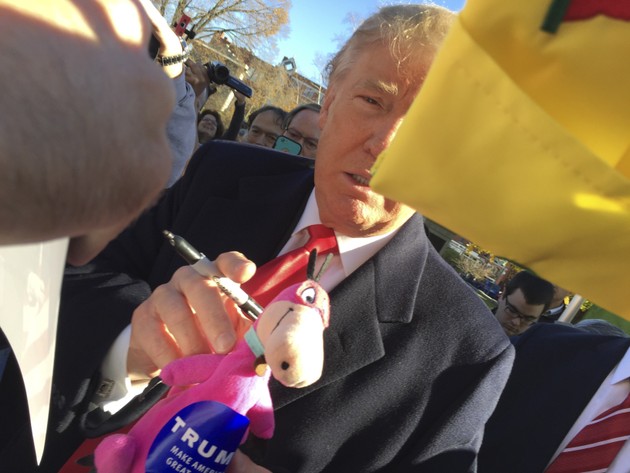 Donald Trump
New Hampshire Statehouse                                                                                                                         Concord, New Hampshire                                                                                                                           November 2015
Given that Donald Trump has signed a woman's chest on the campaign trail, I expected my stuffed-animal photo-op to be a tame request by comparison. I camped out near the front steps of the State Capitol Building, halfway between the golden dome and Trump's motorcade of black SUVs. But New Hampshire state troopers and the campaign's private security kept me away from the candidate as the crowd pushed forward.
Amid the autograph seekers frantically waving their arms in front of me, like being double-teamed in basketball, Trump reached out and grabbed Dino as I snapped away. "You got it?" Trump asked.  I didn't. My first four pictures were of campaign signs stuck in my face. "C'mon, don't be nervous!" Trump said with a smirk. I wasn't sure if he was being nice or condescending, but I didn't care. The next day, Trump got Secret Service protection.
---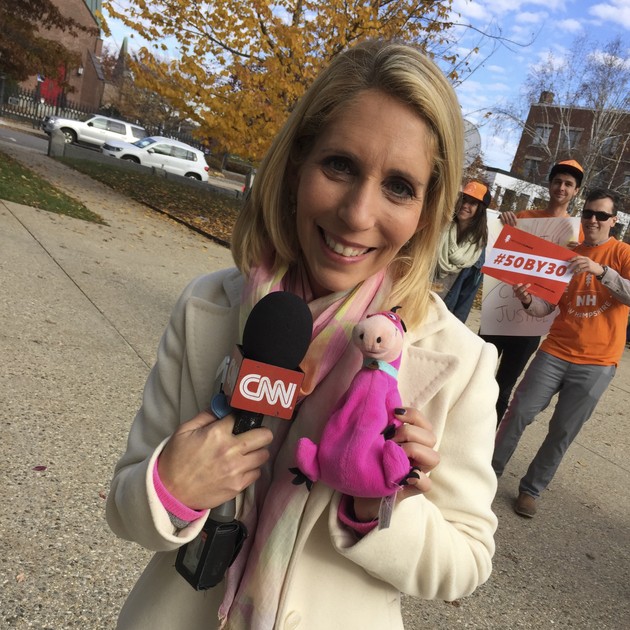 CNN Reporter Dana Bash
New Hampshire Statehouse                                                                                                                       Concord, New Hampshire                                                                                                                           November 2015
What's CNN political reporter Dana Bash doing in this slideshow of presidential candidates? She was my consolation prize after failing to score a Dino photo with Marco Rubio. While at the statehouse to file his candidacy papers, the senator moved through the crowd like a running back, shaking hands in a frenzy. After driving an hour to see Rubio and coming up empty, I saw Bash chilling out by the statue of President Franklin Pierce (the only Granite Stater to make it to the Oval Office). I explained the project and she said she'd be happy to participate—on one condition: that I remove the Rubio sticker from Dino's stomach.
---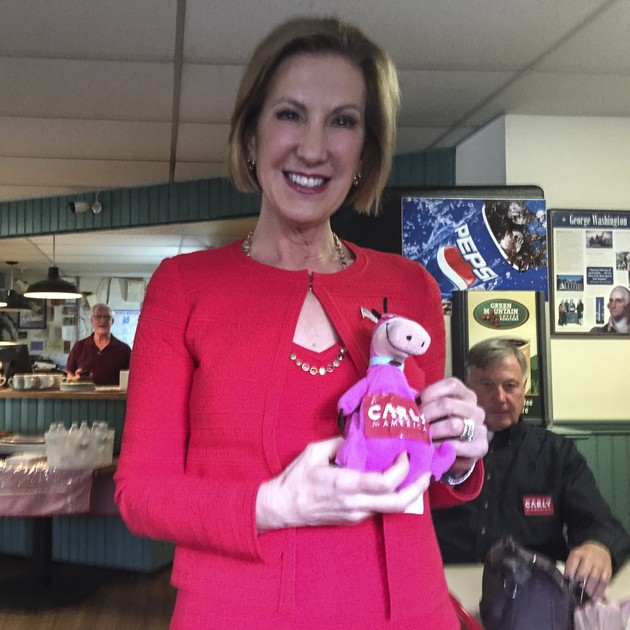 Carly Fiorina
Foodee's Pizza                                                                                                                                      Milford, New Hampshire                                                                                                                           November 2015
While voters were enjoying complimentary cheese pizza, Carly Fiorina worked the room with pleasant small talk before her stump speech. Scrapping my usual pitch about the New Hampshire primary, I told the former Hewlett-Packard CEO about my hobby of photographing Dino with interesting people around the world.
"Do you always photograph it with the 'Carly for President' sticker?" she coyly asked. I admitted that was not my usual practice.
---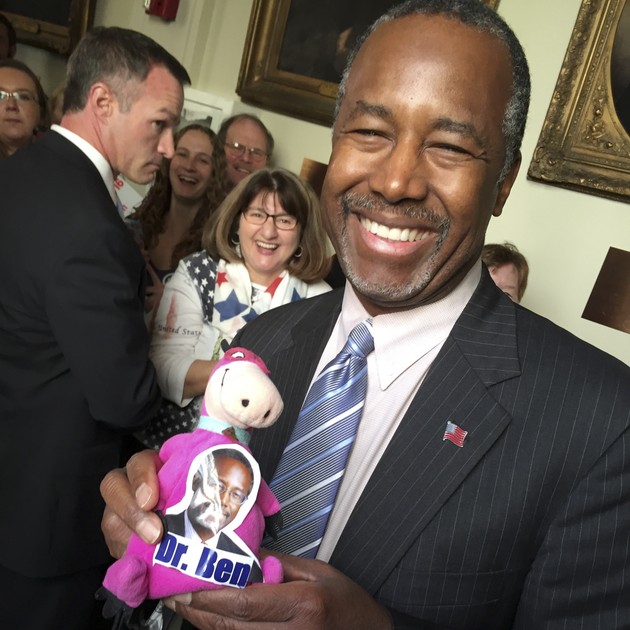 Ben Carson
New Hampshire Statehouse                                                                                                                     Concord, New Hampshire                                                                                                                           November 2015
Retired neurosurgeon Ben Carson was leading the national polls, edging out Trump, when he came to file his candidacy papers in New Hampshire. Although the Tea Party icon has focused his campaign almost exclusively on Iowa, hundreds of supporters jammed the statehouse hallways, holding signs that read, "HEAL" and "INSPIRE."  As visitors were screened at the metal detectors, the Secret Service confiscated copies of the candidate's hardcover books. Nothing would be more ironic than being knocked unconscious by your own words.
Known for his soft-spoken style, Carson said nothing to me as he gamely posed with Dino in the hallway. Just a big smile.
---
Marco Rubio
"No B.S. Barbeque," hosted by Scott Brown                                                                                         Rye, New Hampshire                                                                                                                           November 2015
Billed as a casual backyard cookout with an opportunity to chat with Marco Rubio, this campaign event seemed more like a movie set. The barn, which had obviously never seen any livestock, looked like it was built fresh for the town meeting.
I stood behind a pole with Dino, because there were no empty seats. A spillover crowd was enjoying hot dogs, beer, and political banter outside—which was the basic formula for former Senator Scott Brown's series of "No B.S. Barbeques" for Republican candidates. (Brown ultimately endorsed Trump.) Positioned between Rubio and the barn's only exit, I had a much better chance of scoring a photo-op than I did at the Statehouse. I lunged forward with the mob. Getting a personal moment with the candidates is not for the claustrophobic. There's a special rhythm to getting close to your target without crushing him or being crushed.
"What is that?" Rubio asked. "A dinosaur?"
"It's Dino," I said. "Haven't you ever watched The Flintstones?"
"Not for a long while!" Rubio laughed.
I took it personally that someone from my generation couldn't immediately identify such a classic character. Were my childhood icons becoming culturally irrelevant?
---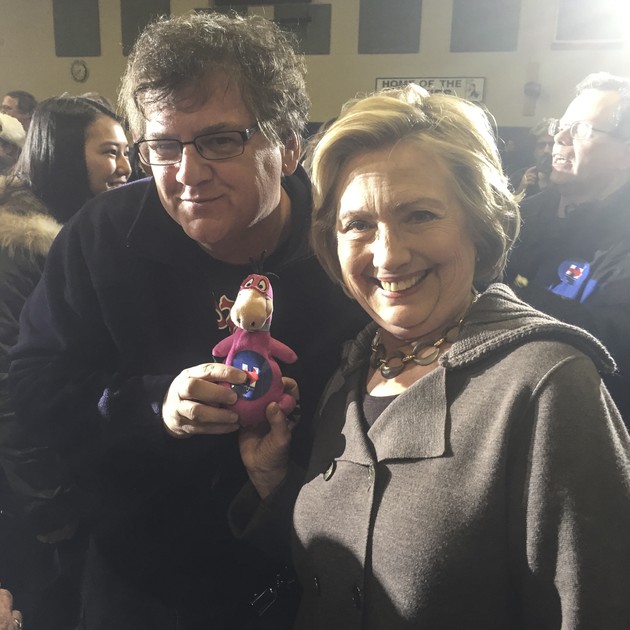 Hillary Clinton
Gilbert R. Hood Middle School                                                                                                                     Town-Hall Meeting                                                                                                                                    Derry, New Hampshire                                                                                                                           January 2016
To meet Hillary Clinton, I showed up to one of her town meetings two hours early. Scoring second-row seats, I had no problem getting a prime position on the line for Clinton's meet-and-greet. Based on her four decades in public life, I imagined that no photo request would surprise her. After all, during Clinton's first run for president in 2008, she had participated in an Iowa "Photato-Op," posing with Mr. Potato Head. And in Iowa this year, she held up an unflattering doll of herself and joked that the hairstyle reminded her of Donald Trump.
As Clinton approached, I was very conscious of the two Secret Service agents staring down at my hands. I slowly raised Dino into Clinton's line of vision. When I explained the good luck benefits, she grabbed the toy and began to pose. But then, she hesitated. "You know what?" she said, "Why don't you get in the picture with me?"
Perhaps she got a signal from one of her staffers that funny toy pictures could be taken out of context. In any case, that staffer didn't know how to take a picture. She shot directly into the bright lights, making Clinton and I both look sinister.
---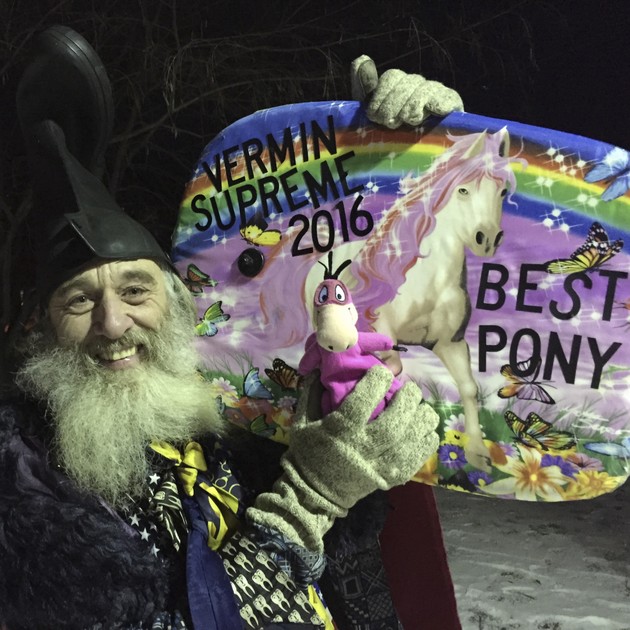 Vermin Supreme
New Hampshire Institute of Politics                                                                                                           Goffstown, New Hampshire                                                                                                                           January 2016
Perennial long-shot candidate Vermin Supreme is considered by many as the unofficial mascot of the New Hampshire primary. One of 25 "lesser-known candidates" on the state Democratic presidential ballot this year, this irreverent political satirist even has his own Snopes page. No, he's not a hoax: His legal name is Vermin Supreme (because all politicians are rats and he is the biggest one of all), and he has been mocking presidential candidates here since 1992.
Vermin has evolved from a sidewalk curiosity into an Internet meme. He promises to implement mandatory tooth-brushing laws, give a free pony to every American, fund time-travel research so he can kill baby Hitler, and rebuild New Hampshire's beloved Old Man of the Mountain (a natural rock formation lost to erosion in 2003) with laser beams coming out of its eyes.
Vermin was delighted to pose with Dino, perhaps because he matched the pink mane of his campaign unicorn.
---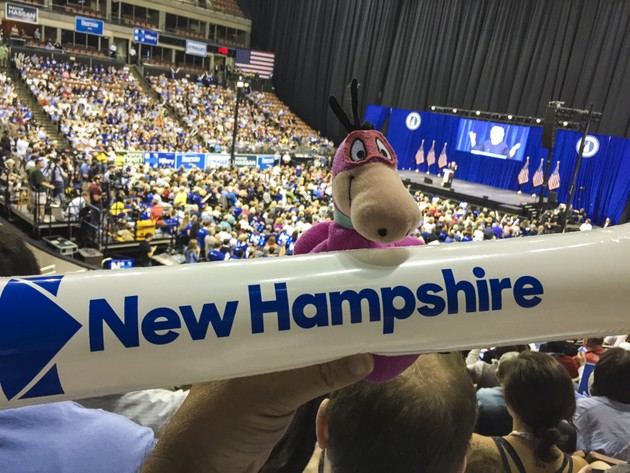 The New Hampshire primary allows anyone to get eyeball-to-eyeball with some of the most powerful people in the world. You don't need to have your own super PAC. You don't need to eat rubber chicken at a $1,000-a-plate dinner. For a few months every four years, the average person can ask the next president anything. Often, my fellow voters bring up tough issues like Social Security, health care, or the Middle East. Or they can squander the moment with a silly photo.
As they focus on the world's problems, our elected officials are under absolutely no obligation to pose with toys, take selfies with us, or sign autographs. But it's a heckuva lot of fun when they do.