Women Share Their Photos of What It's Like to Live with Hunger
This national group draws attention to women and children in poverty with their stories.
You probably don't remember the security guard who checked your bag the last time you took your kid to the Smithsonian. Or the hairstylist who gave you that blowout at Drybar before your holiday party.
But Witnesses to Hunger, a national organization that aims to draw attention to the struggles of the thousands of women and children living in poverty, wants to change that. According to the Capital Area Food Bank, Washington, D.C. has one of the highest rates of hunger in the nation, with nearly a third of the capital's children living in food-insecure households. Many of these families are technically above the poverty line, but because the cost of living is among the highest in the country, families with incomes that would be sufficient elsewhere struggle to put food on the table.
To coincide with the launch of a new Washington chapter, the group assembled a gallery of photos taken by young mothers in the region who grapple with hunger. Instead of speaking for them, Witnesses to Hunger aims to give these women a platform for telling their own stories, on their own terms.
Next America spoke with 7 women about the photos they took and what they represent. Their remarks have been condensed and lightly edited. All are D.C. residents, many for their entire lives. Some are students, others work in and around the city. None want handouts, but they do want a fair shot at prosperity.
Portraits by Justin Gellerson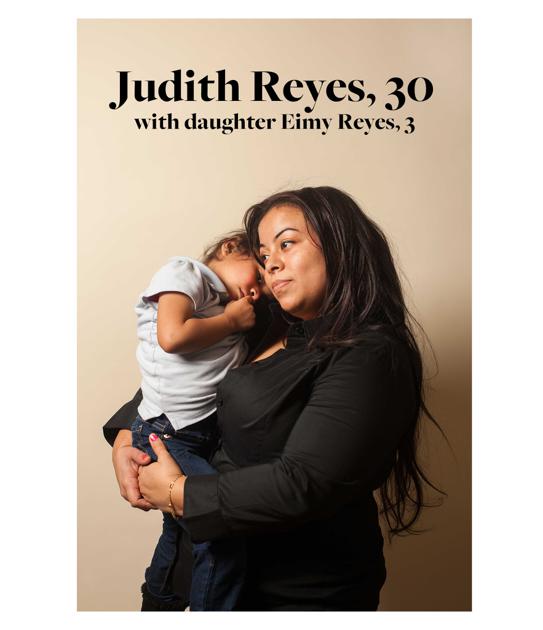 "This photo was at my bus stop. I wish I could help her. She sat there for days. It made me very sad. And it made me sad in my own situation because I could've been in the same situation. I was homeless when I took the photo. I grew up in D.C. I was in the foster-care system because of the situation at home. I didn't graduate from high school, I didn't know what to do. I kind of suffered a lot being homeless at a young age. I had to get a job very young. That motivated me a lot so as I got older, I had my own place, I was doing good until the recession came. I got pregnant, and went back to being homeless. But I just kept fighting. So that's why I'm here today, to send out a voice."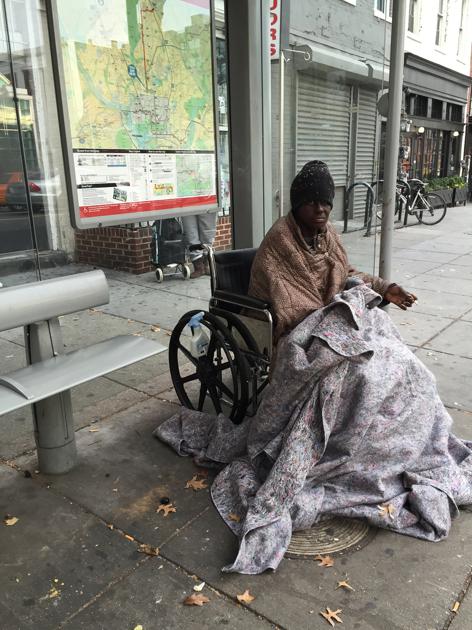 Kim Williams, 38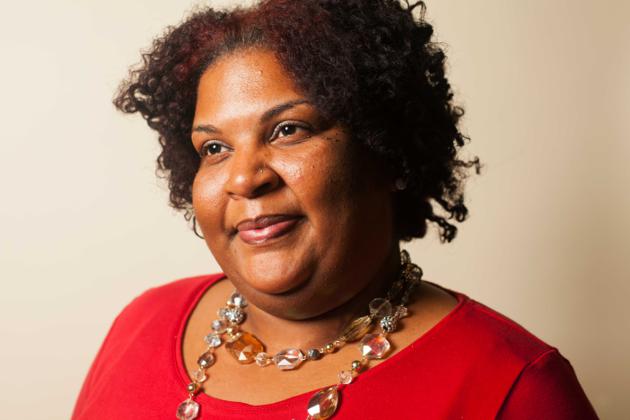 "This photo was taken on the street where I was raised. I was so fascinated because the houses were designed like brownstones in New York. As time went on, they started shoving these condos in. I have no problem with them putting up condos, but I can't afford them. They're $500,000 for a one-bedroom. I just felt this was an important picture because these condos are being put up in these neighborhoods where we were raised and want to reside, and I can't afford them. I think that working parents like myself should have the opportunity to purchase in the neighborhoods where we were raised."
"This is my baby boy. They called me and said he hurt his head and couldn't stop the bleeding. They said we have to call an ambulance and I said do what you have to do. He had stitches and they bandaged him up. I started to get nervous they were going to bill me for the ambulance because I have private insurance. They see that we work but they don't take into consideration how expensive it is to live in D.C., and how hard it is to maintain just the basics. There are so many parents in similar situations. What do I do? Do I put food in the house, or do I pay this bill? Now we're talking about bad credit because I'm going to feed my kids before I pay this medical bill. It's the domino effect of how just a little bit of assistance could go a long way."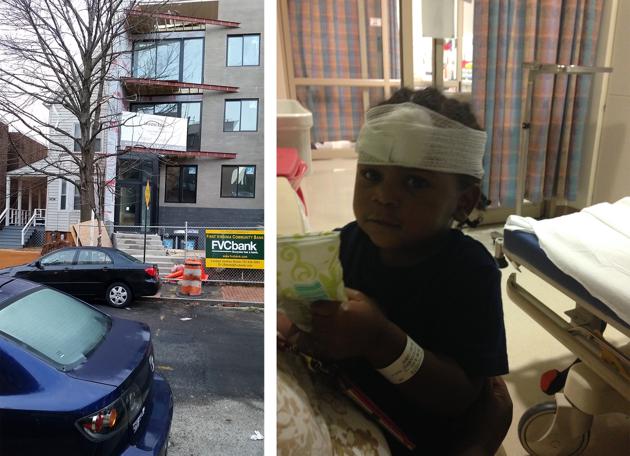 Terra Matthews, 35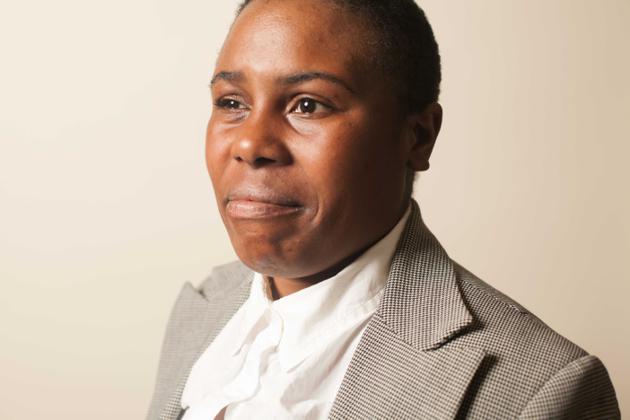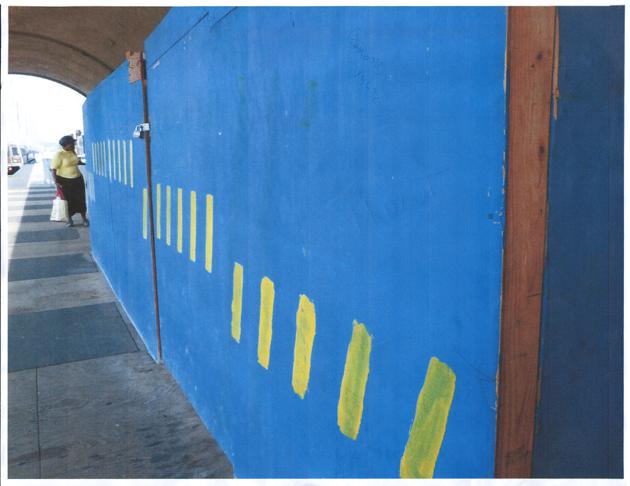 "This is the Metro station, Minnesota Avenue, we live at. It's been up for almost two and a half years. It's a safety hazard. There's nowhere to sit. You can hardly lean back. The other side is like a big hole. It never gets resolved. I rely on the Metro all the time. For us customers, if we're paying your salary, we should get the proper respect. A lot of customers don't want to complain. If we come together and tell them this is unacceptable, things will get changed."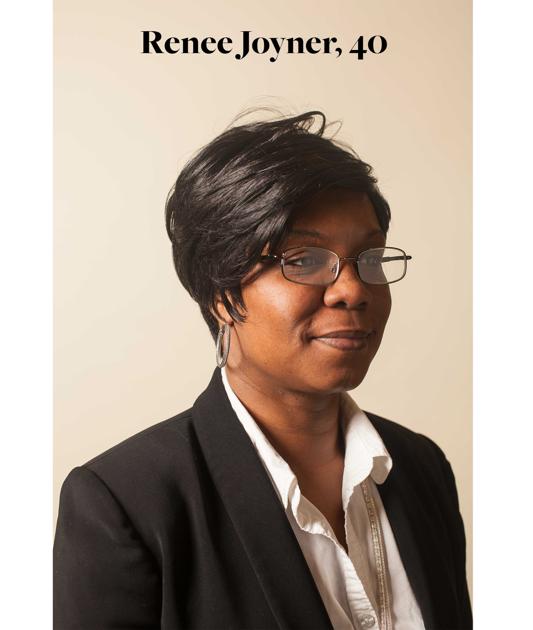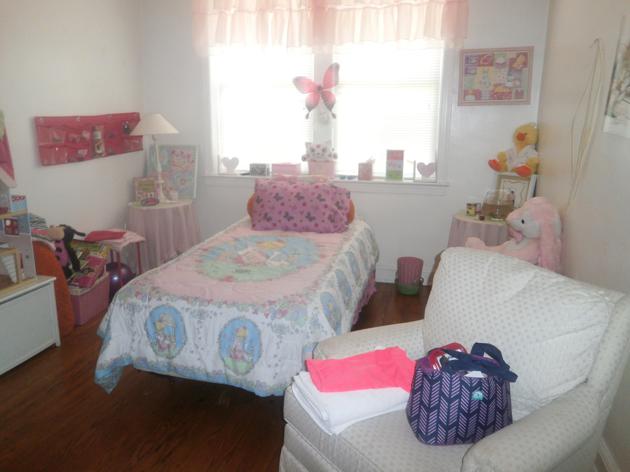 "This was my own space. I decorated it for my daughter. But my daughter has to get shots because of the mold and mildew. It's an older building. Stuff is broken. I had really bad mice problems. I couldn't afford to move out. The only reason I left was the mold and mildew. She literally gets shots every Tuesday. I moved out. I'm in transition. It's been two weeks since I left. Now I live pillar-to-post, post-to-pillar with my daughter. She's going to be 9 next week. I'm a hairstylist. 25 years. I made it a career. But it's still not enough. It's getting tremendously harder in D.C., especially for a single mother trying to make ends meet. It's next to impossible. All money goes toward rent. No saving for retirement, or a college fund. Everything at my next place will go to rent."
Jessica Ellis, 33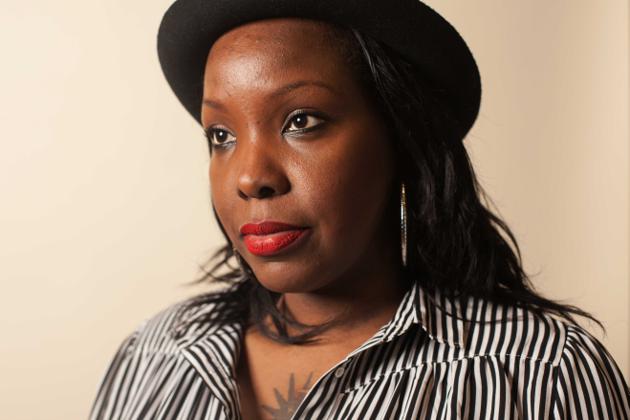 "This is my children playing in the playground. There's been a lot of gentrification. They're tearing a lot of things down. One of my fears is that this would be one of the things they'd tear down. My children have been playing there a long time. Community centers are important so kids aren't on the streets."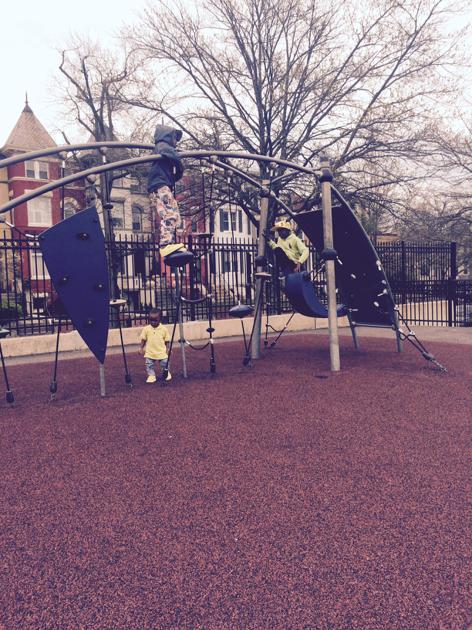 Lelise Chibessa, 31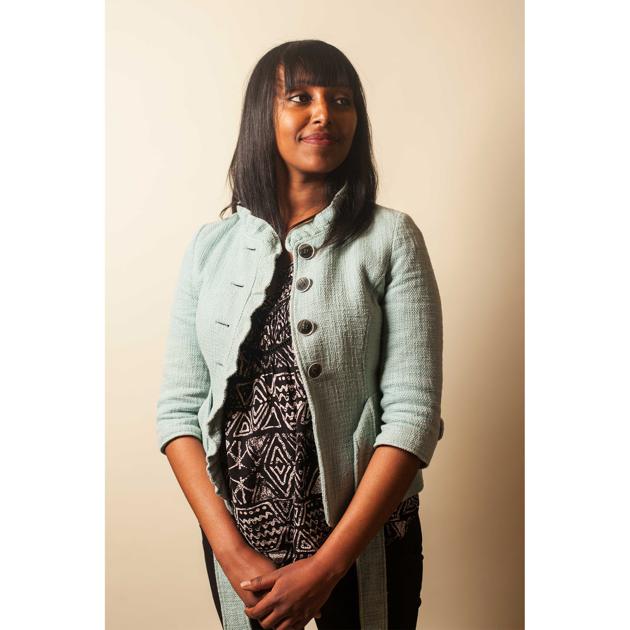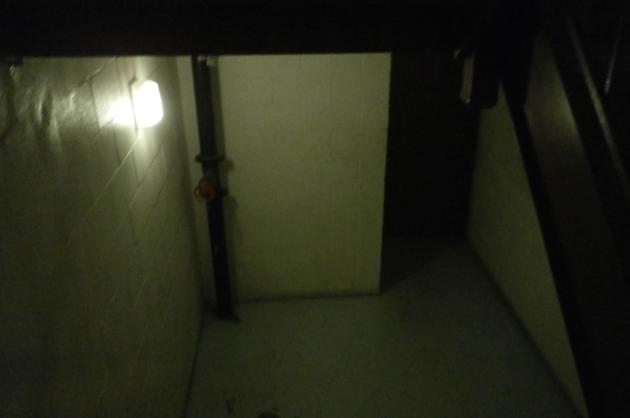 "This is a photo of the steps of the apartment I live in. It's a high rise. When you go down the steps, it's as dark as it is in the picture. I have a daughter. There are no cameras. There's no security in the hallway. A lot of people smoke weed, do drugs, and drink. So when you are walking down the steps with your child, you don't feel safe because there's too much illegal stuff happening. You wouldn't think somebody lives in this place while you're looking at the picture. I have wrote a letter before complaining, but they never responded. You just kind of give up."
Nefatera McQueen, 31, and daughter Terahji McQueen, 4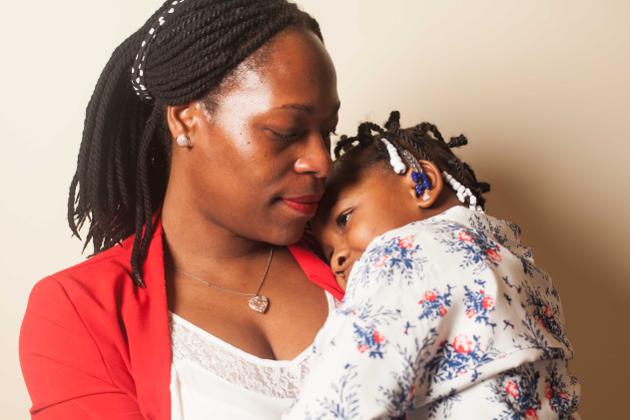 "I do work everyday. I'm a full-time mom. I have a full-time job. I got a degree in biology. But I don't work in my major. This shows that I do have bills and I go over the amount that I bring home, so I try to stretch. This picture basically means that I'm a working mom, I'm still striving, I'm not going to give up. We, too, as working moms also need assistance. It's not that we need a handout, it's just something to help us meet our means."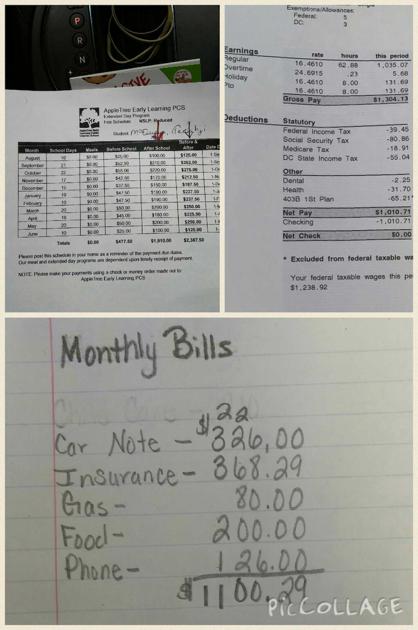 The exhibit runs through the end of January at THEARC in Southeast Washington, D.C. Cost: Free