Why the "Trump Gap" Is Growing
The fiery GOP candidate generates strong emotions in support and opposition, which presents Republicans with a dilemma.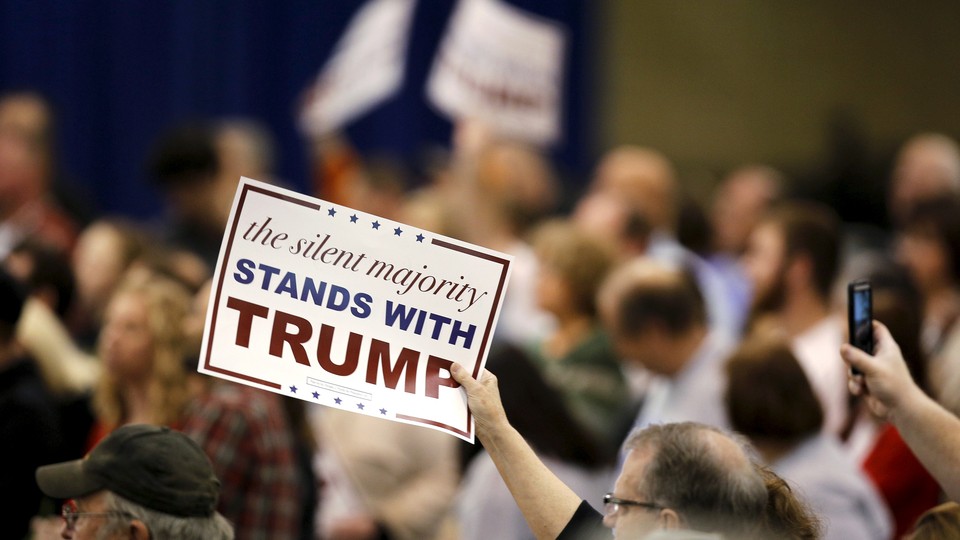 A widening distance between perspectives about Donald Trump among Republicans and all other voters—the "Trump gap"—presents GOP leaders with a conundrum as the primaries approach.
The phenomenon can be charted across a series of national polls, from which a consistent pattern has emerged in attitudes toward the GOP front-runner since he entered the race last summer.
Republican partisans and some other conservative-leaning constituencies are demonstrably warming in their attitudes toward the blustery business executive. But views of Trump generally remain stagnant, or are even deteriorating, among adults who identify as Democrats or independents. Within that mix, the groups at the core of the coalition that powered President Obama's two victories express especially toxic opinions about him.
The dynamic suggests that more Republicans are growing comfortable with the prospect of Trump winning the party nomination, even as resistance to him is solidifying among the voters he would need to win the general election.
"Republicans are looking at him and starting to think, 'Maybe I could swallow him,' and independents are looking at him going, 'Oh my god, I can't believe it,'" said the pollster for one of Trump's rivals for the nomination, who asked to remain anonymous to discuss the race's internal dynamics.
The Clinton Factor
What makes this pattern especially fraught for GOP strategists is that Hillary Clinton, the overwhelming favorite for the Democratic nomination, also faces very sticky negative perceptions among voters outside of her partisan base. Yet for all of Clinton's difficulties with independent voters and other swing constituencies, Trump's standing among the same groups usually ranks lower in the same polls.
If Trump wins the nomination, Republicans will be exposed to the risk that Clinton can mobilize a winning coalition even without resolving voters' concerns about her, simply because they find the alternative even less acceptable.
"Hillary is not going to have the same kind of positive pull and traction that Obama did, especially in 2008," says Emory University political scientist Alan Abramowitz. "So the mobilization will be based more on anti-Trump or possibly anti-Ted Cruz kind of appeals."
Across multiple national surveys, Trump's improving image among Republicans since last summer is consistent and dramatic. In CNN/ORC polls, the share of Republicans expressing a favorable view of Trump has spiked from 51 percent in July to 71 percent in December. In Quinnipiac University surveys, Republican favorability toward Trump has soared from 34 percent in May to 63 percent in December. The NBC/Wall Street Journal poll has showed more modest gains, but even there, Trump's favorability rating among likely GOP primary voters has increased from 44 percent in July to 51 percent last month.
The magnitude of the change among Republicans is even more apparent when considering Trump's net favorability: that is, the difference between the share of Republicans who view him favorably and unfavorably. In the CNN/ORC poll, Trump's net favorability has jumped from 9 to 43 percentage points; in Quinnipiac polls, he's moved from a net negative rating of 18 points to a net positive of 33; and even in the NBC/WSJ survey, his net positive rating has nearly tripled from 9 to 25 percentage points.
Long-time GOP media consultant Alex Castellanos, who has not endorsed a 2016 candidate, says Trump has strengthened his standing inside the party so dramatically because he "has tapped into the Republican soul"—particularly the fear that the country is irreversibly changing under Obama.
"With Republicans, I think he [embodies the saying that] 'desperate people do desperate things,'" Castellanos said. "We like him because maybe we see him as our last shot to repair this country. How has he done it? By antagonizing every adversary of the Republican base. And in doing that he's cemented himself as the leader of our quest."
But with adults beyond the Republican coalition, Trump's position remains much more stable—and precarious.
The share of independents with a favorable view of Trump increased only from 39 percent in July to 40 percent in December in the CNN/ORC poll; in the NBC/WSJ poll, his favorable ratings among independents have declined from 23 percent in July to 18 percent in December. Only in the Quinnipiac poll has Trump's standing improved among independents from 20 percent expressing a favorable view in May to a still meager 32 percent today. In all three polls, the share of independents expressing unfavorable views of Trump exceeds the portion rating him favorably by at least 17 percentage points.
As for crossover appeal, Trump's favorability rating among Democrats since last summer remained virtually unchanged in the Quinnipiac and CNN/ORC surveys, and has slipped slightly in the NBC/WSJ poll.  In both the December Quinnipiac and NBC/WSJ polls fewer than one in 10 Democrats expressed a favorable view toward Trump; in the CNN/ORC poll the number is about one-in-eight.
The Long-Shot View
The best-case scenario for Trump if he wins the GOP nomination is that, just as sustained exposure to him has improved his position among Republicans, months of campaigning as the party's choice could allow him to burnish his image with other voters. Watching Trump's continued success in the primaries, some Republicans who were initially skeptical of him are beginning to entertain that possibility.
That's demonstrated by the surprising case of Castellanos, a longtime GOP media consultant. Castellanos acknowledges that earlier in the campaign, he sought funding from GOP donors to mount an advertising campaign against Trump in the primaries because he feared the billionaire would hurt the party if he won the nomination. But Castellanos says he found little interest in such an effort.
Now he says that while he still believes other candidates—particularly Sen. Marco Rubio—would stand a better chance of winning in November, he does not consider it impossible for Trump to prevail. "I don't think he's the kind of president we need," Castellanos said. "But I don't think he is unelectable."
Castellanos acknowledges Trump would begin the general election as an underdog against Hillary Clinton. But Castellanos believes Trump would move aggressively to court the voters now dubious of him—and could enjoy more success than most people expect. "He will pivot," said Castellanos. "I would not be surprised if in the general election we would see a very different Trump. … Has he hurt himself with Hispanics, minorities, women, Democrats? Of course. Has he irreparably lost his ability to change how he is understood by them? Absolutely not."
But many other analysts inside and outside the GOP are skeptical that Trump could substantially improve his image in a general election because many of the same policy positions and combative personality traits that are attracting more Republicans are precisely the factors alienating other voters.
Citing such Trump proposals as mass deportation of undocumented immigrants and a temporary ban on Muslims entering the U.S., Emory University's Abramowitz says, "The reason he is doing better among Republicans is that his message resonates with a large share of the Republican electorate; they agree with what he is proposing. But outside of the Republican electorate those are things that are quite unpopular. So I don't think there is much room for growth in his standing among [other] groups at all."
Generally, across the three polls, Trump has established a somewhat better image among men, and older adults nearing the end of their work careers (those aged 50-64), a group that has expressed enormous anxiety about their economic prospects in other surveys.
Not-Silent Minorities
Trump's image remains especially toxic among the components of the "coalition of the ascendant"—the groups at the core of the modern Democratic coalition that are all increasing as a share of the electorate. Support from those growing groups—particularly the millennial generation, minorities, and college-educated, single and secular whites, especially women—allowed Obama to win two solid victories, despite facing historic deficits among other whites.
Both the CNN and NBC/WSJ polls show Trump facing unfavorable ratings from nearly 75 percent of nonwhite adults; about two-thirds of those ages 18-34; about two-thirds of college graduates; and just over three-fifths of women. With those groups, Quinnipiac generally reported even slightly worse results for Trump. And even those numbers are inflated by the warmer attitudes toward him among Republican partisans in all of those groups.
Figures provided by CNN polling director Jennifer Agiesta, for instance, show that while 66 percent of Republican women expressed a favorable view of Trump in the December survey that plummeted to a minuscule 12 percent among all women who are not Republicans. Fully 81 percent of non-Republican women viewed Trump unfavorably.
"We will have a gender gap that looks like the Grand Canyon if we have Trump vs. Hillary," predicts the pollster for another Republican presidential candidate.
That prospect is especially frustrating for Republican strategists because Clinton's own favorability ratings with women—and almost all other constituencies—have remained decidedly equivocal for months. The share of all voters viewing her favorably stands at 47 percent in the latest CNN/ORC Poll, 43 percent in Quinnipiac, and only 37 percent in the NBC/WSJ poll. In each case, a larger share of voters view her unfavorably; and in each instance, her numbers have hardly budged since last summer.
Even some core Democratic groups register lukewarm (at best) feelings about Clinton. She draws favorable ratings from only just about half of women in the CNN and Quinnipiac surveys, and only about two-fifths of them in the NBC/WSJ poll. And, just as with Trump, even those modest numbers are inflated by her strong showing among women in her own party. While 83 percent of Democratic women viewed Clinton favorably in the latest CNN survey, only 23 percent of non-Democratic women agreed. Only 19 percent of non-Democratic men expressed favorable views of Clinton in the CNN poll.
Yet Clinton's ratings look much better when compared to Trump's. While a higher percentage of men in all three polls express favorable views toward Trump than Clinton, she enjoys a much wider advantage (of about 20 percentage points or more) among women in each survey. She is viewed favorably by far more millennials, who this year will equal baby boomers as a share of eligible voters for the first time. Her overall favorability rating exceeds his by 8 percentage points in the CNN/ORC poll and ten points in both the NBC/WSJ and Quinnipiac surveys.
A race between two candidates laboring under such cloudy public assessments might turn on which could do more to reverse the negative judgments evident today. But it might also prove a uniquely negative and bruising contest decided by which contestant can more effectively reinforce the gap between their opponent's strong standing among their partisans—and far more tenuous position with everyone else.