Why Republicans Want Nikki Haley to Be the VP
In the South Carolina governor, GOP pros see a prospective vice presidential candidate who could trump Hillary Clinton's advantage with women voters.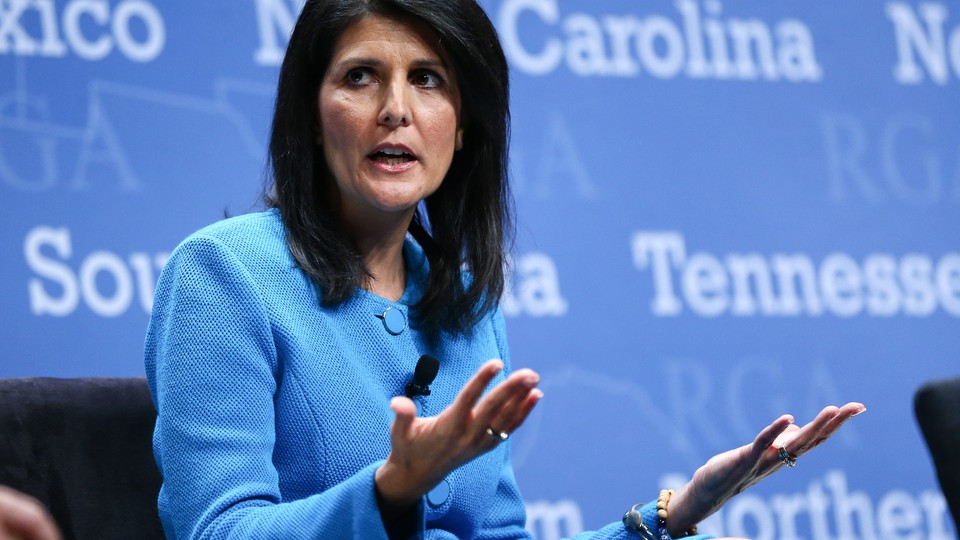 Republicans picked South Carolina Gov. Nikki Haley to respond to President Obama's State of the Union Address next week because the charismatic conservative, only months after deftly managing the removal of the Confederate flag from state Capitol grounds, is one of the party's most likeable and talented politicians.
As many of those same Republicans see it, those are the same reasons Haley should sit atop anyone's short list of vice presidential prospects—regardless of who wins the Republican nomination. Already, weeks before the Iowa caucuses, speculation has intensified that Haley's rebuttal next week is a showcase for a politician destined to reach a bigger national stage this summer.
"She not only needs to be on the short list, she needs to be high on it," said Alex Castellanos, a veteran GOP strategist. "She is an optimistic, sunshine conservative in the Reagan tradition."
The 43-year-old Haley, who made history as South Carolina's first female and first minority governor, offers a potent blend of experience, background, and rhetorical dexterity, according to Republican strategists. Especially enticing, they add, is the possibility of adding a woman to the ticket in a year in which Democrats are likely to pick the first-ever female nominee for president.
"Democrats have done everything they can to paint Republicans as a bunch of a grouchy, old, white, rich men," said Katie Packer, a GOP strategist who worked on Mitt Romney's 2012 presidential bid. "Anything we can do to take away from those things, make us less grouchy, less rich, less white, less male, I think that helps us as a party."
Haley would also help Republicans blunt Hillary Clinton's plan to put the historic nature of her candidacy and women's issues front and center in her campaign. Those themes could put a male politician, notably the GOP presidential nominee, at a severe disadvantage.
"Haley would fill both the generational and the outsider roles, but her real value would be taking it to Clinton every single day," said Scott Reed, a Republican strategist who ran Bob Dole's presidential campaign in 1996.
To be sure, selecting Haley would carry risks. She has little experience in foreign policy, which figures to be a major issue in the campaign. Her two terms in South Carolina have not been free of controversy, either, and—as always with a candidate new to the national stage—there are concerns about whether she could handle the intensified spotlight.
But it's the way she conducted herself during a national tragedy last year that brought renewed attention to her as a possible vice presidential pick.
In June, Haley made national headlines when she called for the removal of the Confederate flag from state grounds after the murder of nine members of a black church in Charleston. Haley, who had previously supported flying the flag, said she could no longer justify to her children its presence. Her decision earned widespread praise from leaders of both parties, including President Obama, who praised the governor's "eloquence" on the subject.
She instantly shot from a long-shot veep possibility to a leading prospect.
"She'd be on anybody's list," Mike Huckabee, one 14 GOP presidential candidates and a former Arkansas governor, told Fox News at the time. "She's done a terrific job in South Carolina."
Huckabee, trailing badly in both national and state polls, is unlikely to win the GOP nomination. But Haley does have friendly relationships with a handful of other Republican presidential contenders, particularly fellow governors. She has served on the executive committee of the Republican Governors Association since 2011, including while New Jersey Gov. Chris Christie chaired the organization, and she has a good relationship with former Florida Gov. Jeb Bush. Bush campaigned for Haley when she was up for reelection in 2014.
Because of her involvement with the RGA, Haley is already seasoned at stumping for other candidates. She could also help balance a ticket with a senator, like Ted Cruz or Marco Rubio, at the top.
But there's one ticket she almost certainly wouldn't be on: the current GOP poll-leader's. Haley has repeatedly criticized Donald Trump's incendiary rhetoric: Back in July, she said she was disappointed in Trump's "combative tone," and last month she called the real estate mogul's plan to ban Muslim immigrants from entering the country "absolutely un-American."
There is also tension between Haley's camp and several South Carolina-based strategists in Rubio's orbit. BuzzFeed reported last year that Rubio's digital strategist, Wesley Donehue, allegedly pushed rumors that Haley had a romantic affair during the 2010 governor's race. Still, Nathan Ballentine, a member of the South Carolina Assembly who is a close ally of Haley's, serves as Rubio's presidential campaign cochair in the state.
Even though the affair rumor hasn't come up again in a significant way since 2010, it could be a roadblock for the team that vets a potential VP pick. Haley vehemently denied the accusations, and even addressed them in her 2012 autobiography, but the topic could resurface under national media scrutiny.
"That kind of stuff gets taken care of in the vetting process," said Packer, who pointed out that the accusers have not offered any proof to support their allegation.
And John McCain's pick of Sarah Palin as his running mate in 2008 was also a major blow to the idea that a female running mate could help counter enthusiasm about the history-making nature of an opponent's candidacy, but many Republicans believe Haley's impact would be much greater because she would be matched up against another woman in Clinton.
Haley's 2010 and 2014 gubernatorial wins don't offer much evidence that she's capable of outperforming her party among women, or other traditional Democratic constituencies. According to 2014 exit polls, Haley performed comparably to Sen. Lindsey Graham among women.
Still, Republicans are bullish on the idea of her joining the ticket. Next Tuesday night, they say, might be only her first star turn on the national stage.