Why Paul Ryan Is Becoming the Counter-Trump
The new speaker offers the clearest contrast to the presidential front-runner's confrontational vision of the Republican future.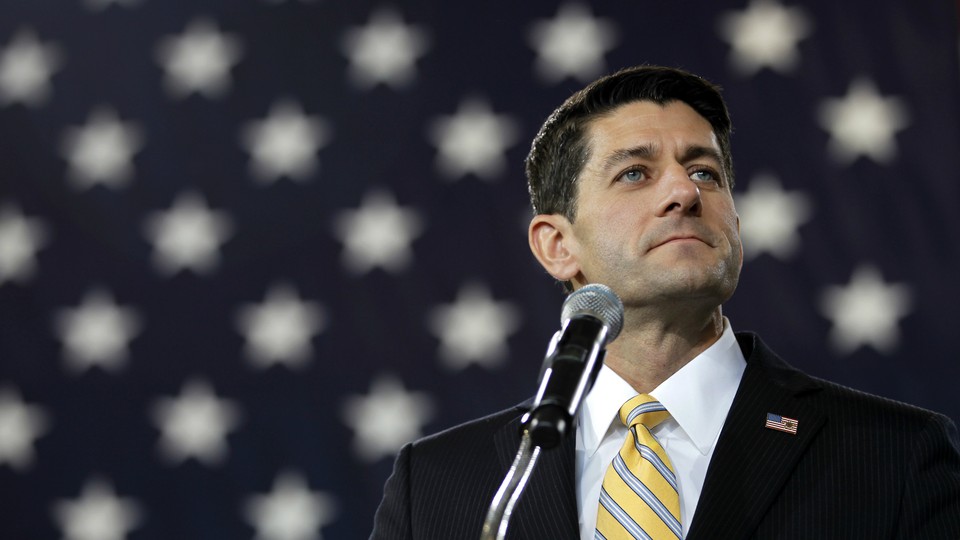 COLUMBIA, S.C.—Back-to-back events last weekend in this critical early-primary state signaled that two of the Republican Party's most dynamic figures are on a collision course.
On Friday night in Rock Hill, about 80 miles north of here, Donald Trump roused a raucous overflow crowd with impassioned populist attacks against a dizzying array of targets. The next morning in Columbia, House Speaker Paul Ryan wowed a reserved but still overflow crowd at a forum on conservative thinking about poverty with a dizzying array of policy proposals and his impassioned insistence that the party must address the problems of the poor.
Ryan has avoided direct conflict with Trump, apart from condemning the billionaire's proposal to temporarily bar Muslims from entering the U.S. But with Jeb Bush faltering in the presidential race, and Marco Rubio moving toward a darker message, Ryan emerged from Saturday's forum as the national Republican leader offering the sunniest contrast to Trump's belligerent vision of the party's future.
While Trump presents a bristling and insular nationalism targeted squarely at the anxieties of whites who feel most economically marginalized and culturally eclipsed, Ryan on Saturday argued for an inclusive conservatism that widens the GOP coalition with responses to the challenges facing all communities.
"This is a struggle for the soul of … the party," says Arthur Brooks, the polymath president of the conservative American Enterprise Institute and a Ryan ally. (That conflict became even more vivid after South Carolina Gov. Nikki Haley, who was invited partly by Ryan, used her response to President Obama's State of the Union this week to pointedly rebuke Trump.)
The Columbia forum was sponsored by the Jack Kemp Foundation, which honors the late Republican House member who helped design Ronald Reagan's supply-side tax cuts, but became best known for pushing his party to court voters of color with conservative responses to expanding opportunity. At the event, Ryan (who considers Kemp his mentor) and South Carolina Republican Sen. Tim Scott led GOP presidential contenders Bush, Rubio, John Kasich, Chris Christie, Ben Carson, and Mike Huckabee through detailed discussions of their ideas to reduce poverty and invigorate the economy. The tone was more PBS than Fox News Channel. Other than a Christie condemnation of teachers' unions, no one raised their voice.
The ideas the group debated included converting more federal anti-poverty programs into state block grants; expanding the Earned Income Tax Credit that supports the working poor, promoting charter schools, criminal-justice reform, and rethinking treatment for drug addicts. Phrases such as "outcome-based measures" and "middle-skilled jobs" drew knowing nods.
Democrats find much to criticize in these specific proposals. Advocates for the poor argue that Ryan's plans to block-grant anti-poverty programs such as food stamps would produce large spending cuts. They note that his determination to repeal President Obama's health care law would withdraw coverage from millions of working-poor Americans.
But Republican willingness to engage on problems like poverty and criminal justice reform at least provides the basis for bipartisan debate and negotiation. Politically, the forum reflected the belief of many conservative policy intellectuals that the party can win back the White House only by proving it has concrete responses that extend beyond tax cuts to the economic challenges most Americans face. "Conservatives are bringing their 'A-game' to fighting poverty," Ryan declared at one point. Later he added: "What you are learning today is we are not just an opposition party, we are a proposition party."
But that hasn't been remotely true in the GOP presidential race. None of the ideas discussed at the forum have mattered much in the contest. At Trump's appearance in Rock Hill, the loudest applause came for things he said he would fight, including the common-core educational standards, new gun-control measures, imports from Japan or China, undocumented immigrants from Mexico, and, pointedly, the budget agreement that Ryan negotiated with Obama. Trump drew a primal roar from the crowd when he promised to repeal Obama's health care law.
Trump's success underscores the extent to which the top priority for many Republican voters is now fundamentally negative: stopping a Democratic agenda that they believe is combining with demographic change to irreversibly change the country. ("Democrats are just buying votes and we are headed toward socialism," one man backing Trump told me.) As GOP consultant Alex Castellanos notes, Trump has soared partly because he is "antagonizing every adversary of the Republican base. And in doing that, he's cemented himself as the leader of our quest."
Trump's conservative populism puts him crosswise with Ryan on several specific policies—from trade and immigration to constraining entitlement spending for seniors (which Ryan supports and Trump opposes). Their more fundamental difference is that Trump is leading the GOP toward a European-style racial nationalism that relies primarily on marshaling grievances among alienated whites, while Ryan says Republicans must devise a problem-solving conservatism that can compete in all communities.
Ryan's determination to shrink government often makes him a polarizing figure in his own right. But if Trump continues to steamroll his rivals through the primaries, Ryan may unavoidably become the counter-Trump: the rallying point for Republicans who believe the GOP must organize more around hope than fear.