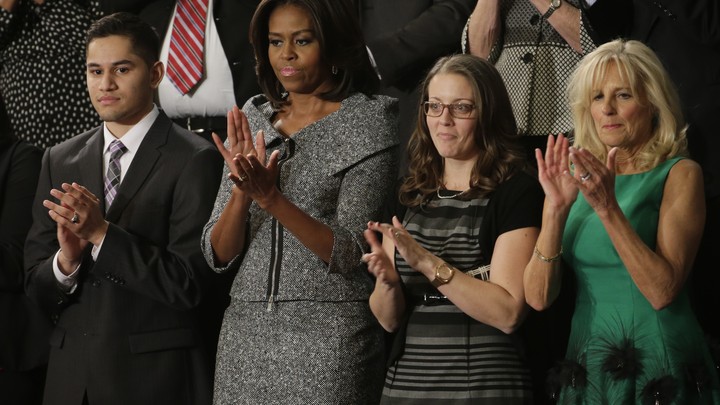 Every year, guns kill 30,000 people. At President Obama's State of the Union address Tuesday, those victims will have a seat set aside.
A White House official Friday said that for the address—Obama's seventh and final opportunity to proclaim that the "state of our union is strong"—the president will leave one seat in first lady Michelle Obama's guest box empty to honor the gun-violence victims "who no longer have a voice."
"They need the rest of us to speak for them," the official said. "To tell their stories. To honor their memory. To support the Americans whose lives have been forever changed by the terrible ripple effect of gun violence—survivors who've had to learn to live with a disability, or without the love of their life. To remind every single one of our representatives that it's their responsibility to do something about this."
Obama has been on a public crusade for gun control since the start of the year. In an emotional speech Tuesday, he announced a package of executive actions to curb gun violence, including narrowing the gun-show loophole. Recalling the 20 children gunned down at 2012 elementary-school shooting in Newtown, Connecticut, he teared up: "Every time I think about those kids, it gets me mad."
He defended those actions in a town hall on guns Thursday night, fielding questions from NRA supporters and gun-control activists alike. And in an op-ed in The New York Times, he declared that this cycle, he would be a single-issue voter, pledging that he wouldn't  "campaign for, vote for, or support any candidate, even in my own party, who does not support common-sense gun reform."
White House aides promise that unlike after Newtown, when Obama urged Congress to pass gun-control legislation that ultimately failed, Tuesday's address won't be a policy wish list. Instead, the president will take a "big-picture approach to some of the challenges and opportunities that we face as a country," a senior White House Official said last month.
We want to hear what you think about this article. Submit a letter to the editor or write to letters@theatlantic.com.
Rebecca Nelson
is a staff correspondent for
National Journal
. Her work has appeared in
TIME
,
Chicago
,
Ms.,
and
Washingtonian.