Why Obama Has So Few Friends on the Hill
Many old colleagues from his Senate tenure are gone, and schmoozing was never his strong suit.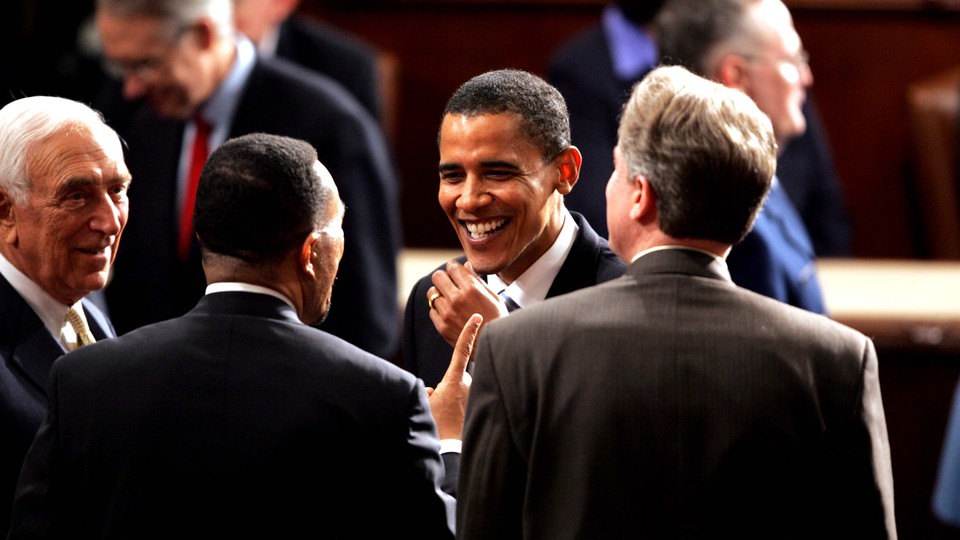 In an alternate universe, President Obama's State of the Union address—presumably his final speech before Congress, 11 years after his arrival as a freshman senator—could have been very different. It easily might have been an occasion for a fond farewell to close friends who once were his colleagues, an affectionate nod to those who helped mentor him in his early political career in Washington.
But that was not to be. The president's dealings with Congress over the last seven years have bred few affectionate memories. And, when he gazed out on his immediate audience, he saw few friends. Surprisingly, he saw few members who had even known him when he served in in the Senate.
It is a reality few could have foreseen when Obama made history in 2008. He was only the third person in American history elected directly from the Senate to the presidency, joining Warren G. Harding and John F. Kennedy in a select group. Though his Senate career was only a brief four years, there were high hopes that his knowledge of Congress and the close personal relationships formed in those years would pay off in smooth executive-legislative dealings that could dent the gridlock of recent administrations. No one expected a reincarnation of Lyndon B. Johnson, the man Robert Caro dubbed the "master of the Senate." But it was not unreasonable to anticipate something similar to George H.W. Bush, who left his four years in the House with several lifelong friendships that aided him as president.
Those expectations did not match Obama. As he has openly acknowledged, he is not a schmoozer, a glad-hander or a backslapper. Democratic Sen. Claire McCaskill of Missouri got to know him better than most. "For him, eating his spinach is schmoozing with elected officials," she told The New York Times in 2014. "This is not something that he loves. He wasn't that kind of senator."
In his first year in office, Obama boasted of two close friendships, both with Republicans much older than him—Sens. Tom Coburn of Oklahoma and Richard Lugar of Indiana. With both now gone from the Senate, Obama aides struggle to name other friends. The closest seem to be McCaskill and Democratic Sen. Robert Casey of Pennsylvania. One former White House aide told National Journal that Obama's "close relationship" with McCaskill "started when he campaigned for her Senate bid in 2006 from his neighboring state." It was then cemented in his 2008 presidential campaign.
"It was never lost on him that she endorsed him over Hillary Clinton just months after arriving in the Senate," said the former aide. "It was a gutsy play on her part, and his loyalty to her has grown into a close personal friendship."
Another former White House staffer described a similar path for Casey. Obama never forgot Casey's 2008 primary endorsement. Even now, he said, the president speaks regularly with Casey, often about personal matters. But few other senators are blessed with that kind of personal interaction with the president.
Some senators didn't really regard Obama as ever being one of them. Then-Sen. Max Baucus told The New York Times that Obama "didn't really serve in the Senate." He was reflecting the widespread view that Obama never threw himself into his Senate duties so much as use his Senate perch to quickly launch his White House bid. In that, he was merely following the route paved by both Harding and Kennedy, neither of whom were Senate heavyweights, instead viewing Capitol Hill as a way station to the White House.
They understood what so many other senators have learned, that America rarely looks to elevate a legislator into the presidency. "To get there as a senator, you had to—as Kennedy and Obama did—run as an outsider," said congressional expert Norman Ornstein, resident scholar at the American Enterprise Institute. "The Senate record was much less relevant than larger factors."
Ornstein's observation is backed up by the history of the last six decades—with a clear message to the senators running for president this year. Between Kennedy and Obama, 49 senators ran for president, according to a National Journal tally. Five managed to secure their party's nomination. But all 49 lost the election, and in no case did mastery of the Senate prove an asset. In many cases, it seemed that the more powerful the senator, the worse the candidate.
At one point in Thursday night's debate in South Carolina, New Jersey Gov. Chris Christie sharply noted the vulnerability of senators as candidates. "When you're a senator what you get to do is just talk and talk and talk," he said. "And you talk so much that that nobody can ever keep up with what you're saying is accurate or not. When you're a governor, you're held accountable for everything you do."
At times, the effort to move from the Senate to the campaign trail has been painful. That was true when Sen. Howard Baker ran for the Republican nomination in 1980. At a New Hampshire town hall meeting, Baker responded to a woman's question by saying, "The Gentle Lady raises an important point." The reaction of the crowd was almost palpable. Baker was one of the most respected lawmakers in Washington. But, here, he had used Senate-speak. It turns out that no New Hampshire voter ever calls anyone else a "gentle lady."
The vulnerability surfaced again when Sen. John Kerry ran in 2004. In discussing a 2003 measure to fund U.S. troops, Kerry said, "I actually did vote for the $87 billion before I voted against it." In Washington, they understood Kerry was talking about competing versions of the funding bill. Outside Washington, though, it was confounding double-speak that sounded like flip-flopping. "Other than the Swift Boat attacks," said Ornstein, "that was probably the most substantial and damaging attack against Kerry."
It is one of the reasons, he said, why "you are not seeing people run on their records in the Senate and, especially now, not running as Washington insiders." Such claims, he said, "don't play all that well in the general election."
Indeed, the history is being repeated this year. The three current senators fighting for the GOP nomination—Marco Rubio of Florida, Ted Cruz of Texas, and Rand Paul of Kentucky—are all in their first terms and have been criticized as Senate lightweights. Rubio almost boasts of his missed votes and exhibits open disdain for the Senate.
All three were elected after Obama left the Senate and are part of the new wave of members of Congress that help explain why the president saw so few former colleagues in his audience Tuesday night. Only 185 of the 435 members of the House were in Congress when Obama was a senator; 250 of his former colleagues on that side of the Hill have departed. In the Senate, only 45 of the current members served with Obama.
Just as important as the numbers, said Ornstein, is the attitude of the new members. "Not only is it a lot of people who never served with him, it is a lot of people coming in who have no understanding of the traditions of Congress and of the nature of relations between Congress and the president. They are overwhelmingly shaped by a political culture that is radically different."
It is why those high hopes of 2008 were so fleeting. Schmoozing has limits. "Friendships and relationships matter," said Ornstein. "But in this changed environment, they matter a whole lot less than they did 20 or 30 years ago."