Why I Trashed My "Clinton-Women" Sex File
Time and Trump may give old allegations new legs.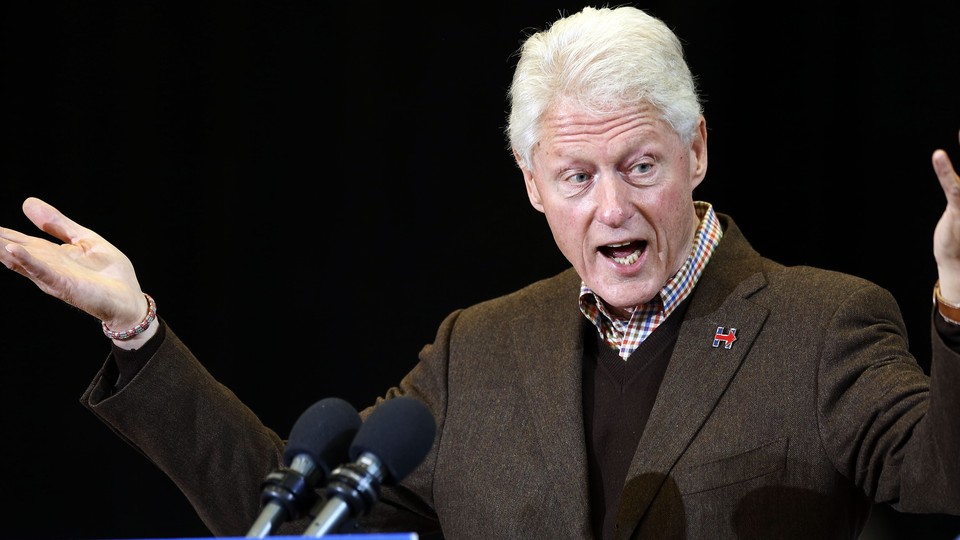 While reporting from the Arkansas statehouse in the 1980s and early 1990s, I chased umpteen rumors and allegations about Gov. Bill Clinton's womanizing. I kept my notes, transcripts, and newspaper clips inside a three-inch folder labeled "Clinton-Women," which included a statement signed in the early 1990s by Gennifer Flowers. In it, she denied having sex with Clinton.
The "Clinton-Women" file traveled with me to the White House, where I covered both terms of the Clinton presidency and the Monica Lewinsky scandal. Clinton survived impeachment after admitting to lying about a sexual encounter with Flowers and "an improper physical relationship" with White House intern Lewinsky. (I was the first to report Clinton's plans to tell a grand jury the truth about his White House affair.)
In 1999, shortly after his Senate acquittal, I threw away a box of files from Arkansas—including the "Clinton-Women" file. Like many voters, I was tired of Clinton scandals and looking ahead to the 2000 presidential campaign. Besides, his approval ratings were strong.
"I won't be needing this anymore," I told myself. "His sex life is old news."
Not anymore.
Donald Trump has declared open season on Bill Clinton's personal life after being labeled a sexist by the ex-president's wife, Democratic presidential front-runner Hillary Clinton.
"Certainly if they play the woman's card with respect to me," the GOP front-runner said last week, "that will be fair game." A Republican state lawmaker in New Hampshire heckled Hillary Clinton on Sunday about Bill Clinton's sexual impropriety. The candidate called the lawmaker rude. Bill Clinton campaigned for his wife on Monday, ducking questions about Trump's declaration.
I agree with Washington Post columnist Ruth Marcus, who said Hillary Clinton opened "a dangerous door" by (correctly) calling Trump a sexist and (smartly) using her husband as a campaign surrogate. Marcus wrote:
He had a successful presidency—with an ugly blot. "Sexism" isn't the precise word for his predatory behavior toward women or his inexcusable relationship with a 22-year-old intern. Yet in the larger scheme of things, Bill Clinton's conduct toward women is far worse than any of the offensive things that Trump has said.
It's not just about Bill. Trump is holding Hillary Clinton accountable for her behavior. As a New York Times editorial put it: "For decades Mrs. Clinton has helped protect her husband's political career, and hers, from the taint of his sexual misbehavior, as evidenced by the Clinton team's attacks on the character of women linked to Mr. Clinton." In private conversations with a close friend, Hillary Clinton once called Lewinsky, "a narcissistic loony toon." Now, she's running for president as a champion for women, particularly women abused by men.
The Clinton team hopes that Trump drops the subject. That seems unlikely.
Perhaps the criticism will backfire and generate sympathy for Hillary Clinton, which is what happened two decades ago. Nobody knows.
But senior Democrats tell me there are several reasons why they worry that the old allegations will gain new legs.
1. Hillary Clinton threw the first punch. Voters might think that Trump has the right to defend himself.
2. While voters my age baked the scandals into their opinions of Clinton years ago, millions of Americans have not had a chance to litigate the issue. As NBC's Chuck Todd tweeted Monday: "Just a reminder about how long ago the 90s really were re: Bill Clinton. Nobody under the age 38 has ever seen Bill's name on a ballot."
3. In the last two decades, the public has become less tolerant of sexual abusers, including powerful men who have affairs with young employees, and more critical of people who attack sexual-abuse victims. Voters might recoil at the memory of how brutally the Clinton team dismissed charges that proved to be true. "If you drag a hundred dollar bill through a trailer park," James Carville infamously said, "you never know what you'll find."
4. In the post-Internet era, political coverage is more focused on personalities and personal lives. A power couple whose marriage has long been the source of curiosity must tread carefully in this boom market for intimacy.
5. The culture has coarsened in 20 years. Trump himself gives people license to say terrible things in public that they had long kept to themselves. Trump and other Clinton critics must be wondering how low they can go.
6. Changes in the media landscape weakened the media "gatekeepers"—people like me who investigated scores of allegations about Clinton, but only shared information that could be confirmed.
In the old days, salacious rumors and wild allegations got filed under "Clinton-Women"—and dumped with other garbage.
Now everybody is a publisher, nobody trusts the professional media, and facts are disposable. Lord knows what stink will be aired in this environment.
This story was updated with New York Times editorial and related background.