Why D.C. Hates Ted Cruz
Cruz's fans say it's because he stands on principle. But his critics say he's never achieved anything—except burnishing his own brand.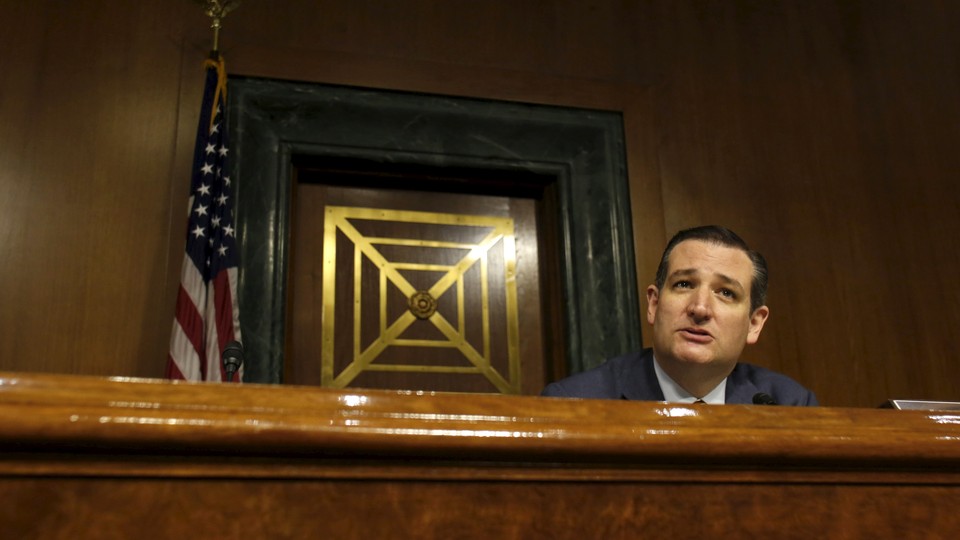 In the three years since he arrived in the U.S. Senate, Ted Cruz has become easily the most hated man in Washington—a fact he's now using to his advantage as a presidential candidate. But why?
Is it true, as Cruz would have it, that the dreaded GOP establishment pays lip service to shrinking the federal government and repealing Obamacare, but actually would prefer to preserve the status quo? Is it simply personal animosity? Or do Cruz's Beltway critics have a point?
Cruz hasn't hesitated to take polarizing stances, even when doing so means taking on his Republican colleagues. Last October, for example, a criminal-justice reform bill came before the Senate Judiciary Committee. The bill, which would give judges more flexibility in sentencing and add rehabilitative services to prisons, is a product of the increasing bipartisan movement to reform the criminal-justice system, which is supported by such disparate actors as the Koch brothers and the ACLU. And it's the baby of Senator Mike Lee, the Tea Party-supported Utahn, who's emerged as one of the most passionate conservative advocates for reform.
Lee is also Cruz's best friend—maybe his only friend—in the Senate. In his memoir, Cruz writes that no one stood by him "more courageously or indispensably" than Lee during his 21-hour anti-Obamacare speech that preceded the 2013 government shutdown. The pair have a joint fundraising committee and have posed together with a tiger-skin rug.
When Lee brought up his bill in the committee hearing, he wasn't sure if he'd have Cruz's support. But he certainly didn't anticipate what came next.
Cruz attacked the bill as dangerous and politically poisonous. He said it would lead to more than 7,000 federal prisoners let out on the street. "I for one, at a time when police officers across this country are under assault right now, being vilified right now, when we're seeing violent crime spiking in our cities across the country, I think it would be a serious mistake for the Senate to pass legislation providing for 7,082 criminals to be released early," he said. The bill, he claimed, "could result in more violent criminals being let out on the streets, and potentially more lives being lost."
Cruz went on to warn his fellow senators that if they voted for the bill, they would imperil their careers. "We know to an absolute certainty that an unfortunately high percentage of those offenders will go and commit subsequent crimes," he said. "And every one of us who votes to release violent criminals from prison prior to the expiration of their sentence can fully expect to be held accountable by our constituents." Essentially, Cruz was saying that the legislation would let dangerous people out of prison, they would commit more crimes, and the senators would be subject to Willie Horton-style attack ads.
Lee, who was sitting right next to Cruz, could not believe what he was hearing. The bill, he responded, wouldn't actually release any violent criminals from prison, and its sentence reduction for gun crimes was to reduce the minimum for felons caught with guns or ammunition from 15 years to 10 years—a provision that had once sent a man to prison for 15 years when he picked up a stray bullet in order to clean a carpet. "It is simply incorrect to say that this suddenly releases a bunch of violent criminals. It is tougher on violent offenders," Lee sputtered. "That statement is inaccurate…. We're not letting out violent offenders. That is false."
Lee's communications director, Conn Carroll, confirmed to me that Lee and his staff had no advance warning that Cruz was planning to brutally attack—and, in Lee's view, misrepresent—his friend's bill. "Going into that hearing, we definitely thought it was in the realm of possibility he would come out against it, just not with that kind of colorful language," Carroll told me. The bill made it out of committee that day, but now it appears to be in trouble, with several other Republican senators taking Cruz's line against it at a Senate lunch last week.
Today, Lee has conspicuously joined every other sitting senator in declining to endorse Cruz's presidential run. And while Lee and Cruz are still friends, the episode vividly illustrates Cruz's talent for irritating other senators.
Another telling episode came during the 2013 government shutdown, which Cruz spearheaded, insisting that if Congress defunded Obamacare, the president might go along. As McKay Coppins reports in his new book, The Wilderness, Cruz's own staff never actually expected the gambit to work. To Cruz's colleagues, it was a pointless and damaging exercise, but grassroots conservative groups cheered the effort. One such group, the Senate Conservatives Fund, sent a mailing attacking 25 Republican senators. Cruz is close to the Fund and has appeared in its ads. At a private lunch of Republican senators, New Hampshire Senator Kelly Ayotte waved the document in Cruz's face and demanded that he disavow it. When he declined, several other senators, including then-Minority Leader Mitch McConnell, took Ayotte's side and denounced Cruz.
In my conversations with Republican policy types and Senate aides about Cruz, this lack of regard for his colleagues, and for the niceties that have traditionally governed the upper chamber, was a common theme. As Trent Lott, the former Senate majority leader, told me last week, referring to the time Cruz called McConnell a liar on the Senate floor: "You just don't do that. Are we not still gentlemen, and respectful of each other?"
Another criticism of Cruz is that his antics are disruptive and damaging to the Republican Party. The shutdown nearly led to a national default, terrifying the business community. It led to the lowest approval ratings for the GOP in decades. Even the Kochs came out against such tactics. Groups like the Chamber of Commerce generally support a conservative platform, but not at the price of government ceasing to function. "It's not what he's trying to accomplish or what he says he's trying to accomplish that bothers people," former McConnell chief of staff Josh Holmes told The Washington Post. "It's that he's consistently sacrificed the mutual goals of many for his personal enhancement."
Cruz does have policy differences with the business wing of the party: Unlike the Chamber, he opposes comprehensive immigration reform, would like to kill the Export-Import Bank, and (in a reversal) opposed a recent free-trade bill. In Iowa, Cruz has been subjected to millions of dollars in attack ads and personally criticized by the Republican governor, Terry Branstad, for opposing ethanol subsidies.
But a Republican policy expert close to a number of top GOP operatives and donors insisted it's not about Cruz's style or his positions. It's his disingenuousness—and inability to produce results. "He knows his tactics are bound to fail, but pursues them to debase his Republican colleagues under false pretenses and endear himself to the base as the only authentic conservative," said the expert, who spoke on condition of anonymity because he runs an organization that does not endorse candidates. But the effort doesn't result in smaller government or the end of Obamacare—all it achieves is drawing attention to Cruz. "He is incapable of delivering anything but theater," the expert added.
You can see how these complaints look from the perspective of Cruz and his fans: like features, not bugs. They cheer his willingness to upset the apple cart and his refusal to stand on ceremony when it comes to pursuing conservative goals. His loyalty, they say, isn't to his fellow Republicans, not even his closest friends—it's to his principles. And it's hard to argue that the shutdown was ruinous for the GOP given the party's massive wave of wins in the 2014 midterm elections.
But what about the criticism that Cruz's efforts haven't gotten any results? The Cruz camp didn't reply to my query, so I put the question to Amanda Carpenter, who was Cruz's communications director during much of his time in the Senate, including the shutdown. (She's now an independent commentator.) What has he actually achieved, in terms of policy, with his disruptive tactics? Carpenter said Cruz had sent a message. "Messaging is hugely important," she told me. "We have to show people that there is an alternative to the failing Democratic agenda, and a lot of times that means just trying to stop things. Cruz has shown that one person can make a difference."
His critics might agree with that last sentence. But as they see it, the difference Cruz has made in the Senate has not been a positive one.