Where Washington is Favored Over Dynasty
In Maine, a congressional race pits a Washington-favored front-runner against a struggling scion of a Democratic political family.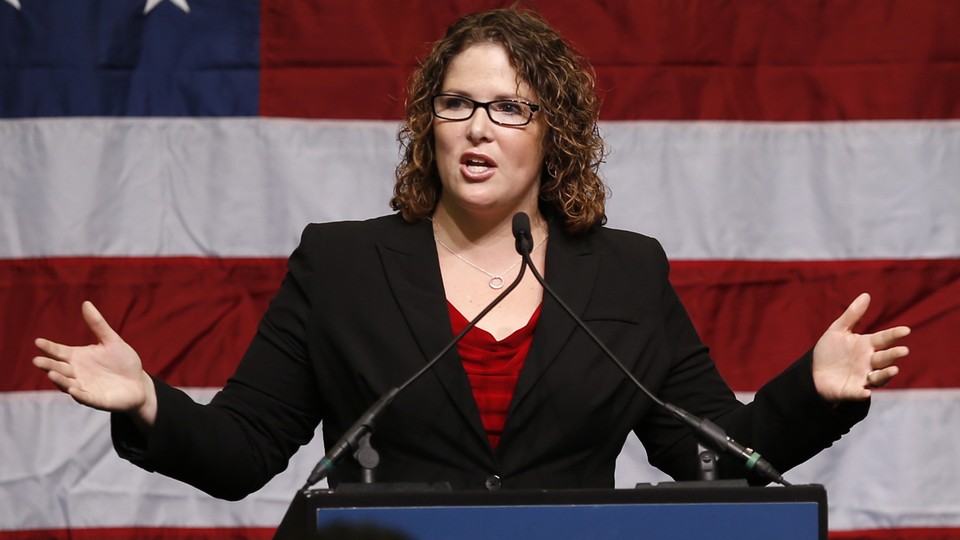 The Baldaccis are known across Maine as a stalwart political family and a mainstay of the city of Bangor, having held the governorship and seats in city, county, state, and federal government—and even owned a restaurant with statewide acclaim.
Still, one Baldacci son is facing considerable headwinds in his bid for a congressional seat. Bangor City Councilor Joe Baldacci faces former state Sen. Emily Cain for the Democratic nomination to take on freshman Republican Rep. Bruce Poliquin, who defeated Cain by 5 points in the midterms.
While Cain has rallied support from major liberal groups in Washington and Maine, Baldacci, the brother of former Maine Gov. John Baldacci, has posted unimpressive fundraising reports and elicited tepid response from Maine Democrats.
"There are still pieces of that network that exist and that Joe can draw on," says David Farmer, a former deputy chief of staff to John Baldacci. "I think that that network, though, has also moved on to supporting other people. … There are people who supported Governor Baldacci who are supporting Emily."
Baldacci's campaign quietly filed with the Federal Election Commission a report showing he raised $68,000 in the last quarter of 2015, including nearly $7,000 out of his own pocket, and $76,000 on hand. By comparison, Cain hauled in $277,000 and will report seven times as much money in the bank, Cain's campaign announced last week.
When reached by phone last week, Baldacci did not agree to an interview. He referred questions to his staff and then asked if National Journal was calling about fundraising. An email to his campaign manager went unanswered.
The former governor's networks have engaged in one respect: The Baldaccis have given their scion $10,000 in itemized contributions, hundreds of which can't be used unless he wins the primary, according to the last names of donors list in Baldacci's last quarterly report. The city councilor has invested over $38,000 of his own money, including a $32,000 loan on the final day of the third fundraising quarter.
In an interview, John Baldacci, the former governor who represented the 2nd District in Congress for four terms, said his brother is "building his campaign" and is "very effective on fundraising."
"I mean, he's been able to solicit funds from his older brother very easily," he said with a laugh.
Races are not determined entirely by money, said Democratic insiders with ties to the Baldacci family. Joe Baldacci is one of eight siblings, and many of them have been active in the politics of Bangor, the second biggest city in the district and a key Democratic stronghold, all of which builds goodwill toward his run.
"This is a family who has spent an enormous amount of time serving the public interest in and around Bangor, Maine," said Jim Mitchell, a primary opponent of John Baldacci in the 1994 open-seat House race and later a senior adviser to him.
The elder Baldacci said "Bangor was a big part of the base" when the then-state senator was first elected to Congress. The family's influence spreads beyond Bangor thanks to his statewide runs and the Maine-wide appeal of Momma Baldacci's, the Italian restaurant that acted as a culinary mecca for Mainers up north traveling to Bangor for high school basketball games.
"So people from eastern and northern Maine, when they think of Bangor, a lot of them still—even though the Baldaccis closed the restaurant years ago—they think of Momma Baldacci's," Mitchell said.
Democrats who know the Baldaccis also emphasized that TV ads, a crucial and expensive part of most campaigns, aren't the be-all-end-all in the expansive, rural district, which includes all but a southern swath of the state's land area. Retail politics have been crucial to both the former governor Baldacci and the current Republican governor, Paul LePage.
"You gotta spend money on television, but I think the base of the campaign is the fact that you're talking about a race where you're going to have less than 20 percent vote," former Gov. Baldacci said. "You're talking about probably a little less than 50,000 people. ... You get an opportunity to meet people more one-on-one and retail politick and build the support necessary to get out the vote."
In the meantime, Cain has built on her progress from 2014 and consolidated support from leaders in Washington, including the chairman of the DCCC and House Minority Leader Nancy Pelosi, who both attended a fundraiser for Cain last year, plus EMILY's List, the League of Conservation Voters, the National Women's Political Caucus, and more. She also has the support of labor groups and elected leaders in the state capitol in Augusta, where she once served as state House minority leader.
"I'd say Emily's reach across the district is likely stronger and deeper outside Penobscot County [which contains both Bangor and Cain's Orono home] and eastern Maine, so that's going to be important," Mitchell says.
It's also a matter of timing. Joe Baldacci announced his run in July, four months after Cain launched her second effort and more than four years since his brother left the governor's mansion. And while both candidates still have until June 14 to state their case to Democrats, Cain is the clear front-runner.
Awaiting the winner is Poliquin, who announced Monday having more than $1.5 million in cash on hand at the start of 2016, with six months to go until he knows his opponent.