Where Do Americans Have the Most Student Debt?
A new map tracks the growing crisis down to a zip code.
The collective student-loan debt in America stands at $1.2 trillion. That's "the second-largest class of consumer debt behind mortgages," according to a recent government report, and it's growing. An analysis of this data released in September found that this amount is four times what it was 12 years ago. This year, the average student debt in the country surpassed $35,000—the highest it's ever been.
A new interactive map takes a geographic look at the troubling trends. Built by the Washington Center for Equitable Growth, Generation Progress, and Higher Ed, Not Debt, the map tracks student loan balances, delinquency rates, and median income by zip code. Here are WCEG's Marshall Steinbaum and Kavya Vaghul in an introductory post:
The stark patterns of student debt across zip codes enable us to begin to analyze the role that debt plays in people's lives and the larger economy.
One pattern that emerges from the map is that neighborhoods with higher median income tend to show higher loan balances. This seems counterintuitive, but it actually affirms the findings of the September analysis of loan data conducted by the Treasury Department and Stanford University. According to that report, most of these borrowers with large balances are graduate students, parents, and undergraduate students. These folks likely come from higher-income families in the first place, and once they graduate, they tend to earn high salaries. That's why so many people in this group are able to carry the burden of their sizable loans without defaulting. From the joint report:
One consequence of these patterns is that borrowers in the top 20 percent of the income distribution owe more than one-third of outstanding student loan debt.
Meanwhile, people from low-income neighborhoods may not be borrowing as much, but they're unable to make their loan payments on what they have borrowed for exactly the opposite reasons: They don't have economic support from family, and their degrees may not equip them for jobs that help them pay off the loans. These two trends mean that the geography of student-loan balances is starkly different from that of loan delinquency. Take the example of Washington and Chicago below. In both these cities, the higher the income, the higher the loan balance, but lower the rate of default tends to be: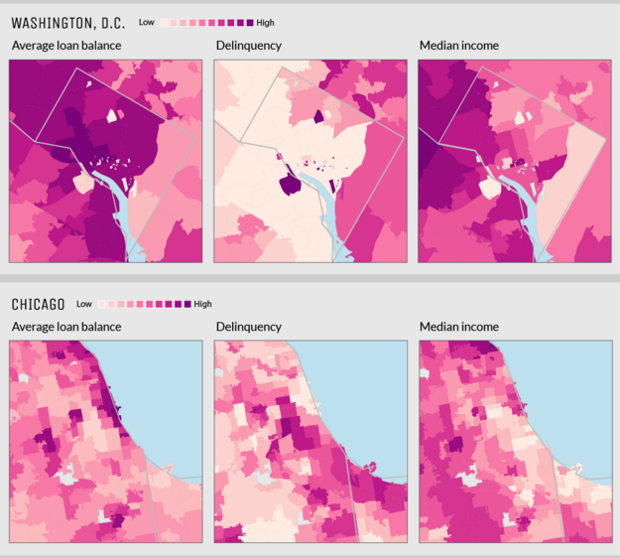 Check out the geography of loans in your city here.