What to Expect From Obama's Last State of the Union Address
He'll focus on a big-picture vision for the country's future—with some plans for how America can get there.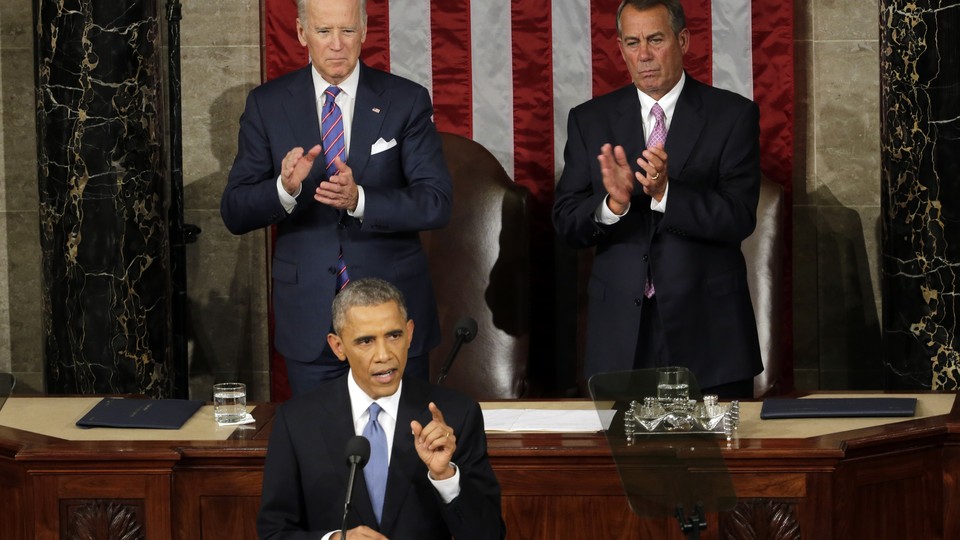 Late last year, President Obama sat down with his top aides to discuss his last State of the Union address. And he made it clear that he didn't want his finale to be anything like those of past presidencies.
In a preview video released last week, Obama said the address will focus on "what we all need to do together in the years to come: the big things that will guarantee an even stronger, better, more prosperous America for our kids."
The president's final State of the Union will be broader, more about his vision for the country in his last year in office and beyond. Here's what to look for:
It won't be a laundry list. Senior administration officials describe the speech as "nontraditional," in that the White House won't prescribe a policy wish list for Congress. Still, there are a few legislative goals the president hopes to accomplish in his last year in office, and they're ripe for compromise.
He'll likely make a renewed pitch for the Trans-Pacific Partnership, the Asia-Pacific trade deal Congress fast-tracked with bipartisan support last summer. Congress must ratify the pact, reached by the United States and 11 other countries.
There are other bipartisan bright spots: A cadre of unlikely bedfellows, from tea-party Sen. Mike Lee of Utah to liberal Sen. Patrick Leahy of Vermont, support a criminal-justice-reform bill that would reduce mandatory minimums for a slew of drug crimes. Obama has pushed for criminal-justice reform over the last year, and White House press secretary Josh Earnest in a briefing on Monday specifically mentioned the issue as one that would be on the State of the Union agenda, telling reporters that the White House "has worked hard to try to nurture the bipartisan agreement that will be required to pass that legislation."
Obama could also tout his proposal to spend $500 million to improve access to mental-health care. The initiative, unveiled in his package of gun-control executive actions last week, represented his answer to the GOP's promise to fix the nation's broken mental-health system. "For those in Congress who so often rush to blame mental illness for mass shootings as a way of avoiding action on guns," Obama said during his tearful announcement last week, "here's your chance to support these efforts. Put your money where your mouth is."
He'll try to frame the election. This is the earliest State of the Union that Obama has given, and the earliest on the calendar for any president since Gerald Ford in 1977. In part, it's a ploy by the White House to get ahead of the looming primary season and frame the narrative before the Iowa caucuses on Feb. 1. He wants to support fellow Democrats, of course, but he's also pledged to back only candidates who support gun reform. Expect Obama to contrast his "common-sense" attitudes on gun control with Republicans—whom White House officials have slammed for being in the grip of the National Rifle Association—and make a pitch for his executive orders on guns. To further get the message, look to first lady Michelle Obama's guest box, where one seat will be left empty to honor victims of gun violence.
It won't be a victory lap. Obama will mainly focus on the future. But he's proud of his accomplishments during his time in office, and he'll be sure to mention them: a nuclear deal with Iran, thawed relations with Cuba, a global climate-change agreement, declining unemployment, increased health care coverage, and new environmental regulations. In an email to supporters, White House Chief of Staff Denis McDonough name-checked achievements, but kept the focus forward. "What we have left to do is bigger than any one policy initiative or new bill in Congress," McDonough wrote in the email. "This is about who we are, where we're headed, and what kind of country we want to be."
He'll try to reassure Americans that he's got the nation's security under control. Obama closed out last year scrambling to defend his strategy on fighting the Islamic State. He may offer another defense of that strategy, or even remind the public that Congress has yet to pass an authorization of military force for the war against the terrorist group. It could be a tough sell: 64 percent of Americans say they disapprove of the way the president is dealing with the Islamic State, according to a CNN/ORC poll last month.
Another national security item Obama has yet to cross off his agenda: closing the prison at Guantanamo Bay. Senior administration officials acknowledge that while there's "not a clear path forward with Congress" on the issue, he still plans to close it "under his watch." He could announce the long-awaited exit plan, which the White House said it was "in the final stages of drafting" back in July, and appeal to lawmakers to shutter it. "Ultimately, to accomplish the goal of closing it," Earnest told reporters Monday, "we're going to need Congress to remove some obstacles that have prevented it thus far."