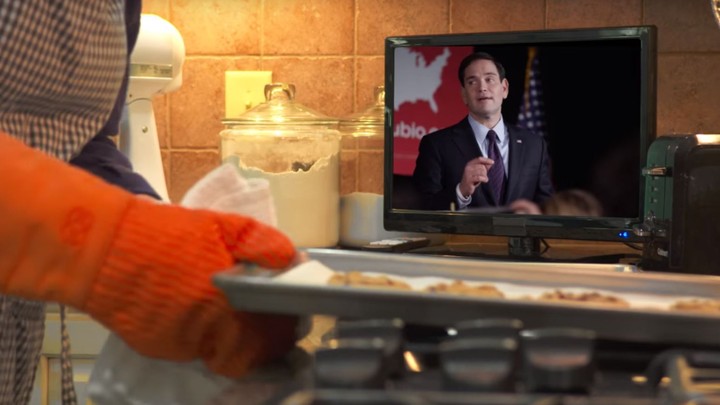 As Iowans participate in precinct caucuses Monday, they'll do so after months of candidates holding campaign events, knocking on their doors, and eating their food.
But when they turned on their TVs in recent weeks, first-in-the-nation caucus-goers were also bombarded by campaign and super PAC ads, totaling more than 350 hours in just the last two months, according to a National Journal analysis of data provided by the Political TV Ad Archive, a project sponsored by the Knight Foundation.
The analysis does not address ads aired on the final weekend, when some candidates released closing arguments. That includes the most recent infomercial launched by Marco Rubio's campaign, which contained a 30-minute televised townhall.
Rubio captured the most airtime recently of any of his competitors, nearly doubling the TV campaign waged by fellow Sen. Ted Cruz, whose campaign and affiliated super PACs created the greatest number of unique ads for the state.
Meanwhile, Hillary Clinton and Bernie Sanders have relative parity in TV time in the weeks leading up to their first official contest, where Clinton nominally led Sanders by 3 points in the latest Des Moines Register/Bloomberg poll released Saturday.
When it comes to garnering airtime, all spots are not created equal; certain ads wind up having a much stronger airwaves presence than others. Leading up to Monday, the most frequently aired spot in Iowa came from Sanders. Combined, Sanders's ads, often composed of direct-to-camera appeals on domestic policy, account for nearly a quarter of the state's presidential campaign ads.
Front-runner Donald Trump's first ad is the second most commonly played spot in the state in recent weeks, and tops among Republican ads. The "best of" playlist invokes his proposals to stem illegal immigration and fight ISIS. Since Dec. 1, that ad has hit Iowa more than 1,200 times. 
In addition to dominating the airwaves in recent weeks, Rubio's camp also aired the third most played TV ad, in which he addresses American exceptionalism.
A Clinton ad presenting the former secretary of State's plan to minimize the "wage gap" was the fourth most watched.
The most aired negative ad belongs to Right to Rise USA, a super PAC supporting Jeb Bush. The ad portrays fellow Floridian Rubio as a flip-flopper and friend of New York Sen. Chuck Schumer. Rubio has so far been one the most targeted candidates on TV, second only to Trump.
The TV ad war has also simulated the ongoing battle in the Republican primary. While Cruz has taken on the role of Trump's chief antagonist, Bush has contributed the majority of the attack ads against Rubio in a fight for establishment support.
We want to hear what you think about this article. Submit a letter to the editor or write to letters@theatlantic.com.
Zach Cohen is a web producer for National Journal Hotline. Before joining National Journal in 2014, he interned at The Washington Post, Time Magazine, USA Today and PBS MediaShift and wrote about politics and government for New Voices. Zach was born and raised in New Jersey and got his bachelor's degree in international relations from American University, where he served as editor-in-chief of The Eagle, the school newspaper.