America's Divides Aren't Just Partisan
The Republican coalition doesn't reflect the growing diversity of the United States, while the Democratic coalition has failed to persuade many Americans to embrace its vision of the future.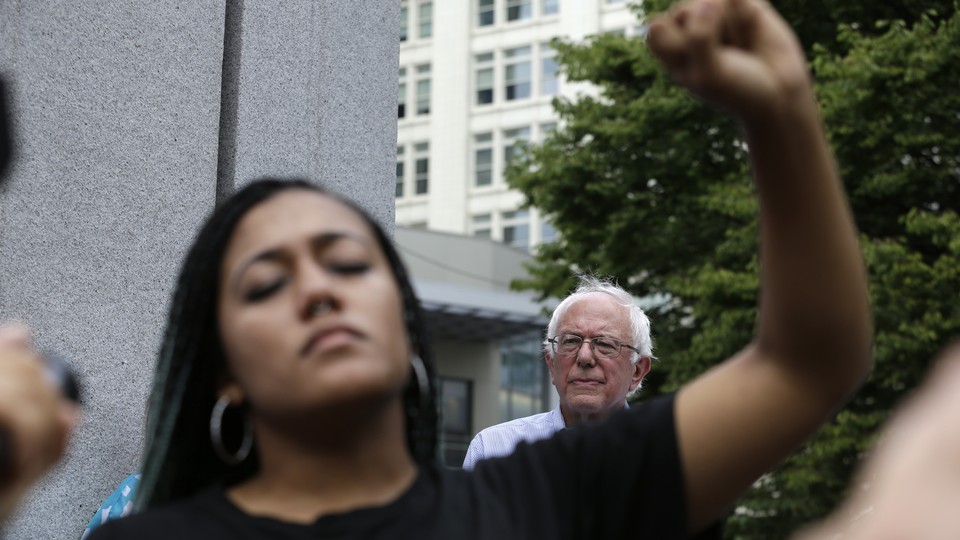 The cul­tur­al and demo­graph­ic gulf between the Re­pub­lic­an and Demo­crat­ic elect­or­al co­ali­tions can now be meas­ured not just in space, but in time.
Today, the two parties rep­res­ent not only dif­fer­ent sec­tions of the coun­try, but also, in ef­fect, dif­fer­ent edi­tions of the coun­try. Along many key meas­ures, the Re­pub­lic­an co­ali­tion mir­rors what all of Amer­ic­an so­ci­ety looked like dec­ades ago. Across those same meas­ures, the Demo­crat­ic co­ali­tion rep­res­ents what Amer­ica might be­come in dec­ades ahead. The parties' ever-es­cal­at­ing con­flict rep­res­ents not only an ideo­lo­gic­al and par­tis­an stale­mate. It also en­cap­su­lates our col­lect­ive fail­ure to find com­mon cause between what Amer­ica has been, and what it is be­com­ing.
The two dif­fer­ent Amer­icas em­bod­ied by the parties are out­lined by race.
In 2012, whites ac­coun­ted for about 90 per­cent of both the bal­lots cast in the Re­pub­lic­an pres­id­en­tial primar­ies and the votes Mitt Rom­ney re­ceived in the gen­er­al elec­tion. The last time whites represen­ted 90 per­cent of the total Amer­ic­an popu­la­tion was 1960. Eth­nic groups now equal just over 37 per­cent of Amer­ic­ans. But voters of col­or ac­coun­ted for nearly 45 per­cent of Pres­id­ent Obama's votes in 2012. Eth­nic minor­it­ies likely won't equal that much of the total pop­u­la­tion for about an­oth­er 15 years.
Re­li­gion also re­in­forces the parties' con­trast­ing Amer­icas.
White Chris­ti­ans ac­count for 69 per­cent of all adults who identi­fy as Re­pub­lic­ans, ac­cord­ing to the Pew Re­search Cen­ter's massive re­li­gious-land­scape sur­vey. The last time white Chris­ti­ans equaled that much of Amer­ica's total pop­u­la­tion was 1984—the year of Ron­ald Re­agan's land­slide reelec­tion. Today, white Chris­ti­ans have fallen be­low ma­jor­ity status, to just 46 per­cent of the adult pop­u­la­tion. The change is even more pro­nounced among Demo­crats, less than one-third of whom are white Chris­ti­ans. An­oth­er third of Demo­crats are non­white Chris­ti­ans.
But the party's largest group (around 35 per­cent) is com­prised of people from all races who identi­fy with non-Chris­ti­an faiths, or in­creas­ingly, with no re­li­gious tra­di­tion. Those non-Chris­ti­ans are grow­ing rap­idly across Amer­ic­an so­ci­ety—but in the en­tire pop­u­la­tion they likely won't match their cur­rent level among Democrats un­til after 2020.
Sim­il­arly, data from Pew's re­li­gious-land­scape study shows that nearly three-fifths of Re­pub­lic­ans are mar­ried—a level last reached in the over­all adult population in 1994. Today just un­der half of Amer­ic­an adults are mar­ried. Among Demo­crats, the num­ber is lower still: barely over two-in-five. Like­wise, the share of Re­pub­lic­ans who live in a house­hold with a gun (54 per­cent) equals the share in so­ci­ety over­all in 1993. Since then, gun own­er­ship among the general pop­u­la­tion has dropped to about 40 per­cent, while fall­ing even lower (around one-fourth) among Demo­crats.
From these con­trast­ing ex­per­i­ences, the parties now sep­ar­ate, above all, by their at­ti­tude to­ward the grow­ing di­versity and cul­tur­al changes re­mak­ing Amer­ica.
As I've writ­ten, Re­pub­lic­ans rep­res­ent a co­ali­tion of res­tor­a­tion centered on the groups most un­settled by the changes (primar­ily older, non­col­lege, rur­al, and reli­giously de­vout whites). Demo­crats mo­bil­ize a co­ali­tion of trans­form­a­tion that re­volves around the heav­ily urb­an­ized groups (mil­len­ni­als, people of col­or, and col­lege-edu­cated, single, and sec­u­lar whites, es­pe­cially wo­men) most comfortable with these trends.
A Decem­ber na­tion­al poll by the non­par­tis­an Pub­lic Re­li­gion Re­search In­sti­tute mapped the chasm between those per­spect­ives. The sur­vey found that al­most three times as many Re­pub­lic­ans (53 per­cent) as Demo­crats (19 per­cent) agreed both that "im­mig­rants are a bur­den" on Amer­ic­an so­ci­ety and that "the val­ues of Is­lam are at odds with Amer­ic­an val­ues and way of life." Nearly four times as many Demo­crats (43 per­cent) as Re­pub­lic­ans (12 per­cent) re­jec­ted both ideas.
"The is­sue of im­mig­ra­tion, Syr­i­an refugees, and the is­sue of Muslims are all in the same bas­ket," says Daniel Cox, the PRRI's re­search dir­ect­or. "They raise fears about se­cur­ity—wheth­er that's na­tion­al se­cur­ity or eco­nom­ic se­cur­ity—and fear of cul­tur­al change. These are all things that the white work­ing class is really strug­gling with."
Elect­or­ally, this di­ver­gence has be­nefited Demo­crats in pres­id­en­tial elec­tions because the groups com­fort­able with Amer­ica's evol­u­tion are cast­ing a grow­ing share of bal­lots in those con­tests. But it's helped Re­pub­lic­ans to con­trol Con­gress by deep­en­ing their hold on com­munit­ies out­side of Amer­ica's urb­an cen­ters, where these changes are con­cen­trated.
The lar­ger truth is that this cul­tur­al par­ti­tion has frus­trated both parties, by denying either a broad enough reach to es­tab­lish a dom­in­ant, much less dur­able, polit­ic­al ad­vant­age. More im­port­ant, this harden­ing di­vi­sion ob­scures our common in­terest in mak­ing our new dy­nam­ics work for all Amer­ic­ans—on is­sues from balan­cing se­cur­ity with re­spect for all com­munit­ies, to equip­ping Amer­ica's di­verse young­er gen­er­a­tion with the skills to reach the middle class and pay the taxes that will sup­port So­cial Se­cur­ity and Medi­care for the na­tion's predominantly white seni­ors.
The cul­tur­al and demo­graph­ic changes re­mak­ing the coun­try are as ir­re­vers­ible as tides, but they likely will not wash away the val­ues so many cul­tur­ally conservat­ive Amer­ic­ans fear are en­dangered. At its best, the U.S. has al­ways refor­mu­lated both its pub­lic policies and so­cial mores to re­fresh its old­est traditions with its con­tem­por­ary real­it­ies. Any­one watch­ing the volat­ile and vitriol­ic pres­id­en­tial cam­paign re­cog­nizes that Amer­ica once again needs to bridge its past and fu­ture. But that won't hap­pen if each party speaks only to one side of the di­vide.
---
This post appears courtesy of National Journal.