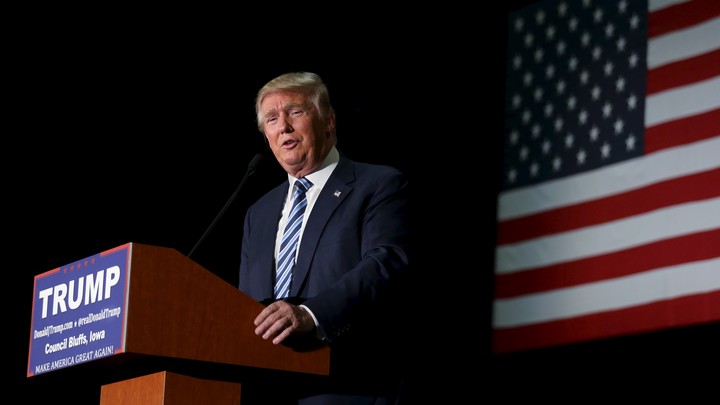 The new Donald Trump ad has dropped, and it looks a lot like the old Donald Trump campaign. In fact, the TV spot is basically a greatest-hits package of the Trump campaign:
Radical Islamic terrorism! Ban Muslim immigrants! Cut the head of ISIS! Take their oil! Stop illegal immigration! Make Mexico pay!
This is Trump's long-awaited entry into the big-time advertising game. He says he's spending $2 million per week in Iowa and New Hampshire—although his campaign has promised to spend heavily before, and failed to deliver. Trump says he hasn't bought any ads until now because he hasn't needed them: He likes to brag that his campaign is $35 million under budget, and that his poll numbers show he doesn't need the ads. But there's been a nagging undercurrent of naysayers who point out that Trump has fallen behind Ted Cruz in Iowa and that there's still no evidence that he has built a ground game capable of turning good polling into actual voters. (Maggie Haberman notes that she's been hearing about his alleged organization for some time, but that no one has actually seen much evidence of it.)
According to Howard Kurtz, a slight majority of the ad spending is in Iowa, where polls in December showed him trailing Cruz by a few points. (There has been little or no polling since before Christmas.) The balance will go to New Hampshire, where polls show Trump with a double-digit lead.
Standard practice for presidential candidates is to use each major ad buy to push a new message: Maybe a set of ads designed to convey the candidate's biography; maybe ads that focus on foreign policy, or on economic policy, or on social issues. Trump, as he has done throughout his campaign, eschews the usual playbook and simply resurfaces his biggest lines. Who knows what the Trump campaign is thinking, but this ad seems a somewhat grudging exercise: We'll make an ad, but don't expect us to do anything flashy. Since Trump's message has resonated with many people so far, there's some logic to it. Yet if the point of these ads is to win over new voters, is a recap of months-old messages the most effective way to do it?
We want to hear what you think about this article. Submit a letter to the editor or write to letters@theatlantic.com.