Trump Counterprograms the Debate
Hosting a veterans' benefit across town from the debate he skipped, the Republican front-runner manages to take the air out of both rooms.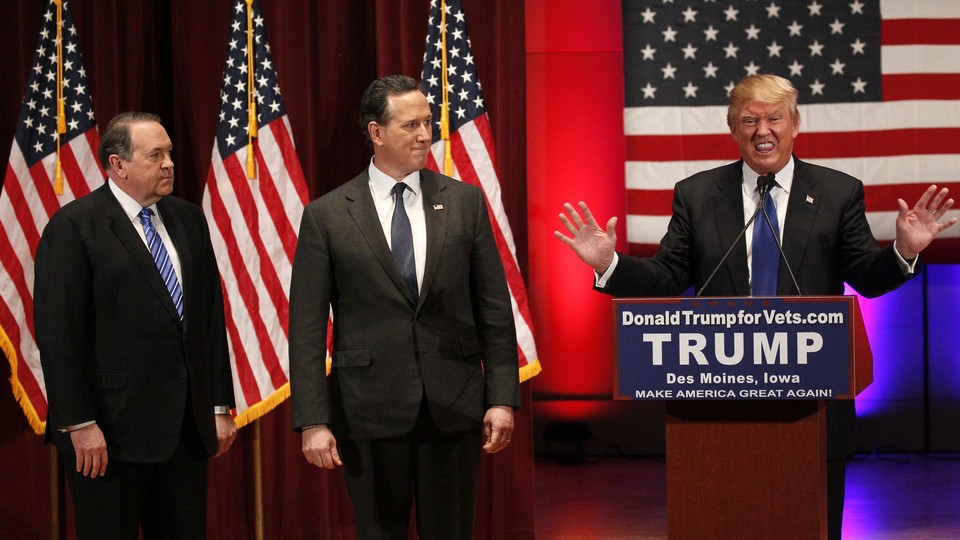 DES MOINES, Iowa—What have the Republican debates ever done for Donald Trump? They've generally featured a bunch of other candidates taking shots at the frontrunner, who tended to perform listlessly, making faces and lashing out at his foes every now and then. They've seemed to have no effect on his standing in the polls. And sometimes the moderators—notably Fox News's Megyn Kelly—have gotten under his skin.
So when Trump declared, after being insulted by Kelly and Fox, that he would skip Thursday's affair—the candidates' final face-off before Monday's Iowa caucuses—there was a certain logic to it. He could be found, instead, across town, in a medium-sized auditorium on the campus of Drake University, holding a "benefit" event for veterans, though he's yet to provide evidence that the money raised has gone to any actual veterans' groups.
"I didn't want to be here, I have to be honest," Trump proclaimed, after striding up to the microphone to Adele's "Rolling in the Deep." "I wanted to be about five minutes away." He noted that "all the online polls" had given his debate performances high marks. "But you have to stick up for your rights," he said. "When you've been treated badly, you have to stick up for your rights…. And that's what our country has to do."
Trump's hourlong counterprogram to the debate raging across town was a tame affair by his standards, with his usual bluster dialed down, his riffs—about polls, about the media, about money—delivered in abbreviated form. There were only two interruptions by protesters, who were hustled out with practiced ease.
For much of the hour Trump was present, he ceded the stage to others, bringing up a casino-magnate friend who'd donated to the charity effort; two candidates who'd come over from the undercard debate, Rick Santorum and Mike Huckabee; a pair of folksy veterans' activists, who held the stage for half an hour; and the Stump for Trump sisters, Diamond and Silk, whose advocacy has made them minor celebrities on YouTube. Trump's intermittent presence, combined with the time he spent listing the rich friends who'd contributed to the $6 million and counting he'd raised, made the evening feel like a sort of gonzo variety-show telethon.
The donors, he announced, included "Donald Trump, another great builder in New York, now a politician—I can't stand this, I don't want to be called a politician! Donald Trump gave $1 million."
The event was an effective symbol of what Trump has become: counterprogramming to the real-world Republican Party, an alternative to the way politics has conventionally been practiced—and perhaps a better show. Santorum and Huckabee praised him elaborately, a humiliating spectacle for the two past winners of the Iowa caucuses, but one that would probably get them more attention than the pre-prime-time debate. Trump claimed that there was a list outside of the organizations to whom the money would go; there was no list in evidence. (A list later went up on Trump's website.)
In closing, Trump called up his daughter, Ivanka, whose third child, he said, is due in two weeks. He was hoping the labor would come early. "Ivanka, it would be so great if you had your baby in Iowa!" he said. "I'd definitely win!"
Meanwhile, across town, seven other candidates beat each other up mercilessly, and it wasn't immediately apparent who had won the great clash of Trump and Fox News. (Trump claimed an unnamed Fox representative had apologized to him for the ordeal.) For one night, the other candidates got to live in the alternate universe of a saner, more conventional, Trump-free campaign. Unfortunately for them, that's not the world we live in.