Trump, Cruz, and the Coattails Problem
GOP campaign veterans game out the downballot effects of a controversial White House nominee.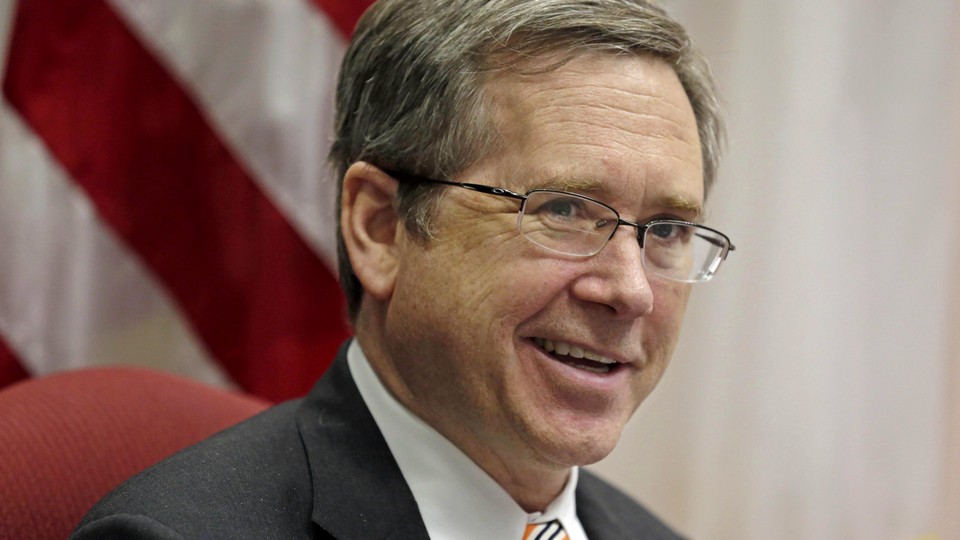 Steven Law is a Republican campaign guru atop three multimillion-dollar outside groups focused on taking back the White House and keeping control of Congress. Amid some dire intra-party cries that Donald Trump or Ted Cruz will win his party's nomination and imperil the GOP's grasp of the Senate, Law has to actually prepare for the possibility—and prosper.
But given the striking uncertainty of this year's Republican race, Law's groups—American Crossroads, Senate Leadership Fund, and One Nation—have pushed back from January to at least mid-March their important micro-targeting efforts to identify and turn out voters in various subgroups.
"We decided to push it back in anticipation of not knowing who the nominee is or what the impact could be," Law told National Journal. "We do think that the overall environment potentially shifts—not sure—but potentially shifts depending on who the nominee is."
The move underscores how the volatile nature of the presidential race is already affecting downballot races. Should a Marco Rubio or Jeb Bush win, Law says, the national playbook will be "somewhat similar" to the usual, focused on motivating and turning out the base and independent swing voters, especially women. But if Trump or Cruz wins, Law adds, his groups might have to shift to focus on "soft Democrats" and low-propensity voters.
Cruz, one of the most conservative members of Congress, has consistently argued that squishy Republicans—Bob Dole, John McCain, Mitt Romney—lost presidential elections by failing to motivate those voters. But some Republican strategists think that a Cruz or Trump nomination would be a disaster and could cost them the Senate. With Republicans and Democrats now more divided than they have been in decades, the correlation between presidential races and Senate races has increased—and these strategists particularly scoff at Cruz's strategy to rely upon a fired-up base.
"Any candidate who thinks that the way to win a national election is to forgo any effort to win swing or moderate voters is not living in reality—and that will certainly hurt the down ticket," says Rob Jesmer, a former executive director of the Senate Republicans' campaign arm, without naming any particular candidate. "We've basically moved to parliamentary elections. … People vote straight-ticket a lot."
"The way I look at it is: Could Ted Cruz win a Senate race in Illinois? I don't think so," says Josh Holmes, a former senior adviser to the National Republican Senatorial Committee. He notes that the state's Republican senator, Mark Kirk, has "outperformed" the ticket in the past.
The political environment favors the Democrats. While the Democrats have to buck history—rarely has the Senate flipped control in a presidential-election cycle—Republicans have to defend 24 of 34 Senate seats up this cycle and can lose only a net of four seats, should they win the presidency, to maintain their control of the chamber. The nonpartisan Cook Political Report notes five "toss-up" races, only one of which (Nevada) is currently held by a Democrat.
Republicans are quick to point out that Hillary Clinton's favorability numbers are weak—Law claims she'll have "shorter coattails than a pantsuit." And the Cruz and Trump campaigns can claim early polls showing them within striking distance of Clinton—and even ahead in certain ones. Both, however, lag behind Rubio, who is a point behind Clinton in the latest Wall Street Journal/NBC poll.
While waiting to figure out who will become their nominee, Law says that the most effective Senate GOP candidates, like Sens. Rob Portman of Ohio and Kelly Ayotte of New Hampshire, are "hugging the ground," focusing on state issues like the heroin epidemic. That, and remembering the first rule of Stephen Covey's 7 Habits of Highly Effective People.
"The first habit is to focus your energy on your circle of influence versus your circle of concern, which basically means you focus your attention on things you can affect rather than the things you worry about," said Law.
It appears the candidates agree.
"For me, you could drive yourself crazy, in a targeted race like mine, of what will happen," Kirk told National Journal. "And I'm just focused on the people of Illinois."