This Is Where Your State Ranks in Education
The quality of education still varies widely across the country.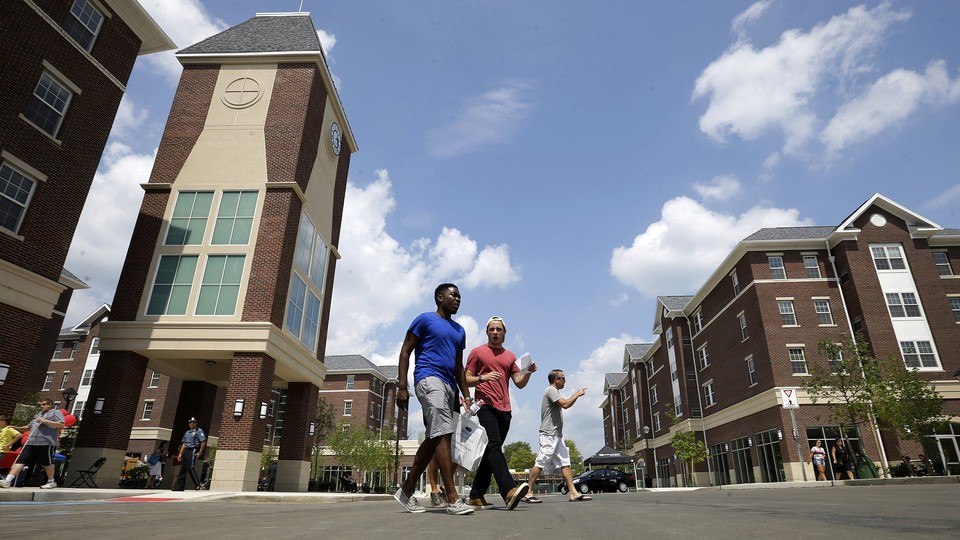 How well are states educating students?
A pair of new rankings attempts to answer that question.
The first report, Education Week's annual Quality Counts report, looks at K-12 education and finds that, on the whole, the nation earns a C, or 74.4 percent. Northeastern states such as Massachusetts, New Jersey, Vermont, and Maryland score the best with B grades or higher, but no state earns an A.
Using a range of indicators that include academic performance, equity and school finance, the report finds that Southern and Western states perform the worst, with Nevada coming in last with a D grade and 65.2 percent.
The District of Columbia, which has the nation's lowest high school graduation rate at less than 62 percent, moved up 10 spots to 28th place in this year's report, in part because family incomes and employment have increased in the capital.
The report finds that per-pupil spending is $11,667 on average, with vast differences across states. Vermont spends nearly $19,000 per student, while Utah spends just shy of $7,000 (Vermont comes in third overall with a solid B ranking, while Utah scores just above West Virginia with a low C.). Just one state, Alaska, offers more funding for poor districts than wealthier districts.
Explore the full report at Education Week here.
The second report, from the youth-advocacy organization Young Invincibles, measures state support for public higher education.
The report found that states have slashed per student spending more than 20 percent between 2008 and 2014. States often trumpet that they've invested more over the past couple of years, but Young Invincibles notes that just two states—North Dakota and Alaska—spend as much on higher education as they did prerecession.
Between 2008 and 2014, Louisiana and Alabama both cut higher-education funding by about 40 percent. New York's funding has only declined 5 percent during that time, making it one of the three states with the smallest cuts.
At the same time as sometimes-drastic funding cuts, tuition and fees, the report finds, have risen 28 percent, or slightly less than $2,000, since the recession. While some states—including Maryland and Missouri—have kept increases below 10 percent, others—including Arizona and Georgia—have increased tuition at four-year schools by more than 65 percent.
All of that means that families now shoulder a much-higher percentage of the cost of attending college. In 2008, students and their families covered slightly more than a third of the cost of public college. In 2014, it was about half. Families in Vermont and New Hampshire pay more than 80 percent of college costs. In Wyoming and California, families pay 15 and 22 percent respectively.
Students of color have likely been disproportionately impacted.
Tom Allison, deputy policy and research director, told Next America, "Students of color disproportionately attend public institutions and these institutions are especially reliant on state budget support."
The group added an "attainment equity" measure this year, which measured gaps in college attendance between whites and blacks and Latinos. The report found that the gap between white adults and Latino adults with a postsecondary degree grew more than 2 points between 2007 and 2015. The upshot is that more people of all backgrounds are getting degrees, but degree attainment is growing fastest among whites. West Virginia has the highest attainment gap when it comes to whites and blacks, at 24 percent, while California has the highest gap between whites and Latinos, at 34 percent.
Allison suggested that states adopt specific goals and plans to close attainment gaps. Young Invincibles has found, he added, that increasing need-based aid as opposed to merit-based aid, robust advising programs, and clear transfer options from community colleges into four-year universities encourage students of color to not only enroll in college, but earn a degree.
Explore the interactive map from Young Invincibles below to see where your state stands.