These Voters Could Decide GOP Race
Blue-collar cultural conservatives loom large as a pivotal voting block, especially across the South and Midwest.
GOP presidential leaders Donald Trump and Ted Cruz may have their battle decided by voters at the intersection of their competing strengths: working-class Republicans who are also evangelical Christians.
Those blue-collar culturally conservative voters represent a big share of the Republican electorate not only across the south but also in many Midwestern states. They also remain one of the most closely divided constituencies in the party, according to an array of recent polls provided to Next America.
Trump underscored his determination to compete for evangelical support with a high-profile speech Monday at Liberty University, which was founded by the late Jerry Falwell Sr., a leading conservative Southern Baptist pastor who also played a key role in launching the Moral Majority in the late 1970s.
Cruz, who runs best among evangelicals, is pursuing these voters through traditional means: by emphasizing his conservative commitment on social issues from abortion to gay marriage and by copiously organizing through churches and other religious networks such as homeschooling families.
"Ted decided the evangelical vote is his path to the nomination," says longtime social-conservative leader Ralph Reed, founder and chairman of the Faith & Freedom Coalition. "This was his path message-wise; it was his path in terms of his personal narrative, it was his path organizationally. He has been focused laser-like on coalescing the evangelical vote behind a single candidate as early as possible."  While "of course other candidates will be fighting for those votes as well," Reed adds, "if [Cruz] pulls it off first in Iowa and then in later primaries, he'll be a formidable contender."
But Trump has threatened that strategy with a bristling insular message that has demonstrated a powerful appeal for blue-collar Republicans across religious boundaries.
Trump's strength among working-class evangelical Christians is helping him to closely press Cruz in Iowa, a state whose Republican caucus has usually favored the candidate that evangelicals prefer. The same dynamic could threaten Cruz in the Southern states that he is counting on to boost his candidacy in early March. Continued Trump strength among blue-collar evangelicals would also frame Midwestern states with many of those voters, including Ohio, Missouri, and Wisconsin, as potentially pivotal showdowns between the two men.
A wild card is whether a third candidate can consolidate the voters at the opposite end of the GOP's class and cultural spectrum: college graduates who are not evangelical Christians. Those voters provided the foundation for the nomination victories of Mitt Romney in 2012 and John McCain in 2008. But they remain fragmented so far in this race and have not coalesced around a single champion.
Cumulative exit polls that measured results from all the major contests in the 2008 and 2012 Republican nominating contests found that GOP voters in both years divided almost exactly in half between those with and without a four-year college education. Evangelical Christians constituted just under half of all GOP primary voters in 2008 and just over half in 2012. (The difference is probably explained by the fact that the 2012 race ran more heavily through Southern states before Rick Santorum, the runner-up to Romney, conceded in early April 2012.)
Both in 2008 and 2012, there was no major difference in the voting choices of blue- and white-collar evangelical Christians across the key states, according to previously unpublished results from the exit polls in those years provided by Edison Research, which conducts the surveys. The bigger divide was between voters who were and were not evangelical: Romney, for instance, won about half of the former, but just under one-third of the latter, according to a cumulative analysis of 2012 exit polls conducted by ABC Pollster Gary Langer.
But this year, the particular strengths of Trump and Cruz—and the vacuum in the white-collar lane that Romney filled last time—have produced a more complex mosaic.
To understand how states may fall between this field of candidates, it's revealing to look at education and religious affiliation together to create a four-way grid of Republican voters: evangelicals with and without a four-year college degree, and non-evangelicals with and without such advanced education.
The Education Divide
These four groups may be comparable in size. The NBC/Wall Street Journal Poll tracks conservative Christians through a series of questions that identify so-called "values voters." When their November and December national surveys were combined to produce a more representative sample, the results showed that college-educated values voters could account for about one-fifth of the GOP primary electorate this year, while the other three groups may each provide about one-fourth.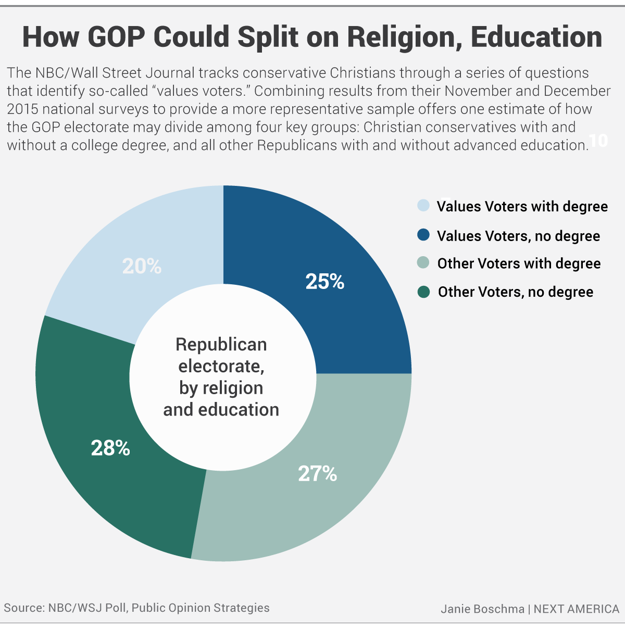 When the electorate is viewed through this lens, Trump consistently polls best among the non-evangelicals without a college degree—the working-class whites many would describe as the prototypical Reagan Democrats.
In Quinnipiac University's Iowa poll released last week, Trump drew 37 percent of these voters with Cruz finishing next with 25 percent. NBC/Wall Street Journal/Marist Institute Polls released last week also showed Trump holding big leads among these voters in Iowa (drawing 41 percent) and New Hampshire (where he won 43 percent). The most recent CNN/ORC survey in South Carolina, back in October, showed Trump attracting fully half of them. Nationally, Trump drew one-third of those blue-collar non-evangelical voters in a December Quinnipiac survey, his best performance among any group in this four-way grid, and well ahead of any rival.
Cruz's best group in these polls, particularly more recent ones, are Republicans at the opposite corner of the party: evangelicals who hold a college degree. In Iowa, Cruz draws 43 percent of them in the new Quinnipiac survey and 37 percent in the NBC/WSJ/Marist poll, far outpacing Trump each time.
In the December national Quinnipiac survey, Cruz drew 30 percent of college-educated evangelicals, compared to just 11 percent for Trump (and 18 percent for Ben Carson). The NBC/WSJ national polls produced a similar result: Among college-educated values voters, 47 percent preferred Cruz and Carson combined, compared to just 14 percent for Trump. (Marco Rubio actually finished ahead of Trump with these well-educated evangelicals in both surveys.) Carson ran particularly well with these voters early on, and Cruz will likely benefit from the extent to which the neurosurgeon continues to slip in the race.
That leaves two of the four groups in this segmenting largely up for grabs.
One is the faction that has backed the winner in the two most recent GOP contests: non-evangelicals who hold a college degree. These white-collar, more secular, economically focused voters matter most in more affluent and urbanized states. In 2012, they represented the largest share of these four groups in states such as Illinois and Michigan (where they cast about one-third of all ballots) and New Hampshire (where they accounted for nearly half), according to Edison Research data. Romney consistently dominated among these voters, winning about half or more of them in Florida, Ohio, Michigan, and Illinois—the states that sealed his victory. McCain also performed well among them in 2008.
This year, though, these upscale voters remain splintered among a wide array of choices. Both the latest Quinnipiac and NBC/WSJ/Marist Polls show a narrow three-way split among them for Trump, Cruz, and Rubio in Iowa; the new NBC/WSJ/Marist poll in New Hampshire shows five candidates closely bunched among them between Trump (at only 21 percent) and Bush (at 10 percent). Nationally, Quinnipiac found Trump (at 28 percent) narrowly leading Rubio and Cruz (each just under 20 percent); the NBC/WSJ polls also found Trump leading among them but with just 23 percent and four other candidates in double digits.
Trump and Cruz May Race to the Finish
Whether any single candidate can consolidate these voters, as Romney did, will likely determine whether one of the rivals now jostling in the race's crowded center-right lane can emerge to truly threaten Trump or Cruz for the nomination. The results in New Hampshire will be a critical milestone in that process.
Regardless of how that process unfolds, the competition between Trump and Cruz may turn on the last of these four groups: evangelicals without a college degree. These voters have also been divided.
Nationally, the combined NBC/WSJ surveys showed Carson and Trump each winning just over one-fourth of blue-collar values voters, and Cruz drawing about one in six. The Quinnipiac survey, conducted solely in mid-December, may capture more recent shifts: It found Cruz attracting just over one-third of these voters, with Trump taking about one-fourth and Carson falling back to one in 10.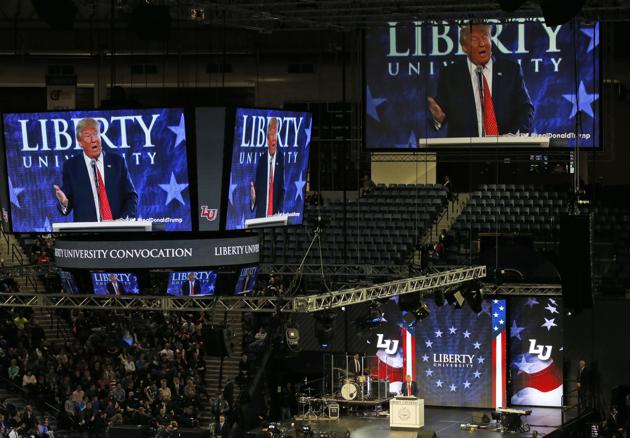 Of particular importance, two recent Iowa soundings show Trump running better in that critical initial contest among working-class than college-educated evangelicals.
Though Cruz led big among college-educated evangelicals in the latest Quinnipiac Iowa survey, the poll placed Trump ahead of Cruz by 32 percent to 30 percent among evangelicals without a college degree. The NBC/WSJ/Marist Poll in Iowa showed Cruz still leading Trump among blue-collar evangelicals, but with a much narrower advantage (nine percentage points) than among their college-educated counterparts (23 points).
Craig Robinson, founder of The Iowa Republican website and former political director for the state GOP, said Trump's strength with these working-class evangelicals "doesn't surprise me at all. He definitely has this appeal to the hard-working blue-collar little guy." As for Cruz, Robinson added, "I don't think he's a lock at all" for these voters.
Working-class evangelicals represent a potentially pivotal block not only in the South, but also across key Midwestern battlegrounds that also vote in early March. In 2012, noncollege evangelicals cast more than one-third of the Republican ballots in South Carolina and Georgia, almost exactly one-third in Ohio, and about one-fourth in Florida, Illinois, and Michigan, the exit poll figures show. They will also carry significant weight in other Southern and heartland states like Tennessee, Arkansas, Oklahoma, Mississippi, Missouri, Wisconsin, and Kansas.
Cruz has courted these voters partly by moving closer to Trump's positions on immigration and trade. But mostly Cruz is betting on his assiduous organizing through religious networks. His "Faith and Religious Liberty Coalition" has attracted endorsements from some 400 conservative religious leaders, including prominent national figures such as Focus on the Family founder James Dobson and Bob Vander Plaats, president of the Iowa Family Leader. And, like Santorum and Mike Huckabee before him, Cruz has worked doggedly to attract homeschooling families. In South Carolina, "Cruz is working the evangelical pastors and getting them engaged, and he is doing that pretty effectively," says Oran P. Smith, president of the Palmetto Family Council, a leading social conservative group there.
Many observers believe this organizing—and Cruz's unwaveringly conservative record on social issues such as gay marriage—has provided him a clear edge with evangelicals for whom cultural issues and personal values are paramount. Dennis Googe, a small business owner from Rock Hill, South Carolina, who attended Donald Trump's recent rally there, is one of them. Though Googe said he admired Trump, he planned to vote for Cruz "because he is solid in his belief against abortion and homosexual and lesbian marriage, and Mr. Trump sometimes comes across as he may not be."
Cruz's recent attacks on Trump for embodying "New York values" may help the senator cement other evangelicals like Googe torn between their admiration for Trump's ardor and their "Christian convictions," as Googe puts it. Trump gave Cruz an assist in that effort by mangling a bible verse during his Liberty speech on Monday.
Cruz's problem, many analysts say, is that even many evangelicals this year may find Trump's anti-establishment, anti-immigrant, anti-trade arguments more compelling than social issues. The evangelicals drawn to Trump "are a different class of voters," says John Brabender, the chief strategist in 2012 for Santorum. "My impression is they are first and foremost driven by who they are as far as occupation, income, lifestyle, than whether they are evangelical or not."
Watching from South Carolina, Smith agrees that Cruz may find it more difficult than many expect to dislodge Trump from his beachhead among evangelicals, especially working-class ones. Tellingly, Smith says, the sincerity of Trump's religious faith is drawing much less discussion than debates about Romney's Mormon religion did in 2012. "There is not a lot of obsession among blue-collar evangelicals with minor points of theology," Smith says. "Those things go to the margins when people feel desperate and the Republican primary electorate feels to me a little desperate right now."
---
Janie Boschma contributed to this article