The Winners and Losers From the South Carolina Republican Debate
Cruz, Trump, Rubio, and Christie all registered solid performances.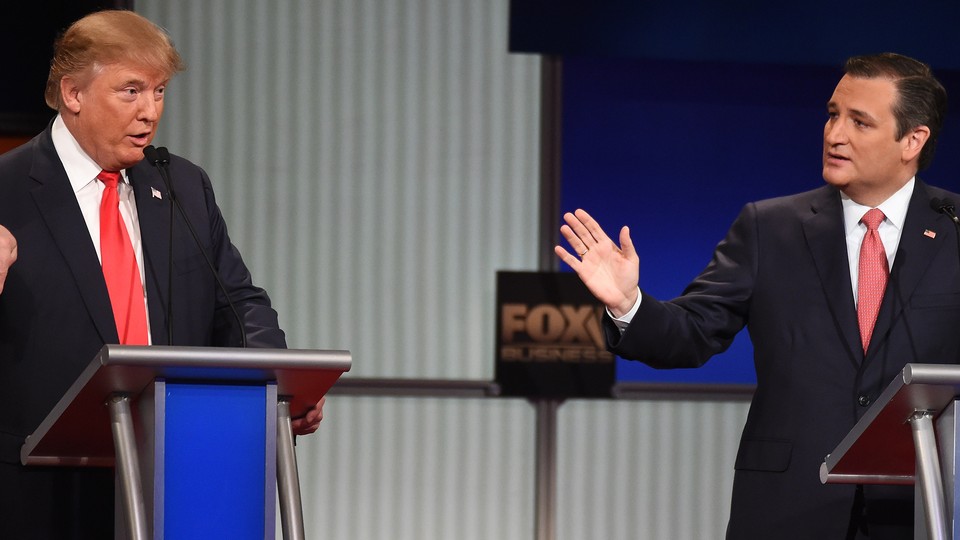 It was the Ted Cruz and Donald Trump show in North Charleston.
After directing their harshest jabs of the presidential campaign at each other this week, the Republican poll-toppers engaged each other face-to-face on the debate stage Thursday night, sparring over Cruz's Canadian birthplace and comments about "New York values." Ultimately, both candidates were able to score points off each other, and only further solidified their status as co-front-runners with the Iowa caucuses just over two weeks away.
While there wasn't a clear-cut winner of the sixth GOP primary debate in South Carolina, four candidates delivered strong performances, and three others underwhelmed. Here is National Journal's complete list of winners and losers:
WINNERS
CRUZ
After going out of his way to avoid a food fight with Trump for weeks, Cruz clearly came prepared to confront the real estate mogul head-on Thursday, particularly on the issue of his citizenship. Trump has recently questioned whether Cruz is eligible for the presidency given that his mother was born outside the U.S.
"Back in September, my friend Donald had said he had had his lawyers look at this every which way and said there was no issue there," Cruz said. "Since September, the Constitution hasn't changed, but the poll numbers have." Trump was able to respond only by touting his own poll numbers.
Cruz also managed to deflect another line of criticism: a New York Times story about his failure to report a major bank loan during his 2012 Senate bid. Cruz dismissed the report as a "really stunning hit piece," and the debate cut to a commercial break before the moderators or his rivals were able to press him further.
TRUMP
Cruz may have gotten the better of Trump during their exchange about Canada, but Trump came out on top when the discussion turned to New York. Earlier this week, Cruz said Trump "embodied New York values," and Cruz followed up on Thursday by saying that "not a lot of conservatives come out of Manhattan."
Trump countered by praising the way the city responded after the 9/11 attacks. At one point, Cruz even applauded Trump's response. "I have to tell you, that was a very insulting statement that Ted made," Trump said, seemingly catching Cruz off guard. Beyond his exchanges with Cruz, no other candidate was able to land a clean hit on Trump.
RUBIO
While this wasn't Marco Rubio's best debate of the race, the senator from Florida logged a solid performance, yet again coming across as perhaps the most polished candidate on stage. He nearly stole the moment after the back-and-forth on Cruz's citizenship, saying, "I hate to interrupt this episode of Court TV, but I think we have to get back to what this election has to be about."
And toward the end of the debate, Rubio completely unloaded on Cruz, accusing him of flip-flopping on immigration.
"I appreciate you dumping your oppo-research folder," Cruz said.
"No, it's your record," Rubio responded, in a clip tailor-made for cable news.
CHRISTIE
Early in the debate, Rubio came after Chris Christie with both barrels, claiming the New Jersey governor supports parts of President Obama's agenda and has donated to Planned Parenthood. Christie, however, responded calmly and turned the tables by pointing to Rubio's past praise.
"I like Marco, too. And two years ago, he called me a conservative reformer that New Jersey needed," Christie said. "That was before he was running against me. Now that he is, he's changed his tune. I'm never going to change my tune."
Still, the flip-flopping charges Christie has recently faced won't go away anytime soon. How he handles them will go a long way in determining his fate.
LOSERS
CARSON
As he deals with slipping poll numbers and turmoil among his campaign staff, Ben Carson is in desperate need of a turnaround. But that turnaround did not begin in South Carolina. He managed to crack a few memorable jokes—at one point, he said he could respond to a Jeb Bush answer because he had cited "everyone" on stage—but again gave meandering answers that were difficult to follow and showed that he still has not mastered foreign policy.
Carson needs a strong finish, if not a victory, in Iowa on Feb. 1, and Thursday's debate didn't help his case.
BUSH
Thanks to his poor standing in the polls, Jeb Bush was at the edge of the debate stage for this first time this campaign. And he didn't do much to move back toward the center.
During the last GOP debate in December, the former Florida governor earned accolades for attacking Trump, but this time around, his blows didn't land with the same effectiveness. Bush repeated that Trump's proposal to bar Muslim immigrants was "unhinged," but otherwise only politely asked Trump to consider changing his views.
Bush gave some detailed policy answers, but in an election cycle dominated by a reality TV star, they weren't resonating with the audience. Simply put, the debate stage is not Bush's best venue.
KASICH
In the jumbled GOP establishment lane, John Kasich may have done the least to break out from the pack. The Ohio governor didn't make any mistakes, but he didn't have any moments that outshone the likes of Christie and Rubio, either. At one point, Trump interjected during to say, "I'm liking him tonight," but otherwise Kasich stayed on the sidelines during the debate's most heated moments. Overall, he just didn't have a very memorable night.
FOX BUSINESS NETWORK
After Fox Business Network won widespread praise from Republicans and the media for its handling of the fourth Republican debate in November, the tide quickly turned against the moderators at the sixth debate. Early on, Neil Cavuto and Maria Bartiromo framed most of their questions in terms of President Obama's position, which didn't lend itself to much room for disagreement among the candidates. And throughout the night, they rarely followed up after candidates dodged their answers.