The Voters Who Will Decide the Republican Primary
Why blue-collar cultural conservatives may prove critical, especially across the South and Midwest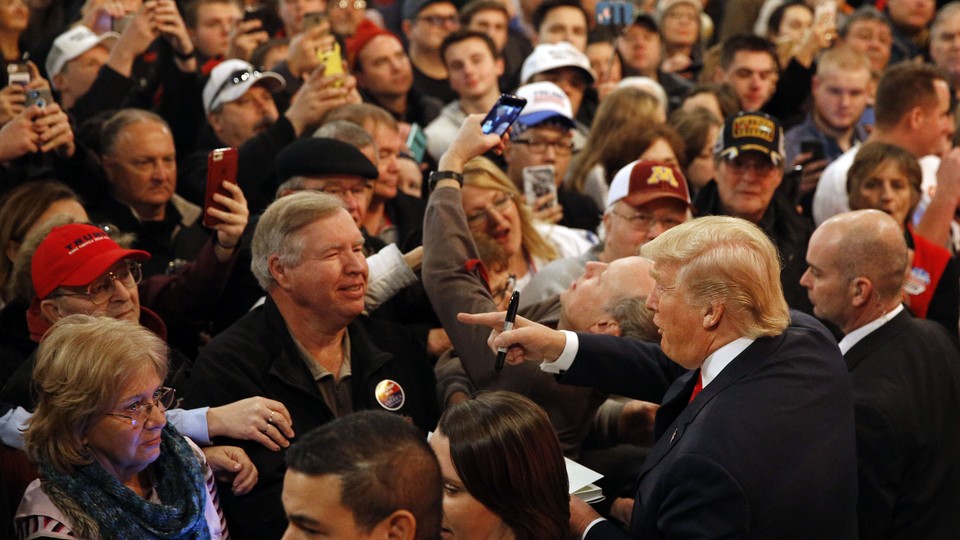 GOP pres­id­en­tial lead­ers Don­ald Trump and Ted Cruz may have their battle decided by voters at the in­ter­sec­tion of their com­pet­ing strengths: work­ing-class Re­pub­lic­ans who are also evan­gel­ic­al Chris­ti­ans.
Those blue-col­lar cul­tur­ally con­ser­vat­ive voters rep­res­ent a big share of the Repub­lic­an elect­or­ate not only across the south but also in many Mid­west­ern states. They also re­main one of the most closely di­vided con­stitu­en­cies in the party, ac­cord­ing to an ar­ray of re­cent polls provided to Next Amer­ica.
Trump un­der­scored his de­term­in­a­tion to com­pete for evan­gel­ic­al sup­port with a high-pro­file speech Monday at Liberty Uni­versity, which was foun­ded by the late Jerry Fal­well Senior, a lead­ing con­ser­vat­ive South­ern Baptist pas­tor who also played a key role in launch­ing the Mor­al Ma­jor­ity in the late 1970s.
Cruz, who runs best among evan­gel­ic­als, is pur­su­ing these voters through tradition­al means: by em­phas­iz­ing his con­ser­vat­ive com­mit­ment on so­cial is­sues from abor­tion to gay mar­riage and by co­pi­ously or­gan­iz­ing through churches and oth­er re­li­gious networks such as homeschool­ing fam­il­ies.
"Ted de­cided the evan­gel­ic­al vote is his path to the nom­in­a­tion," says the longtime so­cial-con­ser­vat­ive lead­er Ral­ph Reed, founder and chair­man of the Faith & Free­dom Co­ali­tion. "This was his path mes­sage-wise; it was his path in terms of his per­son­al nar­rat­ive, it was his path or­gan­iz­a­tion­ally. He has been focused laser-like on co­ales­cing the evangel­ic­al vote be­hind a single can­did­ate as early as pos­sible."  While "of course other can­did­ates will be fight­ing for those votes as well," Reed adds, "if [Cruz] pulls it off first in Iowa and then in later primar­ies, he'll be a for­mid­able contender."
But Trump has threatened that strategy with a brist­ling in­su­lar mes­sage that has demon­strated a power­ful ap­peal for blue-col­lar Re­pub­lic­ans across re­li­gious bound­ar­ies.
Trump's strength among work­ing-class evan­gel­ic­al Chris­ti­ans is help­ing him to closely press Cruz in Iowa, a state whose Re­pub­lic­an caucus has usu­ally favored the can­did­ate that evan­gel­ic­als prefer. The same dy­nam­ic could threaten Cruz in the South­ern states that he is count­ing on to boost his can­did­acy in early March. Con­tin­ued Trump strength among blue-col­lar evan­gel­ic­als would also frame Mid­west­ern states with many of those voters, in­clud­ing Ohio, Mis­souri, and Wiscon­sin, as po­ten­tially pivotal show­downs between the two men.
A wild card is wheth­er a third can­did­ate can con­sol­id­ate the voters at the op­pos­ite end of the GOP's class and cul­tur­al spec­trum: col­lege gradu­ates who are not evan­gel­ic­al Chris­ti­ans. Those voters provided the found­a­tion for the nom­in­a­tion vic­tor­ies of Mitt Rom­ney in 2012 and John Mc­Cain in 2008. But they re­main frag­men­ted so far in this race and have not co­alesced around a single cham­pi­on.
Cu­mu­lat­ive exit polls that meas­ured res­ults from all the ma­jor con­tests in the 2008 and 2012 Re­pub­lic­an nom­in­at­ing con­tests found that GOP voters in both years di­vided al­most ex­actly in half between those with and without a four-year col­lege edu­ca­tion. Evan­gel­ic­al Chris­ti­ans con­sti­tuted just un­der half of all GOP primary voters in 2008 and just over half in 2012. (The dif­fer­ence is prob­ably explained by the fact that the 2012 race ran more heav­ily through South­ern states be­fore Rick San­tor­um, the run­ner-up to Rom­ney, con­ceded in early April 2012.)
Both in 2008 and 2012, there was no ma­jor dif­fer­ence in the vot­ing choices of blue- and white-col­lar evan­gel­ic­al Chris­ti­ans across the key states, ac­cord­ing to pre­vi­ously un­pub­lished res­ults from the exit polls in those years provided by Edison Re­search, which con­ducts the sur­veys. The big­ger di­vide was between voters who were and were not evan­gel­ic­al: Rom­ney, for in­stance, won about half of the former, but just un­der one-third of the lat­ter, ac­cord­ing to a cu­mu­lat­ive ana­lys­is of 2012 exit polls con­duc­ted by ABC Poll­ster Gary Langer.
But this year, the par­tic­u­lar strengths of Trump and Cruz—and the va­cu­um in the white-col­lar lane that Rom­ney filled last time—have pro­duced a more com­plex mo­sa­ic.
To un­der­stand how states may fall between this field of can­did­ates, it's re­veal­ing to look at edu­ca­tion and re­li­gious af­fil­i­ation to­geth­er to cre­ate a four-way grid of Re­pub­lic­an voters: evan­gel­ic­als with and without a four-year col­lege de­gree, and non-evan­gel­ic­als with and without such ad­vanced edu­ca­tion.
The Edu­ca­tion Di­vide
These four groups may be com­par­able in size. The NBC/Wall Street Journ­al poll tracks con­ser­vat­ive Chris­ti­ans through a series of ques­tions that identi­fy so-called "val­ues voters." When their Novem­ber and Decem­ber na­tion­al sur­veys were com­bined to pro­duce a more rep­res­ent­at­ive sample, the res­ults showed that college-edu­cated val­ues voters could ac­count for about one-fifth of the GOP primary elect­or­ate this year, while the oth­er three groups may each provide about one-fourth.
---
---
When the elect­or­ate is viewed through this lens, Trump con­sist­ently polls best among the non-evan­gel­ic­als without a col­lege de­gree—the work­ing-class whites many would de­scribe as the pro­to­typ­ic­al Re­agan Demo­crats.
In Quin­nipi­ac Uni­versity's Iowa poll re­leased last week, Trump drew 37 per­cent of these voters with Cruz fin­ish­ing next with 25 per­cent. NBC/Wall Street Journal/Mar­ist In­sti­tute polls re­leased last week also showed Trump hold­ing big leads among these voters in Iowa (draw­ing 41 per­cent) and New Hamp­shire (where he won 43 per­cent). The most re­cent CNN/ORC sur­vey in South Carolina, back in Oc­to­ber, showed Trump at­tract­ing fully half of them. Nationally, Trump drew one-third of those blue-col­lar non-evan­gel­ic­al voters in a Decem­ber Quin­nipi­ac sur­vey, his best per­form­ance among any group in this four-way grid, and well ahead of any rival.
Cruz's best group in these polls, par­tic­u­larly more re­cent ones, are Re­pub­lic­ans at the op­pos­ite corner of the party: evan­gel­ic­als who hold a col­lege de­gree. In Iowa, Cruz draws 43 per­cent of them in the new Quin­nipi­ac sur­vey and 37 per­cent in the NBC/WSJ/Mar­ist poll, far out­pa­cing Trump each time.
In the Decem­ber na­tion­al Quin­nipi­ac sur­vey, Cruz drew 30 per­cent of col­lege-edu­cated evan­gel­ic­als, com­pared to just 11 per­cent for Trump (and 18 per­cent for Ben Car­son). The NBC/WSJ na­tion­al polls pro­duced a sim­il­ar res­ult: Among col­lege-edu­cated val­ues voters, 47 per­cent pre­ferred Cruz and Car­son com­bined, com­pared to just 14 per­cent for Trump. (Marco Ru­bio ac­tu­ally fin­ished ahead of Trump with these well-edu­cated evan­gel­ic­als in both sur­veys.) Car­son ran particu­larly well with these voters early on, and Cruz will likely be­ne­fit from the ex­tent to which the neurosur­geon con­tin­ues to slip in the race.
That leaves two of the four groups in this seg­ment­ing largely up for grabs.
One is the fac­tion that has backed the win­ner in the two most re­cent GOP contests: non-evan­gel­ic­als who hold a col­lege de­gree. These white-col­lar, more sec­u­lar, eco­nom­ic­ally fo­cused voters mat­ter most in more af­flu­ent and urb­an­ized states. In 2012, they rep­res­en­ted the largest share of these four groups in states such as Illinois and Michigan (where they cast about one-third of all bal­lots) and New Hamp­shire (where they ac­coun­ted for nearly half), ac­cord­ing to Edis­on Research data. Rom­ney con­sist­ently dom­in­ated among these voters, win­ning about half or more of them in Flor­ida, Ohio, Michigan, and Illinois—the states that sealed his vic­tory. Mc­Cain also per­formed well among them in 2008.
This year, though, these up­scale voters re­main splintered among a wide ar­ray of choices. Both the latest Quin­nipi­ac and NBC/WSJ/Mar­ist Polls show a nar­row three-way split among them for Trump, Cruz, and Ru­bio in Iowa; the new NBC/WSJ/Mar­ist poll in New Hamp­shire shows five can­did­ates closely bunched among them between Trump (at only 21 per­cent) and Bush (at 10 per­cent). Nation­ally, Quin­nipi­ac found Trump (at 28 per­cent) nar­rowly lead­ing Ru­bio and Cruz (each just un­der 20 per­cent); the NBC/WSJ polls also found Trump lead­ing among them but with just 23 per­cent and four oth­er can­did­ates in double di­gits.
Trump and Cruz May Race to the Fin­ish
Wheth­er any single can­did­ate can con­sol­id­ate these voters, as Rom­ney did, will likely de­term­ine wheth­er one of the rivals now jost­ling in the race's crowded center-right lane can emerge to truly threaten Trump or Cruz for the nom­in­a­tion. The res­ults in New Hamp­shire will be a crit­ic­al mile­stone in that pro­cess.
Re­gard­less of how that pro­cess un­folds, the com­pet­i­tion between Trump and Cruz may turn on the last of these four groups: evan­gel­ic­als without a col­lege de­gree. These voters have also been di­vided.
Na­tion­ally, the com­bined NBC/WSJ sur­veys showed Car­son and Trump each win­ning just over one-fourth of blue-col­lar val­ues voters, and Cruz draw­ing about one in six. The Quin­nipi­ac sur­vey, con­duc­ted solely in mid-Decem­ber, may capture more re­cent shifts: It found Cruz at­tract­ing just over one-third of these voters, with Trump tak­ing about one-fourth and Car­son fall­ing back to one in 10.
Of par­tic­u­lar im­port­ance, two re­cent Iowa sound­ings show Trump run­ning bet­ter in that crit­ic­al ini­tial con­test among work­ing-class than col­lege-edu­cated evangel­ic­als.
Though Cruz led big among col­lege-edu­cated evan­gel­ic­als in the latest Quin­nipi­ac Iowa sur­vey, the poll placed Trump ahead of Cruz by 32 per­cent to 30 per­cent among evan­gel­ic­als without a col­lege de­gree. The NBC/WSJ/Mar­ist Poll in Iowa showed Cruz still lead­ing Trump among blue-col­lar evan­gel­ic­als, but with a much nar­row­er ad­vant­age (nine per­cent­age points) than among their col­lege-edu­cated coun­ter­parts (23 points).
Craig Robin­son, founder of the Iowa Re­pub­lic­an web­site and former polit­ic­al direct­or for the state GOP, said Trump's strength with these work­ing-class evangel­ic­als "doesn't sur­prise me at all. He def­in­itely has this ap­peal to the hard-work­ing blue-col­lar little guy." As for Cruz, Robin­son ad­ded, "I don't think he's a lock at all" for these voters.
Work­ing-class evan­gel­ic­als rep­res­ent a po­ten­tially pivotal block not only in the South, but also across key Mid­west­ern battle­grounds that also vote in early March. In 2012, non­col­lege evan­gel­ic­als cast more than one-third of the Re­pub­lic­an bal­lots in South Car­o­lina and Geor­gia, al­most ex­actly one-third in Ohio, and about one-fourth in Flor­ida, Illinois, and Michigan, the exit poll fig­ures show. They will also carry sig­ni­fic­ant weight in oth­er South­ern and heart­land states like Ten­ness­ee, Arkan­sas, Ok­lahoma, Mis­sis­sippi, Mis­souri, Wis­con­sin, and Kan­sas.
Cruz has cour­ted these voters partly by mov­ing closer to Trump's po­s­i­tions on immig­ra­tion and trade. But mostly Cruz is bet­ting on his as­sidu­ous or­gan­iz­ing through re­li­gious net­works. His "Faith and Re­li­gious Liberty Co­ali­tion" has attrac­ted en­dorse­ments from some 400 con­ser­vat­ive re­li­gious lead­ers, in­clud­ing prom­in­ent na­tion­al fig­ures such as Fo­cus on the Fam­ily founder James Dob­son and Bob Vander Plaats, pres­id­ent of the Iowa Fam­ily Lead­er. And, like San­tor­um and Mike Hucka­bee be­fore him, Cruz has worked dog­gedly to at­tract homeschool­ing fam­il­ies. In South Car­o­lina, "Cruz is work­ing the evan­gel­ic­al pastors and get­ting them en­gaged, and he is do­ing that pretty ef­fect­ively," says Or­an P. Smith, pres­id­ent of the Pal­metto Fam­ily Coun­cil, a lead­ing so­cial conservat­ive group there.
Many ob­serv­ers be­lieve this or­gan­iz­ing—and Cruz's un­waver­ingly con­ser­vat­ive re­cord on so­cial is­sues such as gay mar­riage—has provided him a clear edge with evan­gel­ic­als for whom cul­tur­al is­sues and per­son­al val­ues are para­mount. Den­nis Googe, a small busi­ness own­er from Rock Hill, South Car­o­lina, who at­ten­ded Don­ald Trump's re­cent rally there, is one of them. Though Googe said he admired Trump, he planned to vote for Cruz "be­cause he is sol­id in his be­lief against abor­tion and ho­mo­sexu­al and les­bi­an mar­riage, and Mr. Trump sometimes comes across as he may not be."
Cruz's re­cent at­tacks on Trump for em­body­ing "New York val­ues" may help the sen­at­or ce­ment oth­er evan­gel­ic­als like Googe torn between their ad­mir­a­tion for Trump's ar­dor and their "Chris­ti­an con­vic­tions," as Googe puts it. Trump gave Cruz an as­sist in that ef­fort by mangling a bible verse dur­ing his Liberty speech on Monday.
Cruz's prob­lem, many ana­lysts say, is that even many evan­gel­ic­als this year may find Trump's anti-es­tab­lish­ment, anti-im­mig­rant, anti-trade ar­gu­ments more com­pel­ling than so­cial is­sues. The evan­gel­ic­als drawn to Trump "are a dif­fer­ent class of voters," says John Brabend­er, the chief strategist in 2012 for San­tor­um. "My im­pres­sion is they are first and fore­most driv­en by who they are as far as occu­pa­tion, in­come, life­style, than wheth­er they are evan­gel­ic­al or not."
Watch­ing from South Car­o­lina, Smith agrees that Cruz may find it more dif­fi­cult than many ex­pect to dis­lodge Trump from his beach­head among evan­gel­ic­als, espe­cially work­ing-class ones. Tellingly, Smith says, the sin­cer­ity of Trump's religious faith is draw­ing much less dis­cus­sion than de­bates about Rom­ney's Mor­mon re­li­gion did in 2012. "There is not a lot of ob­ses­sion among blue-col­lar evan­gel­ic­als with minor points of theo­logy," Smith says. "Those things go to the mar­gins when people feel des­per­ate and the Re­pub­lic­an primary elect­or­ate feels to me a little des­per­ate right now."