The Republican Establishment's Delegate Problem
With Trump and Cruz sitting comfortably atop the polls, by the time the field narrows, it may be too late for some candidates to succeed.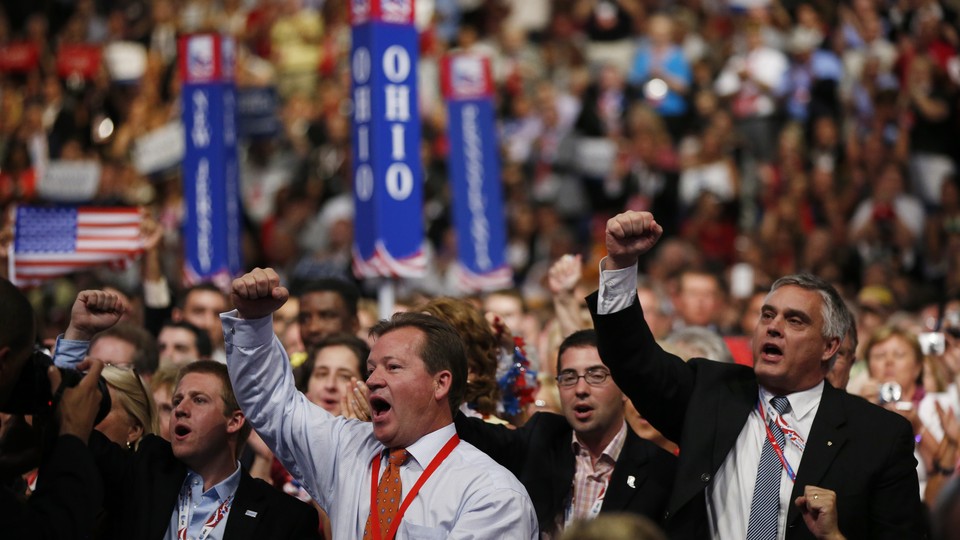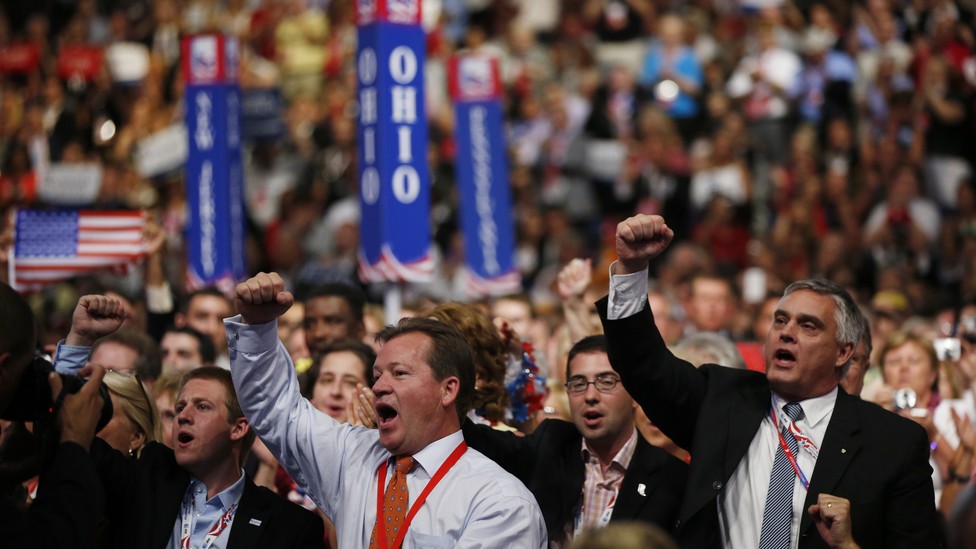 The last thing the Republican National Committee wanted was a drawn-out battle for the nomination. That's why the RNC attempted to design the 2016 primary rules to favor an establishment candidate. Of course, the 2016 presidential race has been anything but favorable to establishment candidates: The dynamics of the race point squarely to an anti-establishment candidate securing the nomination. Donald Trump and Ted Cruz now have a near-insurmountable advantage in the race, one that will almost certainly leave the establishment candidates finished by early March.
Unlike in 2012, when Rick Perry, Herman Cain, Newt Gingrich, and Rick Santorum each surged for a few weeks, during the 2016 campaign outsiders have maintained wide leads for months as insider candidates have faded. Trump has led the field for six months despite making statements that would have instantly doomed any other candidate in previous elections. Based on Real Clear Politics' average of national polls, Trump's support has remained at 29 percent (+/- 6 percent) since early August and, as of late January, is 12 points higher than the combined support of the four establishment candidates—Marco Rubio, Jeb Bush, Chris Christie, and John Kasich.
Even more troubling for the GOP establishment is that the outsiders (Trump, Cruz, Ben Carson, and Carly Fiorina) combined have polled at no less than 50 percent since September 1, while the insiders have yet to exceed 26 percent. And the gap has been growing. As of late January, RCP shows the outsiders taking 64 percent of the vote, while over the past three months, the insiders have slipped four points to 22 percent. Support for individual candidates has risen and fallen, but for the most part, Republican primary voters are simply moving within the two camps. For the past four months, the outsiders have led the insiders by a two- or three-to-one margin. This stability—now deeply embedded in the race—reflects deep fissures in the party.
It would be a daunting challenge for any establishment candidate to overcome the lead the outsiders now enjoy, but their fates are likely sealed by the GOP's primary schedule and by the states' delegate-allocation rules. The delegate-allocation rules are typically described as either winner-take-all or proportional. But they actually break down into five or six types and can be simplified into three categories: winner-take-all, winners-take-most, and proportional.
Winners-take-most states are those with proportional allocation and a 15 percent or 20 percent threshold to qualify for delegates. Strictly proportional states have proportional allocations with either no thresholds or low ones—typically, 5 percent or 10 percent. If only two viable candidates face each other in a winners-take-most state, both would probably qualify for delegates, which would be allocated proportionately. But the picture is more complex with five, six, or seven viable candidates in the mix.
Georgia, a winners-take-most state with a 20 percent threshold, illustrates the formidable obstacles the establishment candidates face. A CBS News/YouGov poll conducted in mid-January shows the outsiders taking 76 percent of the vote while the four insiders combined take just 19 percent. Rubio leads the insiders with 13 percent, trailing Trump by 26 points. Only Trump, with 39 percent, and Cruz, with 29 percent, would qualify for delegates, splitting the state's 76 delegates between them. So far, none of the establishment candidates are close to meeting Georgia's 20 percent threshold.
The Georgia scenario will play out in six states holding primaries on March 1, otherwise known as the SEC Primary. These six states—Alabama, Arkansas, Georgia, Oklahoma, Tennessee, and Texas—will allocate 422 delegates by winners-take-most rules, and all are conservative states in which establishment candidates will likely struggle to meet the thresholds.
In Texas, for example, the CBS News/YouGov poll gives the outsiders 81 percent of the vote. The four insiders combined take only 15 percent. Rubio leads the establishment candidates with 8 percent, less than half of what he needs to qualify for delegates. Cruz, with 45 percent, and Trump, with 30 percent, would be the only candidates to meet the state's 20 percent threshold, paving the way for Cruz to walk away with 93 delegates and Trump with 62 delegates.
In Oklahoma, a mid-November Sooner Poll found the outsiders taking 65 percent, with Trump, Cruz, and Carson each meeting the state's 15 percent threshold. Rubio does, too, barely, with 16 percent, but he doesn't have much upside potential since Bush, Kasich, and Christie register only 3 percent combined.
In South Carolina, another early state, the RCP average of two polls conducted in mid-January found Trump leading the field with 36 percent, 24 points ahead of Rubio, who leads the establishment candidates. Even if Rubio were to claim all of Bush's, Kasich's, and Christie's supporters, he'd still trail Trump by 9 points. Making matters worse for Rubio, he has lost 8 points to Trump since mid-December. And South Carolina is a winner-take-all state, so all of the insiders there are likely to be shut out of the delegate hunt.
These four states illustrate the difficult road ahead for the insiders in the lead-up to Super Tuesday on March 15. If the race unfolds as polls suggest, the outsiders will trounce the insiders in state after state, racking up huge delegate leads and building up powerful momentum. Early wins by an establishment candidate might change the dynamic, but RCP averages of January polls in the early states show the insiders trailing far behind Trump and Cruz in Iowa and show Trump holding commanding leads in New Hampshire and South Carolina.
As the field winnows, the GOP establishment is likely to coalesce behind one of the insiders, but it's unclear when that will occur. Instead of one insider emerging from the pack in New Hampshire, the race among them is tightening. As of late January, only five points separate Rubio, Bush, Christie, and Kasich in RCP's average of polls. Rubio's 10-point surge from last fall has faded, and he has now fallen behind Kasich for the lead among the insiders in the Granite State; meanwhile, Bush and Christie remain within striking distance. None of the establishment candidates is likely to leave the field as long as they have a shot in the state. And since half of all New Hampshire primary voters make up their minds in the final week, they all think they have a shot.
The expected shutout in South Carolina will come 11 days after New Hampshire. In the SEC Primary, delegates will be chosen in six winners-take-most Southern states, as well as in the conservative states of Alaska, North Dakota, Virginia, and Wyoming. And in the week following the SEC Primary, another six conservative states—Kansas, Kentucky, Louisiana, Maine, Idaho, and Mississippi—will hold primaries, three of which have high qualifying thresholds that the insiders will almost undoubtedly all struggle to meet.
Establishment candidates still standing on March 14 will likely be on the ropes. On March 15, the primary schedule shifts to more moderate states that are friendlier to the insiders. But by then, almost half of the national convention delegates, and more than 90 percent of the delegates required to nominate, will have already been chosen.
Rubio and Bush might look to their home state of Florida to revive their campaigns, but they'll likely face the same hurdle there that they will in South Carolina. In an average of three polls conducted in mid-January, Trump leads the field in Florida with 40 percent of the vote. Rubio leads the insiders with 14 percent and Bush trails with 9 percent. Under any circumstances, Trump's 26-point lead would be difficult to overcome, but after the SEC Primary, Rubio and Bush could look like also-rans by the time Floridians vote. And since Florida is winner-take-all, they'll probably both be shut out of their home state's delegate count.
Of course, the prospect of Rubio and Bush losing Florida will surely become readily apparent before the expected SEC Primary debacle on March 1. The GOP establishment has fantasized that three of the insiders might drop out of the race before then, giving the remaining anointed one a shot at contending in the early state primaries. But the insiders are so weak in those states that any establishment candidate who does survive is still likely to be crushed in the delegate count.
Can Rubio or Bush mount a rally in the moderate states that vote on and after March 15? Probably not. The GOP gives "bonus delegates" to deep-red states—those with GOP governors, senators, and state legislative majorities. But states where Rubio and Bush might have an advantage are blue and purple states like California, New York, and Illinois. And these states receive a disproportionally small number of delegates compared with their populations. For example, the GOP gives deep-red Alaska, North Dakota, and Oklahoma, with a combined population of 5.2 million, a total of 99 delegates. Deep-blue New York, on the other hand, with a population of 19.4 million, has just 95 delegates.
What's more, there are enough delegates from conservative states voting on or after March 15 to push Trump or Cruz over the top. Many of these are winner-take-all or winners-take-most states where Trump and Cruz are positioned to shut out their opponents. They also stand to rack up at least some delegates in moderate states like New York, which have proportional allocations with no or low thresholds.
Perhaps New Hampshire will cull the field for the Republicans after all, but it's more likely that two or three of the insiders will stay in the race to see how they fare in the South Carolina free-for-all. When the dust settles on March 2, the field of establishment candidates might be narrowed to one, but by then, it will almost certainly be too late.