The Plot Against Paul LePage
A group of Maine legislators hopes to impeach the state's controversial governor for using state money to intimidate his political opponents.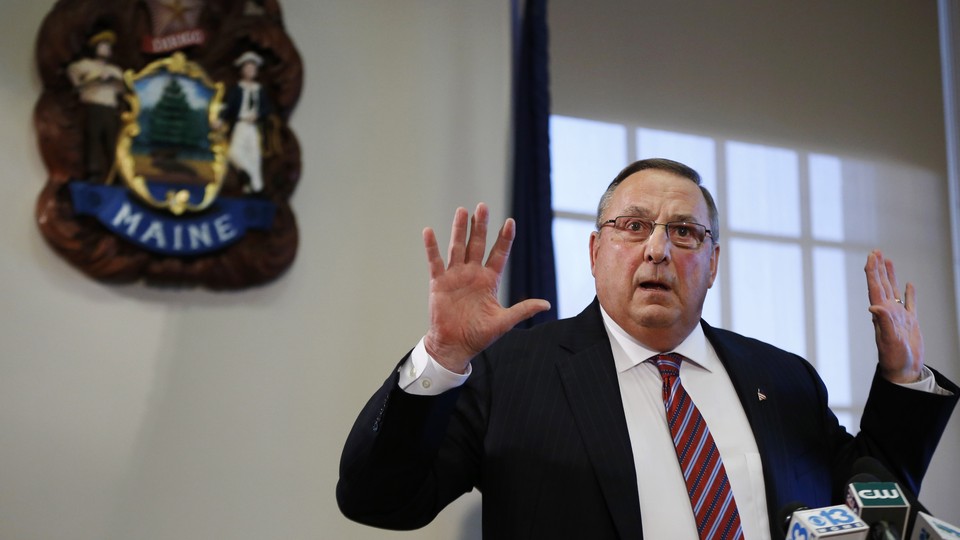 For the governor of a small state, Governor Paul LePage has an unusually large national profile. That's not necessarily a good thing. LePage has become known for outrageous comments—most recently, complaining that "guys by the name D-Money, Smoothie, Shifty" bring heroin to Maine and "half the time they impregnate a young, white girl before they leave."
Within the state, LePage is similarly controversial, but not simply for his intemperate remarks. On Thursday, a group of state legislators will introduce a measure to impeach LePage.
"People have really had enough, all across the state," Representative Ben Chipman of Portland, the lead sponsor, told me Wednesday. "They're tired of the governor's behavior and they're tired of the legislature not doing anything about it. I thought, Yeah, they're right, we do need to do something about."
The impeachment order, which you can read in full here, would create an investigative committee to look into allegations against LePage and then bring back articles of impeachment if it believes that's warranted. The order lists eight separate allegations, most (though not all) of which boil down to LePage using his power to wrongly intimidate  government and non-profit organizations, and to bend them to his will.
Perhaps the central matter of contention concerns Good Will-Hinckley, a charitable organization. It also runs the Maine Academy of Natural Sciences, the first public charter school opened under legislation that LePage championed. Last June, House Speaker Mark Eves, a Democrat, accepted a job as president of Good Will-Hinckley. (Maine, like many states, has a part-time legislature.) LePage allegedly responded by threatening to withhold state funding for the academy, citing Eves's opposition to charter schools. After initially sticking by Eves, Good Will-Hinckley switched tacks and announced it would drop Eves and find a new president.
Eves sued. A few legislators began talking about impeachment. The legislature's Government Oversight Committee commissioned an inquiry from the state Office of Program Evaluation and Government Accountability. LePage proudly proclaimed his responsibility. "To provide half-a-million dollars in taxpayer funding to a charter school that would be headed by Maine's most vehement anti-charter-school politician is not only the height of hypocrisy, it is absolutely unacceptable," he said in a statement. Asked point-blank by a reporter whether he'd threatened to withhold money, LePage didn't blink: "Yeah, I did! If I could, I would! Absolutely; why wouldn't I?"
When the investigative report came out, it concluded that LePage's threat to withhold funds was real and was the reason for Good Will-Hinckley withdrawing its job offer to Eves. Yet it also found that was probably legal, as the money was in an account controlled solely by the executive. Then things got genuinely weird. By November, as the Bangor Daily News wrote in an editorial, it seemed that those investigating LePage couldn't find the smoking gun, even as LePage continued to claim that he'd fired it:
Government Oversight Committee members have yet to uncover a specific instance in which anyone from the LePage administration explicitly told Good Will-Hinckley its state funding was in jeopardy unless it reneged on its agreement to hire Eves—as LePage said he had done.
In any case, Chipman and several co-sponsors are moving forward with their impeachment effort. "That was really the icing on the cake and what really did it for a lot of us in the legislature," he says. "It paints a very clear picture when you look at all of those accounts. We took an oath of office to uphold the laws of the state, and unfortunately the governor has put us in a position where we have to do this."
The impeachment order also alleges that LePage used state monies as leverage to force the resignation of the president of the World Acadian Congress and the Maine Community College System and interfere with the state Human Rights Commission and the legislature; withheld testimony by executive-branch officials; broke public-notice laws; and intervened improperly with the Department of Labor.
In practical terms, the push faces a very stiff battle. First, it has to pass the House. The chamber is controlled by Democrats, but its leadership hasn't been especially encouraging about the impeachment push. "They haven't been crazy about it. I guess they're worried it's going to hurt the Democrats' ability to work with Republicans," Chipman says. But he argues it won't make much difference, and notes that LePage's clashes with the legislature mean that the two parties are already working together on many bills to reach the two-thirds margin necessary to override LePage's vetoes. (When he makes them in time, that is—the governor made news in July when he tried and failed to veto a bill before it was enacted into law.)
Chipman hopes that the events of the past few days will help drum up support for the impeachment push. He says some colleagues have contacted him since LePage's racist comments to say they were supporting the effort, or more open to it. LePage also said Tuesday that he might not make a State of the State speech as usual, and might deliver his annual report in written form instead, apparently just another front in his ongoing fight with legislators.
Even if the House votes in favor, two-thirds of the Senate would have to vote to convict—likely a non-starter in the GOP-controlled chamber, despite Republicans' own tensions with LePage. LePage's office did not respond to requests to comment on this story.
Previously, LePage has said that President Obama "hates white people." He refused to attend Martin Luther King Day celebrations, compared the IRS to the Gestapo, and expressed a desire to blow up the offices of the Portland Press Herald. Of a Democratic senator, Le Page said he "claims to be for the people but he's the first one to give it to the people without providing Vaseline," and added: "People like Troy Jackson, they ought to go back into the woods and cut trees and let someone with a brain come down here and do some good work."
How did such an uncouth character get elected governor—not just one, but twice? And how did he manage to do so even while alienating members of his own party? For one thing, he's never won a majority of the vote. In 2010, he edged independent Eliot Cutler by fewer than 10,000 votes in a three-way race, pulling less than 38 percent of the vote. In 2014, the opposition to LePage again split between Cutler and a Democrat, Mike Michaud, affording LePage a plurality and the win. But his share of the vote, and his total number of votes, did increase in 2014. This means that the case against LePage suffers from the same weakness as many other impeachment proceedings: Bracketing out the cases of clear and egregious lawbreaking mid-term, shouldn't the people decide, rather than legislators? After all, they elected him.
Chipman argues that events since the election, including the Good Will-Hinckley affair, have created a sea change in the state, and that LePage's popularity is in the basement. "We don't have a process of recall in Maine," he says. "This is the only process we have to hold him accountable, where we feel laws have been broken. If we did have a process of recall, we probably would have already had a vote."
That's the case that Chipman and his allies will make in the legislature on Thursday, but their effort faces challenges. If there's one that thing that Paul LePage's term as governor has shown, it's that he can't go very long without entangling himself in a mess. But if there are two things it has shown, the second is that he's also very good at escaping from the sticky situations he creates.