The New Crackdown on Migrant Families
Federal raids to capture and deport border crossers from Central America are angering President Obama's allies in the immigration-reform fight.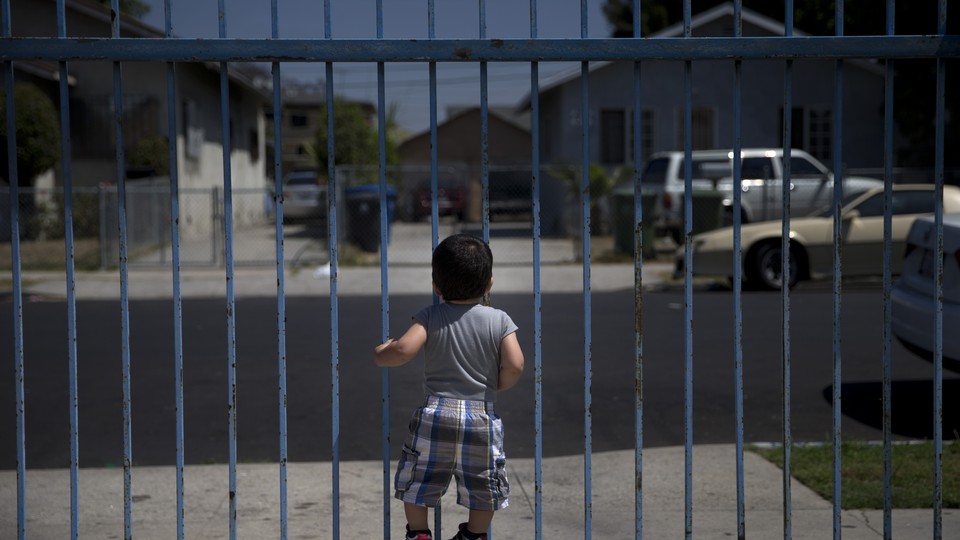 In November 2014, Barack Obama made one of the most significant unilateral decisions of his presidency, announcing wholesale changes in the way the federal government would enforce immigration laws. No longer would the vast majority of immigrants who entered the U.S. illegally and who had committed no further crimes be priorities for deportation.
Thirteen months later, the Department of Homeland Security began raids in Georgia, Texas, and North Carolina to round up families who have been ordered out of the country by an immigration court for deportation.
What gives?
In announcing his long-hyped executive actions, Obama included a key caveat that didn't get much attention at the time: The relaxed deportation policy would only apply to people who entered the U.S. before the start of 2014, and not to the 100,000 estimated to have surged over the southern border from Central American countries that summer. Dozens of those families were the ones targeted by ICE officials over the weekend, and a total of 121 migrants were detained, the government reported.
"This should come as no surprise," DHS Secretary Jeh Johnson said Monday in a lengthy statement confirming the raids. "I have said publicly for months that individuals who constitute enforcement priorities, including families and unaccompanied children, will be removed."
Yet immigrant advocates were not only surprised but angry at a move they viewed as unnecessarily harsh and contrary to the U.S.'s status as an asylum nation. "I think the administration's approach is fundamentally flawed," said Frank Sharry, a leading advocate for immigration reform with America's Voice. "They are treating a refugee crisis as an immigration enforcement issue." Gregory Chen, the director of advocacy for the American Immigration Lawyers Association, said he was "shocked that the administration is resorting to these really aggressive enforcement tactics."
The administration's argument is that the deportation round-ups will serve as a deterrent to migrants who might think twice about making a dangerous journey north and putting themselves at the mercy of human smugglers to escape violence in Guatemala, Honduras, and El Salvador. After the crisis of 2014, Johnson said that the number of people apprehended at the southern border in 2015 dropped to its second-lowest level in more than 40 years. But attempted border-crossings from Central American migrants have increased in recent months, and the administration likely is worried that they will spike again next summer.
The three Democratic presidential candidates have criticized the move, to varying degrees. Hillary Clinton "has real concerns" about these raids, spokeswoman Xochitl Hinojosa said.
She believes the United States should give refuge to people
fleeing persecution, and should be especially attentive to the needs
of children. Families who arrive here should be guaranteed due process
on their asylum petitions, including a full and fair opportunity to
tell their stories.  She believes we should not be conducting
large-scale raids and roundups that sow fear and division in our
communities. And she believes we should be investing in a longer-term
comprehensive solution to the challenge of violence in Central America that causes so many people to make the treacherous journey north.
Meanwhile, Donald Trump took credit for the plan when it was leaked to The Washington Post last week.
Does everyone see that the Democrats and President Obama are now, because of me, starting to deport people who are here illegally. Politics!

— Donald J. Trump (@realDonaldTrump) December 25, 2015
The Obama administration also got little praise from immigration hard-liners who have demanded stiffer enforcement for years. Mark Krikorian of the Center for Immigration Studies tweeted that the 121 migrants detained over the weekend was just "14 hours' worth" of the border flow from the last two years. A spokesman for the conservative Senator Jeff Sessions of Alabama pressed the administration to disclose exactly how many migrants had actually been returned to their home countries.
In his statement, Johnson said the raids over the weekend focused on adults with children who had been apprehended and whose applications for asylum had been denied by a court. But immigrant advocates questioned whether they had received a fair hearing and noted that according to the government's own statistics from last year, nearly 90 percent of asylum-seekers were deemed to have a credible fear of persecution in Central America. "If a person has a choice between living in fear and violence and even a temporary moment of safety in the U.S., they're going to pick safety," said Ali Noorani, the executive director of the National Immigration Forum.
The other big concern from the immigration advocacy world was politics: Was the Obama administration contradicting itself by deporting Central American families seeking asylum just weeks after the president made an idealistic argument against calls to reject refugees fleeing violence in Syria? And at a time when anti-immigrant rhetoric by leading Republican presidential candidates could fuel a record turnout by Latino voters in favor of Democrats, why would the administration risk alienating that constituency with a return to the type of deportation raids it loudly denounced early in Obama's tenure? "It confounds me," Sharry said. "Honestly, I think it's political malfeasance in pursuit of a stubborn policy objective that hasn't changed for a year."
On a basic level, the Obama administration and its usual allies in the immigration-reform community simply view the influx of Central American migrants in two different ways: The advocates see it as a humanitarian crisis while the government is responding to it as a threat to border security and immigration enforcement. Yet raids that capture only a couple hundred of the many thousands who crossed over from the south fall far short of what conservatives are seeking. And so on this difficult issue, the Obama administration finds itself with a policy facing attacks from all sides.