The NRA Strikes Back in Virginia
Governor Terry McAuliffe announces a bipartisan compromise with state legislators that gun-control advocates abhor.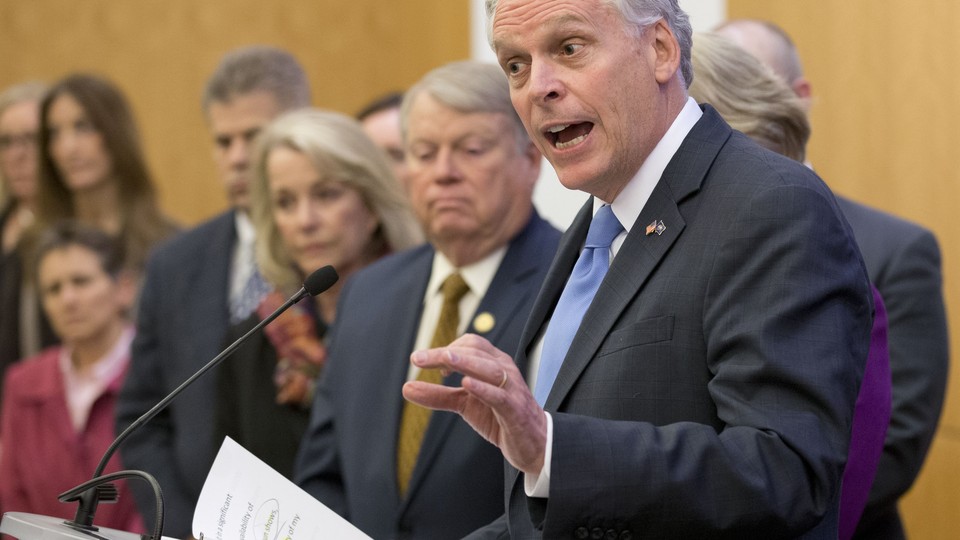 One month ago, Virginia became a sudden and shining example of progress for the gun-control movement. The state's Democratic attorney general, Mark Herring, announced that Virginia would no longer recognize concealed-carry permits of firearms owners in the 25 states with laxer gun laws than its own. The National Rifle Association promptly called his decision "the biggest setback" that gun owners had suffered politically in all of 2015.
On  Friday, the state reversed itself. As part of a bipartisan agreement with Republican legislators, Governor Terry McAuliffe announced that Virginia would keep granting reciprocity to out-of-state gun owners, so long as they had not been specifically denied a permit in Virginia. (The ban was to have taken effect next week.) In exchange, GOP leaders agreed to change state laws to prevent domestic abusers from possessing guns and to make it harder for private dealing from skipping a background check when selling at state gun shows. A beaming McAuliffe declared the accord a potentially life-saving victory for Virginia and the most significant bipartisan deal on gun laws in a generation.
Yet gun-control advocates were enraged, accusing the Democratic governor of a betrayal that gives up a hard-fought victory by ending reciprocity rights for concealed-carry permit holders. "This deal is a dangerous rollback that puts public safety at risk," wrote a group of Virginians who either survived gun violence or saw family members struck down by it. "It's practically a giveaway." The letter was organized by Everytown for Gun Safety, the advocacy group funded in large part by former New York Mayor Michael Bloomberg.
The Brady Campaign to Prevent Gun Violence piled on. "We are deeply disappointed that Governor McAuliffe has given in to the demands of the corporate gun lobby," said Dan Gross, the organization's president.
He has cut a deal, and it is a bad and dangerous one for people who live in and visit Virginia. He has basically rolled out a welcome mat for people who are armed and dangerous. Virginia already had only modest standards for deciding who is allowed to carry loaded, hidden guns. Now those standards are even lower, as domestic abusers and felons who have obtained concealed carry permits in other states with even lower standards will soon be able to menace the streets and neighborhoods of Virginia. Governor McAuliffe has made a raw deal for Virginians.
The NRA backed the deal in a statement to The Washington Post, which reported the outlines of the agreement before McAuliffe and Republican leaders announced them on Friday. That's important because gun-control advocates were angered that the NRA was apparently included in the negotiations while they were not. Andy Parker, the father of a local television reporter who was murdered on-air last year, criticized McAuliffe for trading the reciprocity ban for "NRA-supported, watered-down gun-safety laws."
The governor dismissed the criticism from allies as the type of complaints inherent to bipartisan deal making. "As governor, I gotta make decisions that are in the best interests of the commonwealth. I have to govern," McAuliffe told reporters. "What we announced here today will make Virginians safer." While he applauded Herring and credited him for spurring action with his December announcement, McAuliffe made clear that closing loopholes in the background system had always been his priority.
So which is it, a sell-out or a historic breakthrough on an issue where bipartisan achievements have been nearly impossible to come by? It's true that advocates for stricter gun laws have prioritized the expansion of background checks and policies that prevent domestic abusers from accessing guns. But the concessions that McAuliffe won from Republicans seem fairly minor. On background checks, the proposal would empower the Virginia state police to conduct checks on behalf of private, unlicensed sellers at gun shows who don't have access to the online system. (Only licensed firearms dealers do.) It would also require the police to be present at gun shows. But as McAuliffe acknowledged, the new law still wouldn't require background checks to be conducted for all sales; it would only help sellers who want to conduct them.
On domestic violence, another law under the deal would force people under a permanent protective order to relinquish their guns. They are already prohibited from purchasing guns, and advocates have pointed out that the change is merely duplicating federal law. But McAuliffe argued that changing the state law is important because domestic-violence cases are rarely investigated by the FBI, so the federal law often goes unenforced.
Gun-control advocates gave McAuliffe very little credit for those changes on Friday, choosing to focus almost entirely on the state's reversal on reciprocity for out-of-state permits. And the dispute could potentially reverberate on the presidential campaign trail. McAuliffe is a very close friend and ally of Hillary Clinton, who has made gun control a central plank of her campaign platform. She was endorsed by the Brady Campaign, which assailed the agreement on Friday. And Everytown is the advocacy arm of Bloomberg, who reportedly is considering a presidential run of his own.
The governor and Republican legislators played up the significance of the bipartisan agreement itself. Forget the details, they essentially said: The important thing is that the two parties had, for the first time in 23 years, worked out a compromise on the seemingly intractable issue of guns. In the most charitable view, the accord could set a new precedent for future reforms. In crediting Herring, McAuliffe also seemed to suggest that his declaration in December that Virginia would unilaterally reject out-of-state permits had jarred the opposition and drawn Republicans to the negotiating table. For gun advocates, however, it was a fleeting victory and an all-too-familiar feeling of two steps forward, one step back.
---
This article is part of our With Great Power project, which is supported by a grant from the Joyce Foundation.