The Importance of Obama's Ultimatum on Guns
Democratic Senate candidates are fine with the president's demand that they support restrictions on firearms. What a difference a decade makes.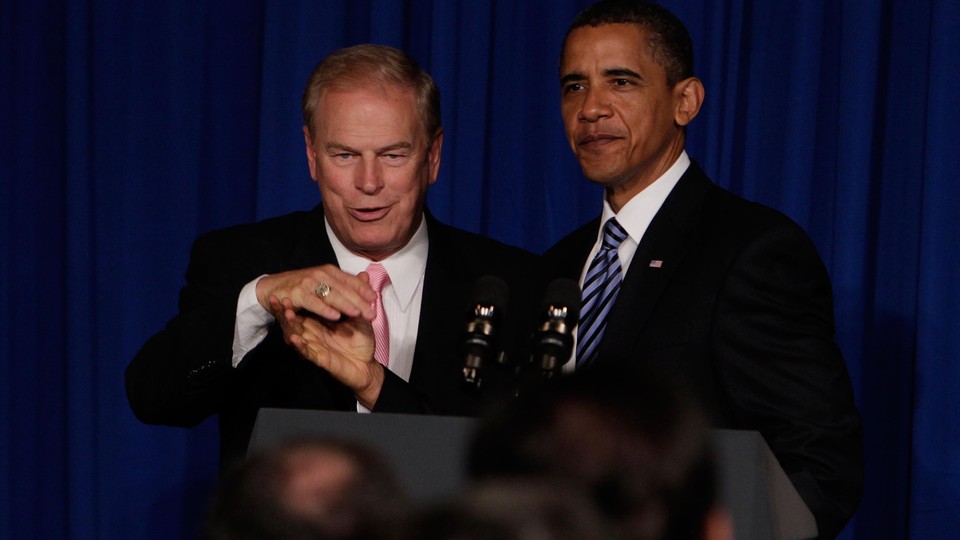 When President Obama vowed last week not to endorse or campaign for candidates who opposed "common-sense gun reforms," his ultimatum escalated a feud between the two leading Democratic candidates to replace him, who bickered over which of them had the stronger record of fighting the NRA.
But the importance of the president's line in the political sand might be more vividly realized in his party's second biggest priority in 2016—recapturing the Senate majority. Democrats are fighting to pick up Republican seats in a number of swing states with a strong tradition of supporting gun rights, including Wisconsin, Pennsylvania, Ohio, and Florida.
That was the case the last time Democrats tried to crawl out of the Senate minority, in 2006, when they knocked off GOP incumbents in pro-gun states like Montana, Virginia, and Pennsylvania. Yet such a declaration by a Democratic leader would have been unthinkable a decade ago, at a time when the party made a deliberate effort to recruit socially conservative candidates who would de-emphasize issues like gun control, abortion, and gay rights on which Democrats were then seen as vulnerable.
In 2006, Democratic challengers Jon Tester in Montana, Jim Webb in Virginia, and Bob Casey in Pennsylvania all won after receiving robust support from the national party while touting their strong backing for gun rights. This year, however, Obama's firm demand hasn't made for a hard choice—at least in the Senate races that have already taken shape. While Democratic candidates in battleground states aren't exactly disavowing the Second Amendment, they've had no problem supporting the president's call to strengthen background checks, eliminate a ban on federal gun research, and keep people on the terrorist "no-fly" list from buying firearms.
The change in dynamic is a reflection both of the broader leftward shift of the Democratic Party under Obama and the progress that he and other gun-control advocates have made in pushing back against the NRA following the wave of mass shootings in recent years. "The reality is different than it was 10 years ago," said Holly Shulman, a former spokeswoman for the Democratic National Committee who has worked for several gun-rights supporters over the years. "I don't think you're going to see a lot of candidates campaigning this cycle against the president on gun control, especially when gun violence has affected so many communities across the country. It's not limited to a certain state, or a certain politics."
Obama has quickly drawn support from Governor Maggie Hassan of New Hampshire, who is running against Republican Senator Kelly Ayotte; former Senator Russ Feingold, who is running to reclaim the seat he lost to Ron Johnson in Wisconsin; Representative Patrick Murphy of Florida, who is seeking the Senate seat being vacated by Marco Rubio; and both leading Democrats who are running to oust Senator Pat Toomey in Pennsylvania, Katie McGinty and Joe Sestak. "Of course I am in support of it," Sestak told me in a phone interview, saying he had been a supporter of expanded background checks and Obama's other proposals since he won election to Congress in 2006. Sestak is not the favorite of party leaders for the Democratic nomination, and he said he wasn't even aware of Obama's ultimatum, which the president made in an op-ed he wrote for The New York Times. "It didn't matter to me," he said.
In Ohio, the president's aggressive move on guns has sparked a fight between the two Democratic candidates running to challenge Senator Rob Portman. Former Governor Ted Strickland is the favorite, but he's drawn criticism from P.G. Sittenfeld, a Cincinnati legislator who has pointed out Strickland's past boasting about an A+ grade he received from the NRA. A Strickland spokesman said he has called on Congress to pass the background-check bill that fell short in the Senate three years ago and said the former governor changed his stance on gun laws following the Sandy Hook massacre in 2012.
Some Democrats have taken a slightly more nuanced position, issuing support for the president's proposals while saying that it should be Congress that enacts them. "I would have preferred for Congress to pass bipartisan background checks legislation. But instead, Congress continues to let partisanship, dysfunction, and gridlock win out over common sense proposals to save lives," said Catherine Cortez Masto, the former Nevada attorney general running to replace the retiring Harry Reid. She said until Congress acts, Obama's more limited executive actions were "necessary to save lives and prevent criminals from obtaining weapons."
The most critical statement from a prominent Senate Democratic hopeful came from Jason Kander, who is challenging Republican incumbent Roy Blunt in Missouri. He said he supported expanded background checks, but he opposed the president acting on his own to require more gun dealers to conduct them. Whether Kander would even want the president's active help in a red state, however, is another question.
Part of the reason Obama's demand of Democrats on guns hasn't been as controversial as it would have been in the past is that he has chosen to focus on policies that draw the most support in polling. While Democrats pushed to reinstate a ban on assault weapons after Sandy Hook, the president has largely stayed away from that proposal in his public comments, along with a proposed ban on high-capacity magazines. Recent surveys have shown support dropping for an assault-weapons ban, even as majorities back stronger background checks and restrictions for people on the "no-fly" list.
There's always the chance the president's vow on guns could turn into an empty threat. By this fall, Hillary Clinton or Bernie Sanders will be leading the Democratic ticket, and the extent to which the party's candidates even want Obama's help will depend on how popular he is as his term draws to a close. But the broad support from Democratic candidates suggests that while Obama hasn't succeeded in getting Congress to act, he's at least managed to unify a party that used to be deeply divided on guns.