The Groundbreaking Jewish Candidate Who May Not Get Much Jewish Support
Bernie Sanders could go farther than any Jewish presidential hopeful has. But Jewish groups and voters don't appear to be gravitating toward him.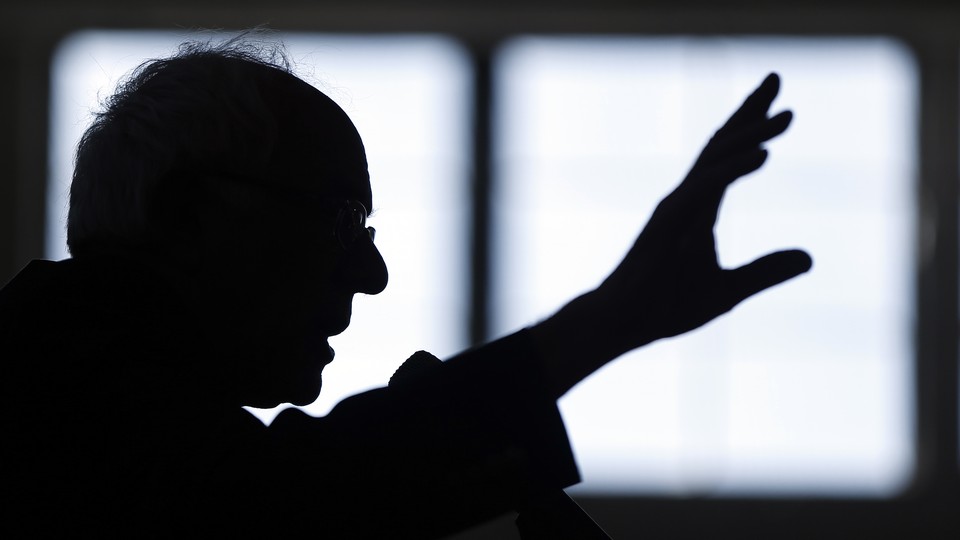 Democrats may be on the verge of a presidential-race milestone they've barely talked about: the first-ever primary or caucus victory by a Jewish candidate. The possibility of such an achievement by Bernie Sanders gives even Jews supporting Hillary Clinton a cause to cheer, but it's not gaining much attention—nor does it appear to be rallying Jewish groups and voters to Sanders's cause.
For Steve Rabinowitz, a veteran Democratic Jewish activist who cofounded Jewish Americans Ready for Hillary, it's a combination of Clinton's long-standing relationships with the Jewish community, Sanders's lack of emphasis on his background, and a feeling that the country has already proven it could vote a Jewish candidate into the nation's highest office, even though it hasn't yet happened.
"It's a weird, prideful thing," he said. "Frankly I think African Americans and Hispanics are quickly getting to the same place where there's this tremendous ethnic pride in having one of your own—and yet when one of your own is not up to it …," he added before trailing off, point made.
Like many other Jewish Democrats, Rabinowitz is a longtime supporter of Clinton, stemming from a bond formed over two decades ago. Clinton, the dominant Democratic front-runner nationally, has locked up scores of the most influential Jewish Democrats in the country—from megadonor George Soros to Sen. Chuck Schumer—many of whom have known her some 25 years.
Over the past few months, Clinton has done her typical due diligence reaching out towards a reliably Democratic constituency, writing op-eds in Jewish Journal and The Forward about her personal commitment to the security of Israel, the fight against ISIS, how to punish Iran should it violate the landmark nuclear deal, and why she opposes the "Boycott, Divestment, and Sanctions" movement. In December, she discussed the U.S.-Israel relationship at a Brookings forum sponsored by Haim Saban, an Israeli-American entertainment mogul who has given millions to her campaigns. Her top campaign staff held an event for Jewish donors around the White House Hanukkah reception. And on Thursday, the Clinton campaign named a new director of Jewish outreach, Sarah Bard.
While there's daylight between Sanders and Clinton on gun control, health care, education, and how to tackle income inequality, among other domestic issues, some Jews supporting Clinton cite her experience in global affairs as her trump card in the primary. She has managed to lock down Jewish Democrats who both support and oppose the divisive Iran nuclear deal, making the argument that she is the best one to enforce it.
The pitch has been, according to a Clinton aide, that the next president can't rip up the deal on Day One—as some Republicans have promised—because Iran would get the economic relief and be under no constraints. But, the aide continued, "You also don't want someone who doesn't have experience dealing with the complexities of these issues, somebody who is going to think that it's a new day for Iran [and] we can normalize relations." That argument was reinforced again by Clinton in Iowa on Thursday and in a campaign call to the press Thursday afternoon. Sanders recently put up a new ad broadcasting his foreign policy vision, calling for an "international coalition with Muslim boots on the ground" to fight ISIS, touting his vote against the Iraq war, and declaring that he would "end the quagmire of perpetual warfare in the Middle East."
In an interview with National Journal, Rabinowitz ripped Sanders for recently advocating to move aggressively toward normalizing relations with Iran and his position in favor of Iran sending ground forces into Syria as part of a Muslim coalition against ISIS. "Bernie was a little wack on all but wanting to normalize relations with Iran and wanting to see Iranian ground troops in Syria," he said. "Like really? Really? Holy crap."
"On foreign policy, [Clinton has] been great on not just Israel but on issues of concern to the Jewish community globally," said Sen. Ben Cardin, an honorary co-chair of the National Jewish Democratic Council who opposes the Iran deal. "Secretary Clinton has a background that is truly unique. Her experience as secretary of State, her experience in the United States Senate on foreign policy issues—so she has a track record and experience that no other candidate can match on either side."
Sanders—whose campaign did not reply to email requests for comment—doesn't talk much about his background, whether that be his faith or anything else. Reporters from The Forward and The Jerusalem Post have attempted to figure out which kibbutz Sanders volunteered at in 1964, with little luck and no response from the campaign. There's a "Jews for Bernie" group, but it's not affiliated with the campaign and appears to have a relatively minor presence on Facebook and Twitter. In October, Rabbi James Glazier of Temple Sinai, a Reform congregation in Burlington, Vermont, told the Jewish Telegraphic Agency, "We need a Jewish hug from him every once in a while."
On the rare occasion that Sanders has opened up about his faith, he's acknowledged that growing up Jewish drilled into him the idea that politics matters, telling The New Yorker, "An election in 1932 ended up killing fifty million people around the world." In that same article published in October, Sanders's longtime friend Richard Sugarman, an Orthodox Jew and University of Vermont religious studies professor, said that the senator's Jewish identity is "certainly more ethnic and cultural than religious—except for his devotion to the ethical part of public life in Judaism, the moral part."
The country has appeared ready to vote for a Jewish president for some time. In 2002, Sen. Joseph Lieberman said that he hadn't encountered any anti-Semitism in 2000 while campaigning as the first Jewish vice presidential nominee for a major party. In 2015, Gallup found that 91 percent of Americans would vote for a Jewish candidate, 10 points higher than for Mormons and over 30 points higher than for Muslims.
So while religion has played a major role in the presidential race—Republicans' ramped-up outreach to evangelical Christians and Donald Trump's proposed ban on Muslim immigrants come quickly to mind—Sanders's potential to make history hasn't stoked much discussion.
"Oh, that's funny. I haven't really thought about it that way," said Rabinowitz. "His campaign has already been extraordinarily impressive by any measure. On some ethnic level, it's already an achievement. It's clear in this country that a Jew can be president or vice president."
"I think we are hopefully beyond religion playing a major role in presidential politics, although if you listen to the Republican primaries you know that they have brought out religion in a big way," Cardin told National Journal. "Not necessarily about being Jewish, but religion in a big way.
"So I think we're beyond that," he added, "but obviously we're proud that a Jewish candidate is doing so well."