The Government Is Getting Ready for the Driverless-Car Era
New DOT policies will make it easier for autonomous cars to hit the road.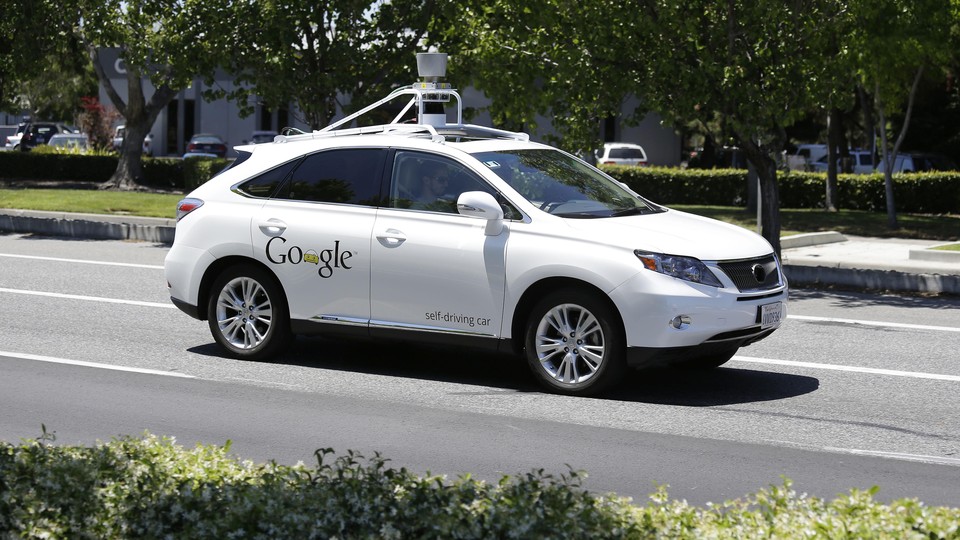 With companies from General Motors and Ford to Google and Apple working on technology that could remove the human factor from driving, the Obama administration is starting to catch up.
In an appearance at the North American International Auto Show in Detroit, Transportation Secretary Anthony Foxx detailed a 10-year investment of nearly $4 billion to smooth the transition to autonomous vehicles. Flanked by executives from Google, GM, Tesla, and other automakers, Foxx said that driverless cars had enormous potential "to save lives, reduce greenhouse gas emissions, and transform mobility for the American people."
"We are bullish on automated vehicles," Foxx said, adding that the administration would do what it could this year to get the technology out there.
The announcement Thursday updates a 2013 policy issued by the National Highway Traffic Safety Administration to state that widespread deployment of driverless cars is now feasible. The previous guidance laid out some early definitions of autonomous driving, but conceded that it was "too soon to reach conclusions about the feasibility of producing a vehicle that can safely operate in a fully automated (or 'driverless') mode in all driving environments and traffic scenarios."
With technology moving rapidly—automakers have said they could have fully autonomous cars on the roads by 2020 and already some vehicles have systems like self-parking and lane assist—the administration is now making sure it won't stand in the way.
The department will "consider seeking new authorities" that could ensure autonomous vehicles are allowable if they can show an equivalent or higher level of safety than currently available, letting them on the road even as the government regulatory process moves at its own pace. Manufacturers will also be able to request exemption authority to deploy new autonomous features.
Foxx also announced that over the next six months, NHTSA will work with industry and other stakeholders to set new testing and analysis methods for autonomous vehicles. At the same time, the agency will work with state transportation and motor vehicle departments to develop a model state policy, which could be used to form national policy.
That review could help the DOT determine whether new laws are needed on transportation, Foxx said.
Autonomous vehicles have the potential to completely overturn the transportation system—putting more cars on the road with fewer accidents and less congestion—but there's been concern about how the government will regulate the new technology.
Policy on autonomous vehicles had largely been driven at the state level, if at all, so the DOT announcement was welcome news to an industry looking for some federal structure. In an October speech, Volvo CEO Håkan Samuelsson said the "absence of one set of rules means car makers cannot conduct credible tests to develop cars that meet all the different guidelines of all 50 US states."
"The U.S. risks losing its leading position due to the lack of federal guidelines for the testing and certification of autonomous vehicles," he said.
The concern about a state-by-state patchwork came into sharp focus in December when the state of California released draft regulations requiring all autonomous cars to have a steering wheel and pedals to allow a human driver to take over. That would have barred the kind of hands-free car that Google is working on in the state.
The five-year transportation bill passed by Congress in November contained very little specific guidance on driverless vehicles, although it did draw up a new innovation title to study driverless vehicles and set up a new $75 million annual grant program for the technology. In drafting the bill, members said they wanted to foster new technology, but without prescriptive language that could hamstring the industry.
According to the Transportation Department, President Obama's fiscal 2017 budget proposal, set to be released on Feb. 9, will offer nearly $3.9 billion over the next decade for pilot programs to test vehicles that operate without drivers, or vehicles that can communicate with each other and infrastructure to help ease traffic problems.
Speaking at a conference in Washington on Wednesday, Foxx noted the potential challenges of the new technology, since the "pace of change is going to be faster in the 21st century than in the 20th."
"I don't want us to be stuck in a place where technologies are put through our paces on a 3- to 4-year window because you could be two or three generations into that technology in terms of capability, and the first generation can't reach the market yet," he said at the Transportation Review Board's annual conference.