The GOP's Obamacare Repeal Work Is Done—For Now
With a repeal bill headed for Obama's veto pen, Republicans are now crafting a replacement plan and looking ahead to 2017.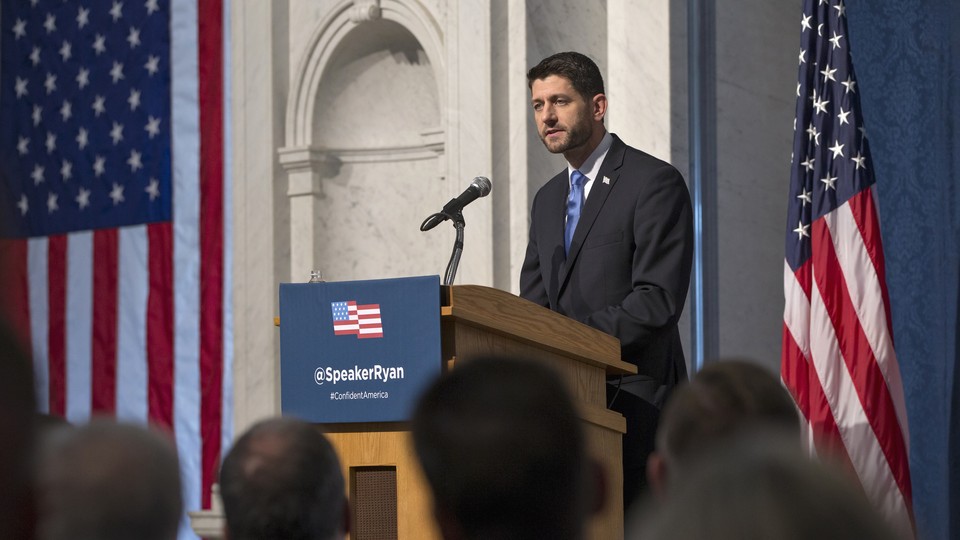 Republicans are charting a path forward on how they could repeal Obamacare in 2017, with what is likely the last bill aimed at completely dismantling the president's signature health law that Congress will pass this year.
In a 240 to 181 vote Wednesday, the House passed the Senate version of a reconciliation bill repealing major provisions of the Affordable Care Act and defunding Planned Parenthood—the first time a large repeal bill will be sent to the president's desk, where it faces a certain veto.
While the GOP waits for November's election results, the party has two other health policy goals for 2016: crafting a plan to replace the president's signature health law and appealing to voters with the message that a vote for the GOP is a vote against Obamacare.
In a December speech outlining his agenda, House Speaker Paul Ryan committed to developing a conservative alternative to Obamacare. "There are many things to do, but most urgent is to repeal and replace Obamacare," Ryan said at the Library of Congress. "When people ask me what's wrong with the law, I usually say to them, how much time do you have? … We think prices are going up because people have too few choices, not because they have too many. And we think this problem is so urgent that, next year, we are going to unveil a plan to replace every word of Obamacare."
At next week's Republican retreat in Baltimore, members' ideas will be solicited in addition to discussing a process and timeline for a replacement plan, according to Ryan spokeswoman AshLee Strong.
Vague ideas for replacement plans were floated when members anticipated a Supreme Court ruling on the King v. Burwell case, which could have halted millions of Americans from receiving subsidies on the federal exchange. But the June ruling didn't swing the plaintiffs' way, sparing the GOP from having to quickly choose and further develop a replacement plan after years of railing against the law without coalescing around one concrete alternative.
Republicans aim to create that alternative this year, but it's no simple task. "There's a reason why it hasn't happened so far, because it's incredibly complicated, both technically and politically," said Larry Levitt, a Kaiser Family Foundation senior vice president. "For Republicans, it means threading the needle between a plan that will appeal to conservatives and one that offers some help to people in paying for their health insurance, and that's not going to be easy."
Much energy was spent coming up with a reconciliation bill that the GOP as a whole could agree upon. In October, the House passed its version of the legislation. But its fate was more uncertain in the Senate, where conservative presidential candidates Ted Cruz and Marco Rubio—as well as Sen. Mike Lee—vowed to vote against any measure that didn't repeal as much of Obamacare as the Senate rules allowed. The upper chamber increased the scope of the bill, including adding the repeal of Medicaid expansion, and it passed in early December.
Though Obama is sure to use his veto pen, there's a political hope buried within the process: that the measure shows Republican voters the party is serious about its promise to repeal and replace the law. It shows voters that repealing the law is more than just rhetoric, said Dan Holler, spokesman for the conservative group Heritage Action, while also serving as a "test run" for what happens if a Republican wins the White House (and both chambers remain in GOP hands).
Nearly 80 percent of Republicans and 53 percent of independents have an unfavorable view of the Affordable Care Act, according to a Kaiser Family Foundation December poll. Heritage Action is asking candidates to tap into this discontent and, on Jan. 5, sent a letter to the candidates urging them to push Obamacare as a top issue during the race. That's because, Holler said, when the party aggressively reiterates its case against the law, voters respond.
"If Republicans make a concerted effort to say the law has failed, it's not working, it's getting worse … that goes a long way into helping create the public narrative that the law is in fact bad," Holler said.