The Flint Water Crisis Is Coming to the Senate
Democrats want a vote to address the crisis, while a House committee prepares a hearing.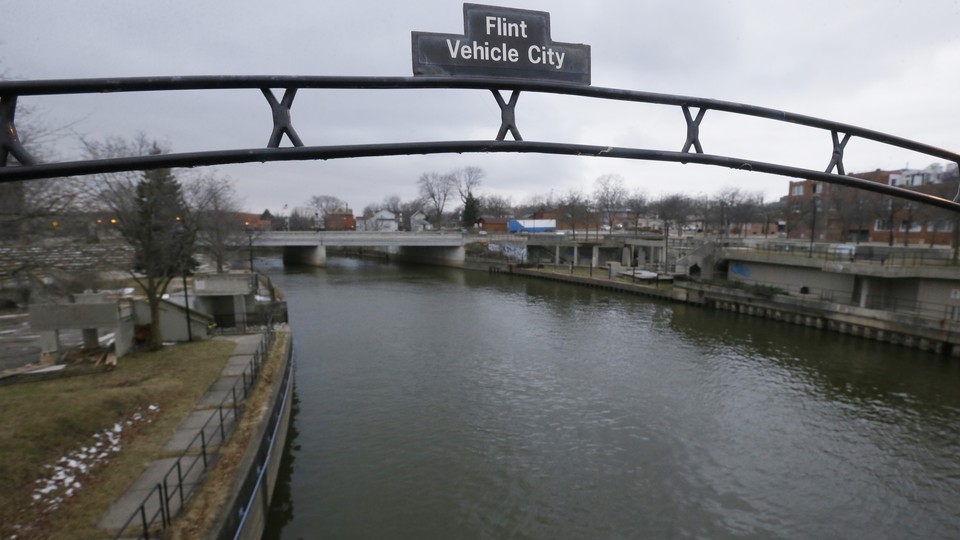 The water crisis that has left thousands with lead-poisoned water in Flint, Michigan is making its way to the Senate floor.
Democratic Sens. Gary Peters and Debbie Stabenow of Michigan plan to introduce an amendment Thursday related to the Flint crisis to the bipartisan energy bill under debate this week. Peters declined to give details Wednesday evening, saying it was still a "work in progress."
Aides said specifics of the amendment would be released Thursday.
The amendment is meant to address the drinking water crisis that's engulfed Michigan and been linked to serious health problems in thousands of Flint residents.
Peters and Stabenow, along with Michigan Rep. Dan Kildee, announced separate legislation Wednesday that would require the EPA to notify residents of any danger from lead in their water system and to release results of any lead monitoring conducted by public-water systems. The bill, Stabenow said, would give the federal government "clear legal authority to provide notice to the public when a state is not taking action on a public-health-safety crisis."
The EPA had been aware of elevated lead levels in the Flint water supply as early as April, but a regional official stayed silent because she was unsure if she could force legal action. Region 5 administrator Susan Hedman, who oversees the Midwest, resigned her post last week over the incident.
It's unclear if the Senate amendment will mirror that bill or go beyond it; Peters only said that the amendment would be "broad."
There's also no guarantee that the Democrats' amendment will even get a vote. Senators have already flooded the bill with dozens of amendments on the renewable fuel standard, EPA climate standards and coal policy, among other issues. Energy and Natural Resources chairman Lisa Murkowski and ranking member Maria Cantwell both said Tuesday that they don't want to laden the bill with irrelevant or "poison pill" amendments that could upset its bipartisan support.
The energy bill—which includes policy on energy efficiency, infrastructure modernization, and critical-minerals mining—passed the Energy and Natural Resources Committee on an 18-4 vote.
Peters said that members were working to ensure the amendment would be germane.
But regardless of the amendment's future, the Flint story isn't going away on Capitol Hill.
The House Oversight Committee will also hold a hearing next Wednesday on the crisis. Rep. Brenda Lawrence's office previously said that Michigan Gov. Rick Snyder would be called to testify at the hearing, but a committee aide said he would not be on the witness list.
California Democrat Barbara Boxer also highlighted the crisis during an Environment and Public Works Committee markup last week on a bipartisan bill related to hunting and gaming. Boxer introduced an amendment to strip language in the underlying bill that would have exempted lead fishing tackle from EPA chemical regulation, which ultimately failed.
But she highlighted the language and a separate provision regarding pesticide spraying over water as "defiant acts toward American families who expect their country to protect them from poisons like pesticides that can harm the nervous system, impact the development of children and even cause cancer, and lead that can cause irreversible brain damage."
The extent to which Congress can intervene in the Flint crisis remains to be seen. Speaking to Detroit TV station WXYZ on Wednesday, Peters said that it was "first and foremost … a state responsibility," and said he was working largely to bring more federal resources to the state. That includes aid on nutrition, health care, and promotion of Head Start for the city's poor children, Peters said.
Sen. Dick Durbin told reporters that he expected Republicans to get on board with any amendment related to the crisis. "I don't know how they explain it if they don't support an amendment to protect children from water that is deadly, or poisoned," he said.
CORRECTION: An earlier version of this article incorrectly referred to Rep. Dan Kildee as Dale Kildee.
---
Ben Geman contributed to this article