The First House Primary to Watch in 2016
How Martha Roby handles a tea party challenge could set the tone for the remainder of the House primary calendar.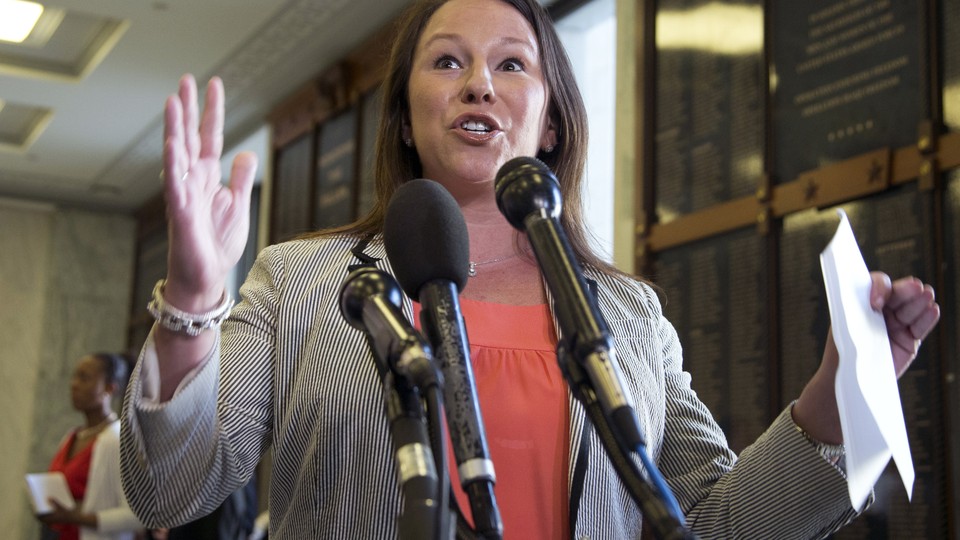 The first test for the tea party this cycle hits Alabama in less than six weeks.
After running unopposed for the nomination in 2014, Rep. Martha Roby is battling a Republican primary challenge from conservative activist Becky Gerritson, who has steeped her campaign in an outsider message that has caught fire in the presidential race.
As the first congressional primary of the year, Republicans say the result could echo beyond Alabama, previewing the outcomes of more intraparty showdowns to come.
"If Alabama steps up big in March, it becomes a bragging right about the South and the tea-party vote," Alabama-based GOP strategist Jonathan Gray said. "The bottom line is, candidates always redefine the victory."
Conservative groups contend that a Gerritson win would provide a boost just two weeks later for candidates such as Jim Duncan, who is taking on Rep. Renee Ellmers in North Carolina, and Kyle McCarter, who is challenging Rep. John Shimkus in Illinois. Both of those races fall on March 15.
It "would certainly set the tone," said Glyn Wright, the executive director of Eagle Forum, whose PAC plans to spend $5,000 to support Gerritson. "I don't think that any incumbent should feel safe this year."
That includes Roby's colleague in the delegation, Republican Sen. Richard Shelby. He's warding off four primary challengers, including former Mar­ine Capt. Jonath­an Mc­Con­nell, whose ads have attacked Shelby on national security. After a 2014 cycle that featured several Senate incumbents in serious primaries, the five-term senator is one of the few incumbents forced to spend serious money so far.
Roby remains solidly favored to prevail. But to conservatives, the 2nd District, which Mitt Romney won with 63 percent of the vote in 2012, offers a ripe opportunity to pad their ranks. The three-term incumbent is known as one of the more moderate members of Alabama's GOP delegation, and since the race falls on the same day as the presidential primary, strong turnout by Donald Trump and Ted Cruz supporters could embolden her challenger.
So far, Roby, who was first elected in the Republican wave of 2010, holds a significant cash edge after bringing in $310,000 in the fourth quarter and ending the year with $884,000. Gerritson, whose report is not yet public, raised about $105,000 since announcing her candidacy on Oct. 1 and had only about $31,000 in the bank at the end of the year, according to her campaign.
"It's not all about the money," Gerritson said in an interview, pointing to Dave Brat's historic defeat in 2014 of then-House Majority Leader Eric Cantor in Virginia. "I know that we will be outspent, probably 20-to-1."
Gerritson, the leader of the Wetumpka Tea Party, first made headlines in 2013 when she delivered emotional testimony before Congress about her group's apparent targeting by the Internal Revenue Service. In addition to the Eagle Forum, Gerritson has won backing from conservative groups including the Madison Project and the Tea Party Patriots Citizens Fund super PAC.
Roby has been counterpunching with endorsements of her own. One of Alabama's oldest tea-party groups, the Alabama Patriots Tea Party, is backing her bid. Earlier this month, Sen. Jeff Sessions, a popular conservative in Alabama, announced he's supporting her. And on Tuesday, the Susan B. Anthony List, which backs female candidates opposed to abortion, threw its support to Roby.
Still, Roby has taken heat from her right flank, earning a 56 percent lifetime rating from the Club for Growth and a 54 percent lifetime rating from Heritage Action for America.
And in December, an outside group, the American Jobs Alliance, aired radio ads that slammed her vote last summer to support the fast-track trade bill.
In an interview, Roby defended her record, touting her work on local priorities that some conservative groups opposed, such as the farm bill in 2014.
"Will someone make scorecards an issue in this campaign?" Roby said. "Of course they will. But every time they do, they will actually be demonstrating, vote by vote, how I put Alabama ahead of Washington politics."
And not all tea-party groups are rushing to Gerritson's aid or committing to spend money in the race. The Club for Growth and FreedomWorks, for example, are both keeping an eye on the primary but haven't issued an endorsement. And the Tea Party Patriots Citizens Fund has not yet decided if it plans to spend in the district, according to a source with knowledge of the situation.
The Alabama presidential primary was moved up to give the state a bigger role in the nomination process, and the shortened campaign timeline for the corresponding congressional primary could work to Roby and Shelby's advantage, giving their challengers less time to promote their candidacy.
But by playing out against the backdrop of the presidential race, Republicans also say Trump and Cruz's surging campaigns could draw more non-traditional voters to the polls, potentially lifting challengers like Gerritson, who is an Alabama co-chair of Cruz's campaign.
"If she hitches a wagon to Cruz, that might do her well," said former Alabama Republican Party Chairman Bill Armistead. But, he noted, "The early primary does benefit the incumbent, too."
Still, in a presidential election year, it could also be harder for the Gerritson team to nationalize the primary, with the top-of-the-ticket race taking up most of the oxygen.
"Groups are all focused on the presidential race," said Brent Buchanan, a GOP consultant in Alabama. "And I'm not hearing a lot of angst among regular Republican primary voters that they are ready to get rid of Martha."