The Fight for Gun-Rights Supporters
Republican hopefuls jockey for a key voting group.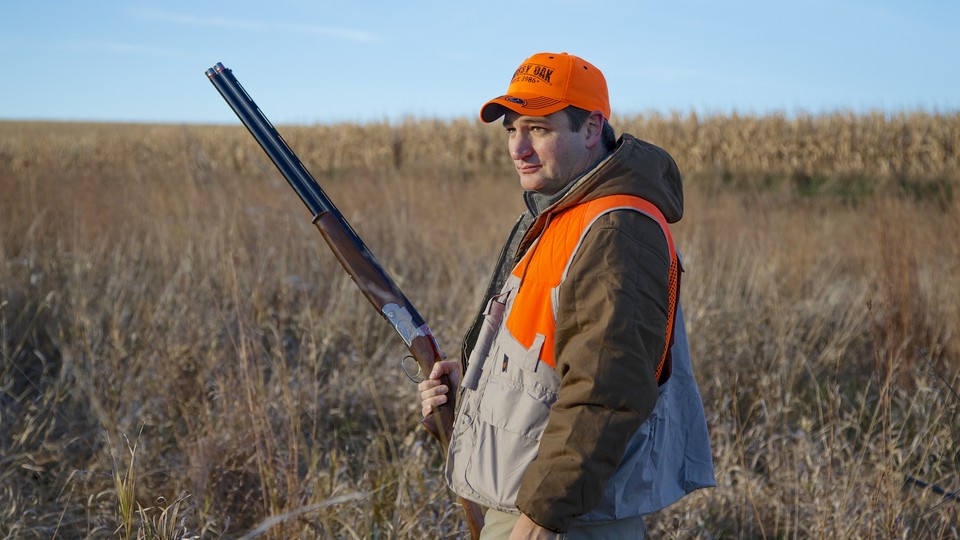 Richard Rogers, 65, is a lifetime GOP Iowa activist with a particular passion for gun rights. He's met most of the candidates—"all the way down to [George] Pataki"—in intimate settings, and he plans on organizing a West Des Moines precinct on Feb. 1. One fall night, just as Rogers turned on Bret Baier's show on Fox, he received a call from Heidi Cruz, the wife of Sen. Ted Cruz, and they talked for about a half hour. ("I thought it was a recording," he joked.) After his initial choices—governors Bobby Jindal, Scott Walker, and Rick Perry—dropped out, Rogers jumped on the Cruz campaign in December and now serves as a Second Amendment Coalition cochair.
"I've always viewed the Second Amendment issues as sort of the canary in the mine for other rights and liberties," said Rogers, who serves on the board of the Iowa Firearms Coalition. "I have no doubt that he's as solid as could be."
But with many of the GOP candidates espousing similar positions on gun rights, a guy like Rogers has to reach back years, even decades, to point out why some of the other candidates aren't up to snuff. Donald Trump, for example, said in 2000 that he supports a ban on assault weapons and longer waiting periods to buy a gun. Those comments are haunting him still, and Rogers calls Trump a "will-o'-the-wisp."
"This is the whole problem with Donald Trump," he said. "How do I trust the man? He's been on the other side of so many issues from me and from himself in the past. … He's here, he's there. He's everywhere."
Trump, however, has renounced those views; recently he even announced he would abolish gun-free zones on Day One in office. When asked for comment on his previous positions, Trump campaign spokeswoman Hope Hicks referred to his campaign website, which claims that "gun and magazine bans are a total failure" and rebuffs Democratic calls for expanding gun background checks.
The search for the perfect candidate among gun-rights voters is fierce—and even extends to the board of the National Rifle Association, the nation's most influential gun group. One New Jersey member, Scott Bach, has written a New Hampshire Union Leader op-ed defending New Jersey Gov. Chris Christie, who has changed his mind on the assault-weapons ban and concealed-carry permits. But that isn't good enough for some advocates, who dredge up various Christie comments, from 2009 all the way back to 1993, when he said that he was running for a state Senate seat to uphold an assault-weapons ban. "Unless walked back—denounced—that's a challenge," says Grover Norquist, an NRA board member. "[But] people change their minds."
Former Rep. Bob Barr, another NRA board member and a Cruz supporter, adds that Christie is "really bad" on Second Amendment issues, even "basically more on the Democratic side than the Republican side."
The comments from Cruz's supporters take direct aim at two of their top opponents—and show a willingness to engage particularly on Trump's guns record much more than the candidate himself.
With less than a month from the first two contests, all of the candidates are seeking whatever leverage they can muster. And after President Obama raised gun policy to the forefront of national debate—announcing a new executive action to strengthen background checks, promoted by a nationally televised town hall and an empty seat at the State of the Union left for victims of gun violence—activists on both sides of the national debate say that gun policy will be more relevant in this presidential race than any in recent memory.
"Here's what I think is different about the gun issue this time," said Norquist. "The Democrats are going out front, whereas they haven't run on the gun issue since the '70s."
Erika Soto Lamb, spokeswoman for the Michael Bloomberg-backed Everytown for Gun Safety, said, "It's like a new world—a changed environment because they're all talking about it on both sides.
"We welcome the president to our club of single-issue voters on gun safety," she added, referring to Obama's highly publicized pledge in The New York Times to "not campaign for, vote for or support any candidate, even in my own party, who does not support common-sense gun reform."
"I remember how much we struggled to get any attention to guns as a political issue in the 2012 presidential [election]," added Soto Lamb.
Republicans think raising the gun issue is political gold—and in a GOP primary, the sharper contrast a candidate can make with this president, the better. That could be particularly important for former Florida Gov. Jeb Bush, whose campaign has struggled this cycle to appeal to angry voters and escape his relatively moderate positions on immigration and support for Common Core. In December, Bush specifically targeted Second Amendment voters, buying robocalls in Iowa touting his A+ NRA rating and Florida's controversial "stand your ground" law. On Tues­day, his cam­paign announced a Sportsmen Coalition Advisory Committee ahead of an Iowa event at a Brownells firearms facility.
Bush has had to compete with a crowded field in appealing to gun-rights voters. In a new ad, Sen. Marco Rubio claims Obama will "take away our guns"; the first bullet point in his Second Amendment fact sheet says he "owns a Taurus .357 Magnum revolver and holds a concealed-weapons permit." Back in August, Cruz released a video in which he sizzled bacon off a hot AR-15 rifle; on Tuesday, he and Barr will hold a Second Amendment rally at a New Hampshire gun range. Before a prime-time September debate, Sen. Rand Paul took to a gun range to shoot up the tax code.
"It has been an Iowa Caucus cycle filled with candidate events held at shooting ranges, gun clubs and pheasant hunts," said former Iowa GOP chairman Matt Strawn in an email. "No downside to being too pro-Second Amendment in the Iowa Caucuses."
Proving the opposite has been a recent key point among Democrats, who have in years past been much more hesitant to run on gun control, blaming the loss of their congressional majorities in 1994 and even the White House in 2000 in part on the issue. In the past three presidential election cycles, the Democratic nominee has stayed on the sidelines or even pandered to the gun-rights crowd, most remarkably when a camouflage-clad John Kerry took to an Ohio cornfield to goose rural voters in 2004.
But since the last presidential election, Democrats have begun to forcefully push back on claims made by gun-rights groups like the NRA following a series of shooting tragedies, including those at Sandy Hook Elementary School in 2012 and Umpqua Community College in Oregon in October.
As older, white, rural voters flee the Democratic Party, Hillary Clinton has hit her chief rival, Sen. Bernie Sanders of Vermont, on gun control to boost her support among the base. "When it really mattered, Senator Sanders voted with the gun lobby and I voted against the gun lobby," said Clinton on MSNBC last week, referring to his vote in 2005 for an NRA-backed bill protecting gun manufacturers and dealers from liability lawsuits when firearms are criminally used. Sanders responded on Sunday, telling ABC that the legislation was "complicated" and that he'd be willing to "get rid of the onerous provisions," adding that gun manufacturers should "absolutely" be held accountable if they know they're selling guns to criminals.
Raising gun control as an issue could have political risks for Democrats by inflaming gun-rights voters against them. After Obama's call to clamp down on gun laws after the terrorist attack in San Bernardino, California, Americans bought more guns in December than almost any other month in almost two decades, according to The New York Times. (The last record month was December 2012, following Obama's call for new restrictions after Sandy Hook.) And gun-rights voters have historically been much more organized than those who oppose them, although relatively new gun-control players like Bloomberg have much more money to spend than their predecessors.
"The gun issue is still a 90-10," said Fergus Cullen, a former New Hampshire GOP chairman, in an interview. "By that, I mean 90 percent of the energy and passion is on the pro-Second Amendment, right side."
But polling data shows that there is broad bipartisan support for expanded background checks for guns and doesn't indicate that Republican candidates should spend much time espousing gun rights; a recent Quinnipiac poll showed that only 7 percent of likely Republican Iowa caucusgoers named "gun policy" as their most important issue, up from 5 percent in November. Yet those who care about it seem to care strongly enough to vote.
So with only three weeks to go before the Iowa caucuses, expect the intense jockeying over gun rights to continue.
"There has been much publicity around the gun rights issue anyway," wrote Pete Brownell, an NRA board member and CEO of the Iowa-based Brownells firearms manufacturer, in an email. "Add in the fact that just [last] week our president bypassed Congress to enact even more controls through executive action, I would estimate we will see a lot more conversation from both sides.
"In races both in Iowa and throughout the nation," he added, "candidates' positions on gun rights can absolutely sway the balance of caucuses and elections."