The Endangered Governor Most Affected by the Presidential Campaign
North Carolina is one of just two states hosting a competitive gubernatorial and presidential race this year.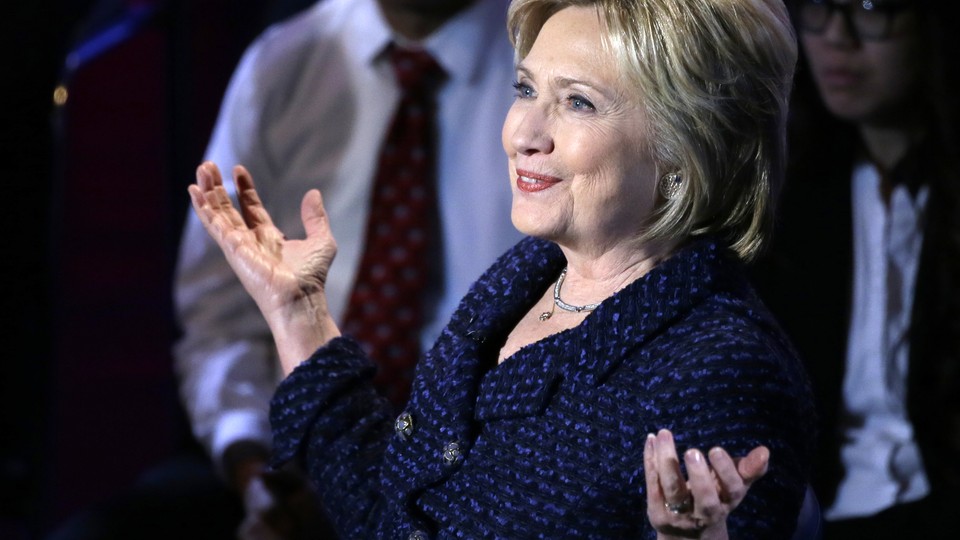 While the Senate landscape is tightly intertwined with the top of the ticket, just two states with a competitive gubernatorial race overlap with the presidential-battleground map—New Hampshire and North Carolina—and only in the Tar Heel State is the level of presidential-campaign involvement still a bit of an open question.
Republican Pat McCrory, who is perhaps the most vulnerable governor up in 2016, is seeking a second term in North Carolina against Democrat Roy Cooper, the state attorney general. They're running in a must-win presidential state for Republicans, while President Obama, who actively contested and won the state in 2008, proved in 2012 that a Democrat can easily win the presidency without it.
The pressing question for Republicans with an interest in the race is who will be their presidential nominee, while for Democrats, it's how much the party's nominee will invest.
"It's obviously very important to the outcome of the governor's race if Republicans have a candidate that can compete well here, and that's a real question," a North Carolina Republican operative said. "If Donald Trump wins the nomination, I think that would be very detrimental to Governor McCrory's chances of winning in the fall."
Republican Sen. Richard Burr is also seeking reelection. Democrats weren't able to recruit any of their top picks to challenge Burr, and he is relatively low on the list of the most vulnerable incumbents, but a potential Trump-fueled Democratic wave would nonetheless have a significant effect on that race.
It's not a foregone conclusion that Democrats will invest significant resources to win the state, particularly as it remains to be seen whether the party can mobilize the same coalition of young, minority, and female voters that were driven to the polls in the past two presidential cycles without Obama on the ticket.
North Carolina was Obama's narrowest winning margin in 2008— about 14,000 votes—and his narrowest defeat four years later, to Mitt Romney by two points. Democrats in the state estimated that Obama employed some 500 staffers there by the end of 2008, and about 400 in 2012, the vast majority of them field organizers.
That type of investment has obvious payoffs for down-ticket campaigns that, absent a coordinated effort, would need to invest more in building their own field operation. Democrat Kay Hagan's well-funded but unsuccessful Senate reelection campaign in 2014, for example, employed roughly 120 people at its peak, according to one Democratic operative involved in the race.
The impact of a strong ground game is felt most acutely in close races, and the North Carolina governor's race is expected to be won or lost by a narrow margin.
Virginia Gov. Terry McAuliffe, a Bill Clinton confidant, is optimistic that Hillary Clinton will seriously compete for the state if she wins the Democratic nomination.
"I think Hillary's going into this campaign realizing she's got to compete everywhere," McAuliffe told National Journal last week at a National Governors Association event in D.C. "Obviously North Carolina has always been a key swing state. We have obviously a very important governor's race down there, something that the governors are actually very interested in. But listen, she's going to put together a strategy and the message, I think, that she can compete anywhere, including, most importantly, North Carolina."
In 2008, Obama's voter-registration and turnout efforts undoubtedly benefited both Hagan and Democrat Bev Perdue, who defeated McCrory when he was mayor of Charlotte by just more than three points in the governor's race. Hagan defeated Republican Sen. Elizabeth Dole by nine points. In 2012, McCrory won his first term in a blowout after Perdue's delayed decision not to seek reelection resulted in a weak Democratic candidate.
The results of this year's gubernatorial race are expected to be much more closely tied to the outcome of the presidential race. And those involved in the Cooper campaign are anticipating a sizable effort from Democrats on the presidential level, though the expectation is that it will be closer to the scale of 2012 than 2008.
"It increases your activity. It increases the engagement of all the activists and volunteers. Nothing turns out excitement like a presidential race because of the huge amount of spending and the huge profile of it," said Morgan Jackson, a top campaign adviser to Cooper. "People just come out of the woodwork to volunteer and knock on doors, and make calls, and do all of the things that you need, and so that is always helpful."
Jackson noted the party was also aided in 2008 by the presence of a competitive Democratic presidential primary, which forced candidates to put staff on the ground early. That could also happen this year.
North Carolina's primaries are March 15, and few of the candidates on either side of the presidential race have launched significant efforts to this point. Clinton and Sen. Bernie Sanders have visited only once or twice apiece. Trump and Marco Rubio each held North Carolina rallies within the past two months.
For now, most of the attention is still focused on the four early-nominating states and the Super Tuesday states that vote two weeks before North Carolina.