The Last Days of the Bush Dynasty?
The family loyalists watch the decline of Jeb Bush's presidential ambitions with a mix of sadness and resignation.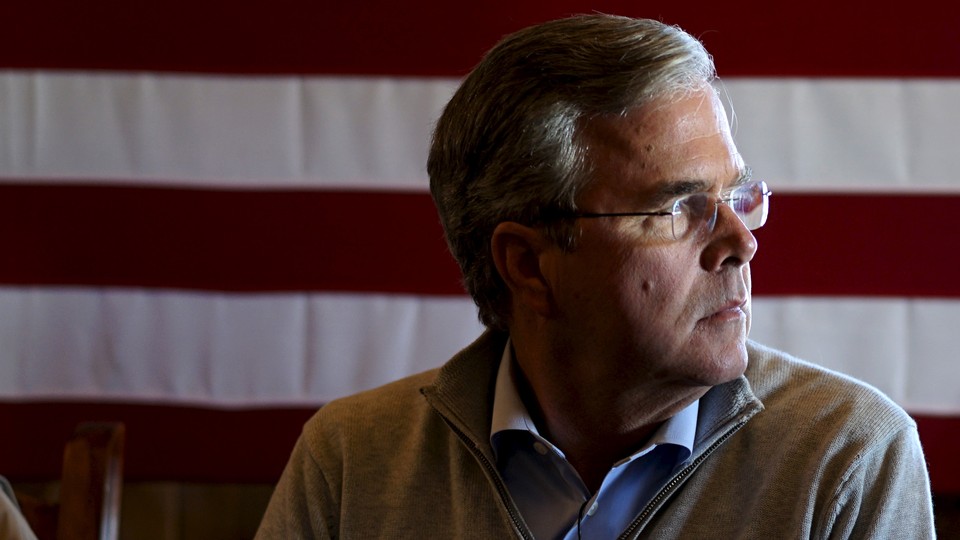 HAMPTON, New Hampshire—It is never a good sign for a candidate when your supporters start feeling sorry for you, but that is what has happened to Jeb Bush.
"Poor Jeb," said Tony Manix, a 54-year-old Air National Guard member in jeans and a puffy down jacket, who had come to see Bush speak—not for the first time—at a private school here, on a chilly, wind-whipped seacoast night. "I just don't understand why his numbers aren't up," Manix added plaintively. "If you listen to him, if you hear what he says, he really has the best plan for our country. But the American people don't seem to want to spend the time to dig into what the issues are really about."
Poor Jeb. (Or, this being New Hampshire, "poah Jeb.")
To a degree not common to other candidates, Bush's supporters feel protective of him and grieved for his sake. They seem acutely aware that he was never supposed to be in this position—mired in the back of the crowded pack of candidates, struggling to be heard, on the edge of being counted out. A campaign that began with a frontrunner's fanfare now averages less than 5 percent in national polls. It's a situation that might be humbling or humiliating for your average governor or senator making a run at the title, but it takes on special resonance for a member of one of America's royal families.
The fact of Bush's lineage has made the grim saga of the campaign something more than Jeb's personal drama. It has been his burden and his boon alike, elevating and stifling him at the same time. The topic of his family follows him everywhere, and not just because the media brings it up constantly. The voters, too, want to talk about it, with an unnerving intimacy.
"I'm a Bushophile," a man in the crowd began his question. He wanted to know why Bush hadn't utilized his father and brother more to campaign for him. "I know the liberals are saying you ran home to mommy and stuff like that," the man added, "and by the way, your mother probably didn't approve of you calling Trump a jerk—"
"She probably did," Bush interjected, to laughter. He took the man's question in stride—"I'm more than happy to get advice"—and launched into a tortured spiel about his paternal and fraternal ties. "Look, my dad and my brother served with distinction, and I love them dearly," he said. Bush stood in the middle of the room, surrounded on all sides by rows of polite people on folding chairs, holding a microphone and pacing around a wooden stool, clad in a black fleece and gray slacks.
"I'm a 62-year-old man that has a life experience," he added. "People are going to vote for me. They love my dad; some may love my brother and not love my dad—it's a little more complicated, it's not a unified deal. I'm proud of them. I'm not running away from them—that is total nonsense." Bush praised his older brother for his leadership and for keeping America safe, then reiterated that he had to win the nomination on his own merits. "I spend time talking about my family in a loving way—you can't ignore them, because that's weird," he said. "You can't over-rely on them, either. There's a balance."
Bush's pursuit of this tricky balance has made his campaign resemble a therapy session at times. (In November, he said of his father, to a group of New Hampshire schoolchildren, "All he would have to say is 'I'm disappointed in you' and it would send me into a deep depression for days.") He is inseparable from his clan, and his fate echoes through the generations.
Trying to wrest the GOP away from demagogues, after all, is not a new experience for Bushes. In the 1960s, as chairman of the county GOP in Houston, George H.W. Bush spent most of his time trying to prevent the John Birchers from taking over the party. Bush Senior was the ultimate establishmentarian at a time when that still meant something—a New England Episcopalian, son of a U.S. senator, educated at Andover and Yale—but he left that heritage behind to seek his fortune in Texas.
George H.W. Bush didn't make it to a second term, struggling to reckon with a GOP that resented his centrism and a country that found him wanting. George W. Bush, by the end of his two terms, was at war with a restive conservative movement, and these days, on the rare occasion he speaks publicly, he seems not to recognize his party. Now Jeb Bush, the latest public incarnation of the Bush family creed—a sort of to-the-manner-born graciousness, but with a hypercompetitive edge—is engaged in his own battle with the Republican grassroots. And it is one he appears, at the moment, to be losing.
An audience member in Hampton asked Bush if Donald Trump had made him a better candidate, and he snapped back without hesitation: "No." He refuses to cede anything to the boorish party-crasher who has so devastatingly cut him down as "low-energy" and a loser. But it's clear Trump has indeed sharpened him: Bush is pointedly energetic these days, to a degree that's almost hyper.
Does Bush still stand a chance? I have spoken in recent days with several of his supporters in the donor and operative class, and they use terms like "off chance," "outside factor," and "halfway-plausible pathway." Bush's campaign manager, Danny Diaz, told me the plan involves "building on each performance in each one of these states—primary after primary, caucus after caucus," the implication being that nothing will be decided by the early contests and Bush will gain credibility as others fade or run out of money. The Bush camp expects a "long process," Diaz said.
The Bush boosters' essential argument seems to be that, in a campaign in which no one has any idea what is going to happen, and all the outcomes on the table are inconceivable to some degree, a Bush surge seems only slightly less conceivable than all the other possibilities. The GOP, they hope, will eventually reject the vulgarity of Trump and the extremism of Ted Cruz, leaving Bush, Marco Rubio, Chris Christie, and John Kasich, with Bush emerging as the best credentialed candidate with the most robust campaign. All four of these candidates are busily beating each other up on the airwaves.
The establishment hasn't quite thrown in the towel on Bush just yet. A couple of weeks ago, Lindsey Graham, the senator and former presidential candidate, endorsed him, saying he was "ready on day one to be commander in chief." Donors told Politico they're sticking with Bush for the time being, out of loyalty—but waiting for the signal that it's OK to defect. The mantra was patience, until it turned to resignation.
Bush backers are critical of the campaign, which has focused on high-minded appeals and meaty policy proposals despite abundant evidence there's no appetite for either. Last week, Bush gave a speech at the Council on Foreign Relations in New York and rolled out a plan for national education reform; at his events, thick, glossy booklets containing page after page of details of his platform are distributed. The campaign seems to think the electorate will suddenly develop a taste for this.
The Bush backers are also critical of the super PAC, Right to Rise, that has spent $60 million on pro-Bush efforts to no apparent effect, including such gimmicks as electronic billboards and video mailers, and pro-Bush ads featuring testimonials from lobbyists. The backers are equally critical of the candidate himself, who has been creaky and maladroit in action, stumbling on questions about the Iraq War and repeatedly getting wrong-footed by Trump and Rubio in debates.
But most Bush fans say their man was simply, irrevocably out of step with the times. "The way Jeb's campaign has gone breaks my heart," Alex Castellanos, a longtime GOP consultant and commentator, told me. "He is a good man. But this was not an election cycle to make a point about a candidate's purity or noblesse. This was not an election to prove that our campaigns should be about policy or issues or that our politics is unworthy of a great nation." People, particularly Republican primary voters, are simply in no mood for any of the things Bush represents: technocratic governance, Chamber-of-Commerce Republicanism, hereditary rule. They want a radical break with the past, not a living avatar of it.
Bush is commendably open with the press, and after his town hall, he took questions in a back room. Three were about his family. (His mother, it had just been announced, was going to record an ad for him. "It's good to get an endorsement from your mother," he said.) One was about immigration, which he hadn't mentioned in more than an hour of Q-and-A with voters. To a question about electability, he insisted the two frontrunners must be ruled out.
"I don't think Ted Cruz would have the same possibility of beating Hillary Clinton that I would. Nor would Donald Trump," Bush said. "It's important we elect someone that can win, or this is all a fun little journey that we've all been a part of."
The dynasty may yet survive his fading hopes: His son, George P. Bush, was recently elected statewide in Texas. But at the moment, Jeb Bush's fun little journey is all that remains of the generations of Bush family power.