The Edge: The Final Sprint Before the Caucuses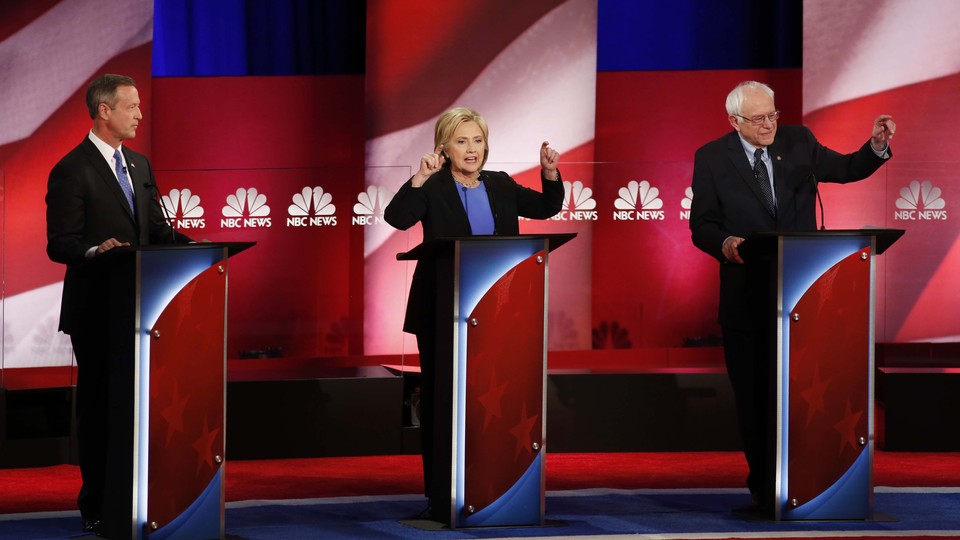 Today in One Paragraph
With just a week until the Iowa caucuses, Obama talked at length about the 2016 election and the Democratic presidential candidates, who are gearing up for a town hall in Des Moines tonight. A Houston grand jury indicted two anti-abortion activists involved in the Planned Parenthood videos. The Supreme Court ruled that convicts who were sentenced to life in prison as juveniles can seek parole. A University of Missouri professor is facing a misdemeanor assault charge for her role in trying to remove journalists at a campus protest. And the East Coast is slowly recovering from a winter storm.
---
Top News
Obama Chimes In. In an interview with Politico's Glenn Thrush, the president discussed Iowa's political landscape in 2016, eight years after his victory in the state. "Bernie came in with the luxury of being a complete long shot and just letting loose," and "Hillary came in with the both privilege—and burden—of being perceived as the frontrunner," he said.
One Last Chance. The Iowa Democratic Party and Drake University will host Hillary Clinton, Bernie Sanders, and Martin O'Malley in a town hall tonight, just days before voting begins. The event airs on CNN at 9 p.m. ET, and will be moderated by Chris Cuomo. (Eric Bradner, CNN)
Pair Behind Planned Parenthood Videos Indicted. David Daleiden and Sandra Merritt were indicted by a Houston grand jury for their role in the undercover Planned Parenthood videos released last summer. The investigation was originally launched to investigate alleged misconduct by Planned Parenthood. (Brian Rogers, The Houston Chronicle)
The Possibility of Parole. The U.S. Supreme Court, in a 6-3 decision, ruled that convicts who were handed life sentences as juveniles have the option to review. The Court said its 2012 decision that deemed life sentences without the possibility for parole for juveniles unconstitutional should be applied retroactively. (Lydia Wheeler, The Hill)
Mizzou Professor Faces Assault Charges. A University of Missouri assistant professor, Melissa Click, was charged with third-degree assault after calling for "some muscle" to remove a reporter from a campus protest in November. (Jason Hancock, The Kansas City Star)
Storm Aftermath. The federal government remained closed on Monday, and public transportation in cities on the East Coast remained spotty as the region recovers from a massive winter storm. The blizzard claimed the lives of at least 37 people and dropped near-record snowfall from Washington, D.C., to New York. (Michael R. Sisak and Verena Dobnik, Associated Press)
Tomorrow in One Paragraph: Donald Trump and Hillary Clinton will be in Iowa, along with Ted Cruz, Marco Rubio, Carly Fiorina, Ben Carson, Mike Huckabee, Rand Paul, Rick Santorum, and Bernie Sanders. Sanders will also head north for a few stops in Minnesota. John Kasich will be in New Hampshire, while Jeb Bush stumps in Nevada.
---
Follow stories throughout the day with our new Politics & Policy page. And keep on top of the campaign with our 2016 Distilled election dashboard.
---
Top Read:
"The point is not that reparations is not divisive. The point is that anti-racism is always divisive. A left radicalism that makes Clintonism its standard for anti-racism—fully knowing it could never do such a thing in the realm of labor, for instance—has embraced evasion." The Atlantic's Ta-Nehisi Coates on Bernie Sanders and the liberal imagination.
---
Top Lines
Insider, or Outsider? Texas Senator Ted Cruz is running as an anti-establishment candidate, but he's played a part in some defining GOP moments—including the 2000 election vote recount. (Matt Flegenheimer, The New York Times)
Battle of the Billionaires. Former New York City Mayor and business tycoon Michael Bloomberg is mulling an independent presidential run. What would he need to do to have a shot? (Steven Mazie, The Economist)
---
Top Views
Ice-Cold Bern. Ben Cohen, a Ben & Jerry's cofounder and long-time constituent of Bernie Sanders, made 40 pints of "Bernie's Yearning," 25 of which have been donated to Sanders's campaign. The company said it is "not involved" with the creation.
---
We want to hear from you! We're reimagining what The Edge can be, and would love to receive your complaints, compliments, and suggestions. Tell us what you'd like to find in your inbox by sending a message to newsletters@theatlantic.com.