The Edge: The Final Showdown Before Iowa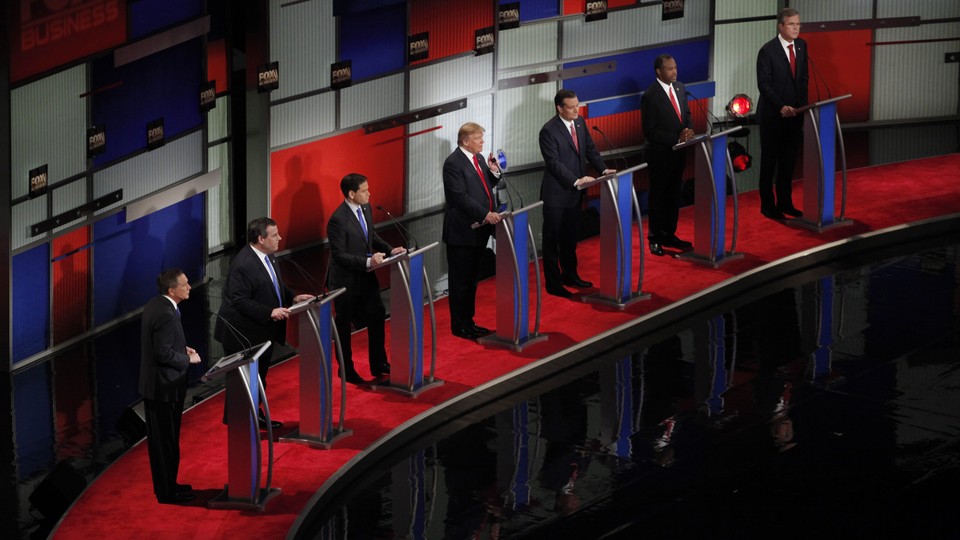 Today in One Paragraph
The Republican presidential candidates—except for Trump, who's boycotting—are preparing for the final debate before the Iowa caucuses. A Senate physician said Bernie Sanders is in good health. The World Health Organization warned that the Zika virus is "spreading explosively" in the Americas. The "affluenza teen" who fled to Mexico after allegedly violating his probation terms arrived back in Texas. And the Senate approved amendments to a bill that will update that nation's energy laws.
---
Top News
Party of Seven. The Republican presidential candidates will attempt to topple Donald Trump's lead during tonight's GOP debate in Iowa, but this time, he won't be there. Trump is instead hosting an event to raise money for wounded veterans. The debate, co-hosted by Google, will air on Fox News beginning at 9 p.m. ET, with an undercard debate at 7 p.m. (Russell Berman, The Atlantic)
'Overall Very Good Health.' Bernie Sanders is healthy and "active" in his professional work and recreational lifestyle "without limitation," according to the Senate attending physician Brian P. Monahan. The Vermont Senator had been pressed to release his health records by some of his opponents. If elected, he would be 75 at inauguration—the oldest in U.S. history. (Nolan D. McCaskill, Politico)
'Spreading Explosively.' Concern is growing among global health officials as the Zika virus, which may be linked to a rise in birth defects, spreads. Margaret Chan, the director general of the WHO, said she'll convene an emergency meeting on Monday to decide whether to declare a public health emergency. (Sabrina Tavernise, The New York Times)
He's Back. Ethan Couch, the Texas teenager who used an "affluenza" defense in a drunk-driving wreck that killed four people, arrived at a Texas airport Thursday after being deported from Mexico. He and his mother fled the U.S. in December during an investigation into whether he had violated his probation. He's scheduled to appear in court Friday, where a judge could decide to move him to an adult jail. (Emily Schmall and Mark Stevenson, Associated Press)
Energy Overhaul. The Senate approved four amendments to a bill that seeks to overhaul energy laws in the U.S. The legislation, the first energy rewrite in seven years, would speed up the exportation of liquefied natural gas, indefinitely expand a conservation fund, and update the electricity grid—among other policy updates. (Devin Henry, The Hill)
Tomorrow in One Paragraph: All three Democratic presidential candidates will be in Iowa, along with the entire field of Republicans, except for Donald Trump and John Kasich, who will return to New Hampshire.
---
Follow stories throughout the day with our new Politics & Policy page. And keep on top of the campaign with our 2016 Distilled election dashboard.
---
Top Read:
"The noise over ethanol may make little difference when it comes time for Iowans to vote on Feb. 1. While the vast majority of Iowa voters approve of policies that support the state's ethanol industry, the issue doesn't rank among their top three concerns." Time's Justin Worland on the diminishing importance of ethanol for Iowa voters.
---
Top Lines
App(s) for That. The parties' approaches to campaign technology seem to be as different as their political ideologies: The various Republican teams are creating a mini "marketplace," while the Democrats' system is "too big to fail." (Sasha Issenberg, Bloomberg Politics)
Out of Sight. For most of the Oregon standoff at the Malheur National Wildlife Refuge, the FBI was nowhere to be seen. But behind the "quiet facade," agents were running surveillance and gathering information on the group. (Nigel Duara, The Los Angeles Times)
What Is Trump's Ground Game? That's the question stumping political experts watching the Republican frontrunner's mysterious turnout operation ahead of the Iowa caucuses. (S.V. Dáte, National Journal)
---
Top Views
Day-to-Day in Iowa. Monday's caucuses will mark the end of a year of nonstop presidential-campaign visits. This New York Times interactive tracks the lives of some Iowans leading up to the big day.
---
We want to hear from you! We're reimagining what The Edge can be, and would love to receive your complaints, compliments, and suggestions. Tell us what you'd like to find in your inbox by sending a message to newsletters@theatlantic.com.