The Edge: The Blizzard Edition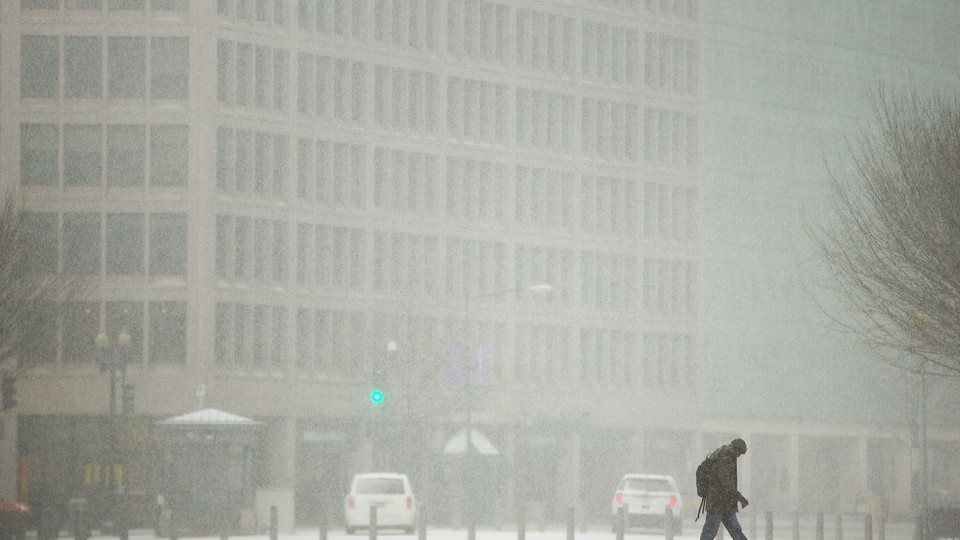 Today in One Paragraph
The first blizzard of 2016 is underway and moving up the East Coast. Meanwhile, the State Department requested more time to release the last batch of Hillary Clinton's emails, and a conservative battle unfolded after the National Review released its issue denouncing Donald Trump. Overseas, North Korea state media said that a U.S. student has been detained. An attack in Somalia left 17 people dead, and over 40 migrants drowned after two shipwrecks near Greece.
---
Top News
So it Begins... Roads have been salted, flights have been canceled, and states of emergency have been declared across the eastern U.S. as the region gears up for a historic snowstorm. More than 85 million people are under some type of blizzard or winter-storm advisory. (Marina Koren and Adam Chandler, The Atlantic)
A Deadline Extension. The U.S. State Department has asked a federal judge for an additional month to roll out the last batch of Hillary Clinton's emails from her tenure as Secretary of State, which are supposed to be released January 31. Mark Toner, the State deputy spokesperson, said "this month's production represented the largest number of pages to date." (Rachael Bade and Josh Gerstein, Politico)
The Case Against Trump. A conservative coalition teamed up with the editors of the National Review to unite "Against Trump" in a feature published by the magazine.The Republican National Committee responded by dropping the publication from a debate it was slated to co-host next month. (Byron Tau, The Wall Street Journal)
North Korea Arrests American Student. Otto Frederick Warmbier, a student at the University of Virginia, has been arrested in North Korea and accused of a "hostile act" against the country. Warmbier reportedly entered North Korea on a tourist visa. (Hilary Whiteman, CNN)
Terror in Mogadishu. At least 17 people were killed by Islamist militants who stormed a popular beach-front restaurant Thursday night in Somalia's capital. The attack, claimed by Al-Shabab, lasted until dawn on Friday as a battle unfolded between the militants and security forces. (Feisal Omar and Drazen Jorgic, Reuters)
Refugee Crisis Continues. Officials said over 40 migrants, including more than a dozen children, drowned in the Aegean Sea in two separate shipwrecks overnight near the coast of Greece. Since the start of 2015, more than a million people fleeing from the Middle East have sought refuge in Europe, but leaders remain split on how to respond to the influx. (BBC News)
The Weekend in One Paragraph: Hillary Clinton and Martin O'Malley both head back to Iowa, where Ben Carson and Mike Huckabee are making the rounds. Bernie Sanders will be in New Hampshire, along with Jeb Bush, Carly Fiorina, John Kasich, Rand Paul, and Rick Santorum, while Chris Christie is back in New Jersey to monitor his state's response to the snowstorm.
---
Follow stories throughout the day with our new Politics & Policy page. And keep on top of the campaign with our 2016 Distilled election dashboard.
---
Top Read:
"As the candidates that Wall Street backed with millions of dollars have stumbled and banks have become punchlines and punching bags, financiers are wrapping their heads around what life with the New York billionaire or Texas senator in the Oval Office might look like for them. And some don't mind what they see." Bloomberg Politics's Max Abelson on the response from Wall Street bigwigs to the Trump-Cruz showdown.
---
Top Lines
Final Hours Before Freedom. The Washington Post details the hours leading up to the release of Jason Rezaian from Iranian custody, as described by his wife and mother. (Andrew Roth)
In Christie's Absence. The New Jersey governor's long-shot presidential ambition has caused his ambition at home to shrink, exacerbating an already-fractious relationship with the rest of the state government. (Alexander Burns, The New York Times)
---
Top Views
Confusing Rubio for Cruz? The Atlantic's Andrew McGill cross-tabulated poll results on who'd make a "good" or "great" president, and the senators' supporters overlap—a lot.
From the Speaker's Balcony. Watch the National Mall get covered by snow throughout the weekend with a live video feed courtesy of House Speaker Paul Ryan.
---
We want to hear from you! We're reimagining what The Edge can be, and would love to receive your complaints, compliments, and suggestions. Tell us what you'd like to find in your inbox by sending a message to newsletters@theatlantic.com.