The Edge: 'Mission Accomplished' in Mexico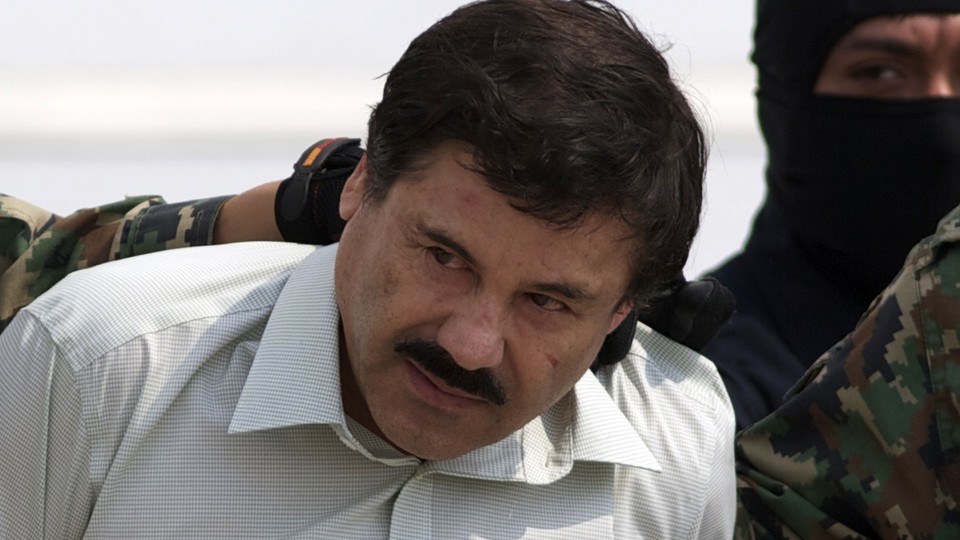 Today in One Paragraph
Mexican authorities arrested the the drug kingpin Joaquin "El Chapo" Guzman, who escaped from a maximum-security prison last year. In the U.S., the Chicago police are taking heat after allegations in recently released documents allege that that officers threatened witnesses and fabricated their accounts of the fatal shooting of Laquan McDonald. Maine Governor Paul LePage apologized for another set of offensive remarks. The Department of Labor released an encouraging December jobs report. Congressional Republicans are pushing anti-refugee legislation after two arrests this week. And NBC's criteria for the next Democratic debate may leave Martin O'Malley out of the mix.
---
Top News
Caught, Again. Mexican President Enrique Pena Nieto announced that Joaquin "El Chapo" Guzman, the head of the Sinaloa cartel, was recaptured after escaping a maximum-security prison through a tunnel last July. "Mission accomplished," Nieto tweeted. It's unclear if Guzman will be extradited to the United States this time around: The U.S. had issued a request for his extradition shortly before he escaped. (Azam Ahmed, The New York Times)
Intimidation Allegations. Attorneys for Laquan McDonald's family said that Chicago police threatened at least three witnesses of the fatal shooting to make their story match the official account, according to court documents. The lawyers also say "police officers up the chain of command fabricated witness accounts" to support the "shooting as justified." (Wayne Drash, CNN)
Dog Whistle. Maine Governor Paul LePage attempted to clarify his remarks that people named "D-Money, Smoothie, Shifty" come to his state to sell heroin and "impregnate a young, white girl" by saying that "Maine is essentially all white." This isn't the first time LePage has used racially charged language. (David Graham, The Atlantic)
292,000. The Labor Department's monthly jobs report surpassed expectations, with employers adding 292,000 jobs to the U.S. economy—capping a year of steady growth. The unemployment rate virtually stayed the same at 5 percent. (Eric Morath, The Wall Street Journal)
GOP Outcry. Congressional Republicans are renewing calls for party leaders to take up legislation that would make it more difficult for refugees to enter the U.S. after the arrests of two refugees on terrorism-related charges. (Jordain Carney, The Hill)
Living on the Edge. Martin O'Malley's Iowa numbers leave him "right on the cusp" of participating in the NBC News debate on January 17 based on the network's criteria. The Democratic National Committee indicated that they expect to see all three candidates on the debate stage, and a spokesman for Hillary Clinton said the campaign would oppose any criteria that would leave O'Malley out. (Emily Schultheis, National Journal; Elizabeth Titus, Bloomberg)
The Weekend in One Paragraph: Marco Rubio, Jeb Bush, Ben Carson, Chris Christie, Carly Fiorina, John Kasich, and Mike Huckabee will speak Saturday at the Kemp Forum on Expanding Opportunity in South Carolina. That same day, Bernie Sanders and Martin O'Malley will attend the Putting Families First Presidential Forum in Iowa. Donald Trump will also be in Iowa and will stop in Nevada on Sunday.
Top Read:
"Most visibly, she is the traditional campaign spouse. But she is also her husband's chief fundraiser, a surrogate who hopscotches across the country asking voters, one meet-and-greet at a time, for their support—and in private meetings imploring political and faith leaders for theirs." The Washington Post's Katie Zezima profiles Heidi Cruz and her role in Ted Cruz's campaign.
---
Top Lines
Purple State Blues. Some Democrats up for reelection in 2018 "already have a strategy to distance themselves from the president," as a result of his announced executive actions on gun control. (Burgess Everett and Lauren French, Politico)
Unions Go to Court. The status quo for millions of labor-union members could be upended by a Supreme Court case that will be heard Monday. The justices will consider whether the requirement to pay union fees, or affirmatively opt-out of its services, violate First Amendment protections. (Alana Semuels, The Atlantic)
---
Top Views
The 14 Days Police Didn't Kill Anyone. Law enforcement officers in the United States killed at least at least one person almost every day of 2015. This calendar tallies the 1,280 killings. (German Lopez and Sarah Frostenson, Vox)