The Edge: Obama Takes His Fight on the Road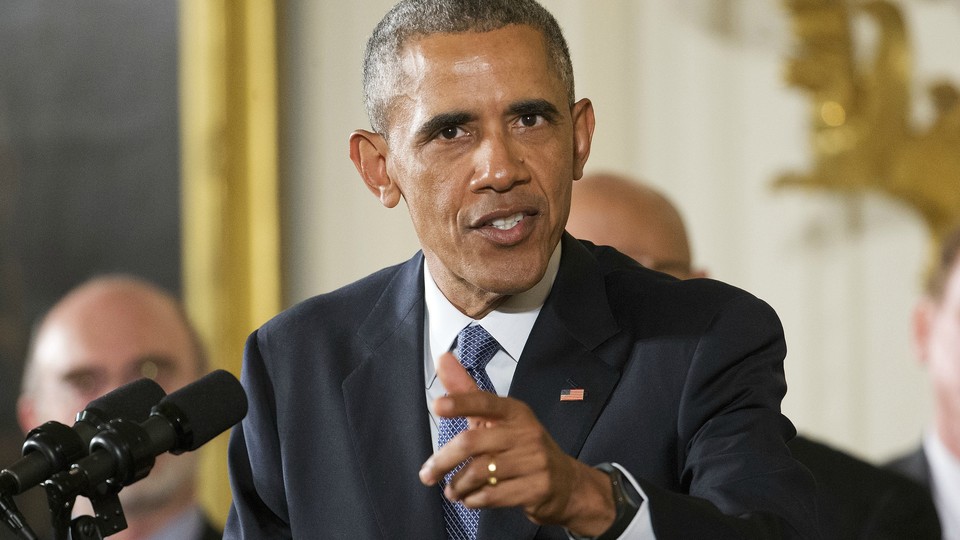 Today in One Paragraph
U.S. stocks tumbled after Chinese markets closed less than 30 minutes after trading began. Lawyers for Baltimore police officer William Porter filed for an injunction to prevent him from testifying against colleagues in the Freddie Gray case. In response to North Korea's claim to have tested a hydrogen bomb, House Speaker Paul Ryan vowed that the chamber will vote to toughen U.S. sanctions against the country. Meanwhile, on the campaign trail, Bernie Sanders called the Obama administration's recent immigration raids "inhumane," and Hillary Clinton earned the endorsement of Planned Parenthood. And tonight, President Obama will field questions at a forum on gun control hosted by CNN.
---
Top News
Market Tremors. The Dow Jones industrial average slid more than 2 percent after a halt in trading in China set off concerns in global markets. Anxiety is growing among investors and market experts around the world, many of whom had already expressed worries about the Chinese currency going into 2016—though some have shrugged off the declines. (Corrie Driebusch and Riva Gold, The Wall Street Journal)
Motion Filed. Lawyers for Baltimore police officer William Porter—whose trial ended in a mistrial last month—filed a request to keep him from testifying in the upcoming trial of another officer charged in the death of Freddie Gray. Porter's attorneys argue that although he was granted immunity, it "does not protect him from facing new charges." (Justin Fenton and Kevin Rector, The Baltimore Sun)
House to Vote on New North Korea Sanctions. Speaker Paul Ryan did not provide further details on the legislation, but a spokesman for Majority Leader Kevin McCarthy said a vote "could occur as soon as next week." (Scott Wong and Mike Lillis, The Hill)
You've Got Mail. Bernie Sanders sent a letter to President Obama urging him to "cease these raids" by the Department of Homeland Security targeting families who crossed the border from Central America since 2014. The Vermont senator suggested that they get temporary protected status. (John Wagner, The Washington Post)
Planned Parenthood Endorses Hillary. The Democratic frontrunner, who said she's "honored" by the announcement, will officially accept the endorsement at an event in New Hampshire on Monday. This is the first time Planned Parenthood, which has become a hot topic this cycle, has ever endorsed in a presidential primary. (Amy Chozick, The New York Times)
Gun Forum. President Obama will participate in a forum on gun control moderated by CNN's Anderson Cooper at George Mason University, two days after he announced a series of executive actions aimed at curbing gun violence. It is scheduled to air at 8 p.m. (Stephen Collinson, CNN)
Tomorrow in One Paragraph: Carly Fiorina, Marco Rubio, and John Kasich will make the rounds in New Hampshire. Bernie Sanders and Ted Cruz will be in Iowa. Donald Trump and Jeb Bush will hold events in South Carolina. Hillary Clinton will be in California. Bill Clinton, who recently joined the campaign trail in support of Hillary, visits Arizona and Washington.
Top Read:
"We wait for people to call us," Green, the deputy director, who is spearheading the national expansion, told me with a laugh. Usually, they're people who feel abandoned by their local Democrats. The Atlantic's Molly Ball on how the Working Families Party wants to remake America's left, the way that the Tea Party remade the right.
---
Top Lines
Behind the Scenes. Denis McDonough, Obama's "fifth, favorite, and likely last chief of staff," has tightened control of the West Wing to the point where "the most critical meeting of the day has only two players: McDonough and the president himself." (Glenn Thrush, Politico Magazine)
Hot Air. The Freedom Caucus is ready to make noise in 2016, but with an election year and a far-off fiscal deadline it's not clear what they can do—"a fact that the caucus members themselves acknowledge when pressed." (Michelle Cottle, The Atlantic)
---
Top Views
North Korea in Perspective. Experts said North Korea's claim that it successfully tested a hydrogen bomb is questionable based on the size of the blast. See a chart that compares it to other tests here. (Adam Taylor, The Washington Post)