The Edge: Ted Cruz Faces a New Challenge Over Eligibility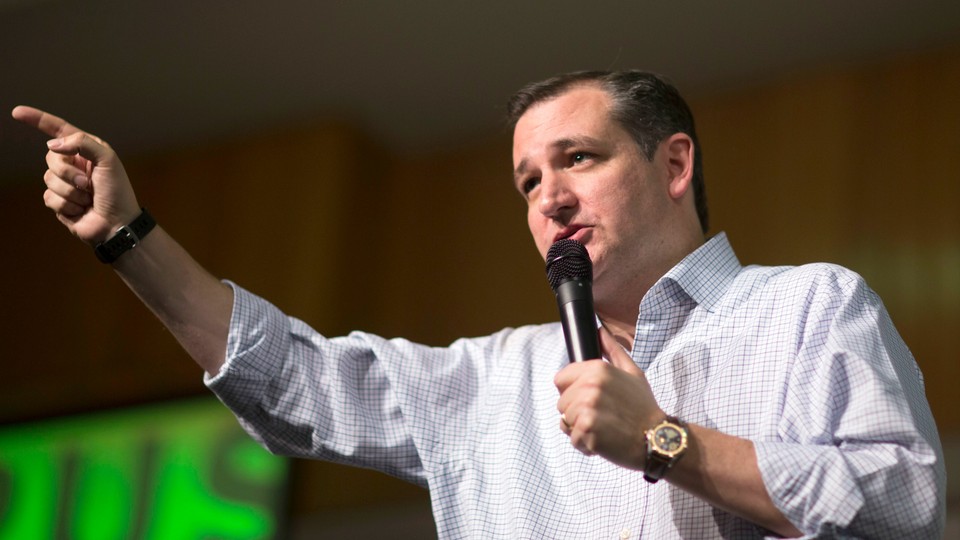 Today in One Paragraph
U.S. markets slid on Friday as concerns about oil prices and the global economy continued. Rescue teams are searching for 12 Marines after two helicopters collided off the coast of the Hawaiian island of Oahu. Michigan's governor requested a federal state of emergency amid ongoing concerns about water contamination. A Houston attorney filed a lawsuit over Ted Cruz's eligibility for the Oval Office, while Jeb Bush scored an endorsement from Lindsey Graham. And the Obama administration announced that it won't issue any federal-land leases for coal mining as they review the program.
---
Top News
Market Mayhem. The Dow Jones Industrial Average was in free fall on Friday, sliding around 400 points—or 2.4 percent. Markets in Asia and Europe also closed in the red on Friday as oil prices plunged further below $30 a barrel and concerns about a global recession continue. (Angelo Young, International Business Times)
Lawsuit Challenges Cruz's Eligibility. A Houston attorney filed a lawsuit on Thursday asking that the Supreme Court define what it means to be a natural-born citizen, but it seems certain the lawsuit will be tossed. Donald Trump has raised questions about Cruz's Canadian birthplace. (Dylan Baddour, The Houston Chronicle; Clare Foran, The Atlantic)
A Search-and-Rescue Effort. Twelve Marines are missing following the collision of two helicopters just off the coast of Hawaii late Thursday night. Rescue crews from the Coast Guard, Navy, and Honolulu Fire Department are assisting the Marine Corps in an ongoing search-and-rescue mission where the debris had been found. (Katie Rogers, The New York Times)
Lindsey Graham's With Jeb! The former GOP presidential candidate and South Carolina senator endorsed Jeb Bush in his home state, where Graham said voting would "reset this race." Graham never had much of a backing in the polls, and Bush's numbers are still lagging. (Ashley Killough and David Wright, CNN)
Flint Water Crisis. Michigan Governor Rick Snyder requested that President Obama declare a federal state of emergency in the greater Flint, Michigan, area due to the growing water-contamination crisis. Michigan's attorney general is launching an investigation into the lead contamination. (Matthew Dolan and Paul Egan, Detroit Free Press)
A Hold on Coal. The Obama administration announced that it will not issue new coal leases on federal land as it weighs an overhaul of the program. The Department of the Interior is looking at whether taxpayers are getting a "fair return" on the leases and analyzing environmental impact, part of a broader administration push to reform coal use. (Julian Spector, CityLab)
The Weekend in One Paragraph:  NBC News hosts a Democratic debate on Sunday night in South Carolina. Over the course of the long weekend, Ted Cruz, Donald Trump, Jeb Bush, Rand Paul, and John Kasich will make stops in New Hampshire. Cruz and Marco Rubio will swing by South Carolina, and Bernie Sanders will be in Alabama. On Monday, the British Parliament will debate whether to ban Donald Trump from the country as the real-estate mogul addresses Liberty University.
---
Follow stories throughout the day with our new Politics & Policy page. And keep on top of the campaign with our 2016 Distilled election dashboard.
---
Top Read:
"As the Republicans energetically recast their pitch to disaffected Americans, it's mainstream Democrats who are grappling with the more severe deficit of fresh messages, and new ideas." Politico Magazine's Todd S. Purdum on the Democratic Party's struggle to find a new pitch and what that means for 2016.
---
Top Lines
Chamber Cooperation? Newly minted House Speaker Paul Ryan and Senate Majority Leader Mitch McConnell seem like they could be headed for conflict, but "Ryan's goal of pursuing a conservative agenda and McConnell's priority of defending his most vulnerable senators aren't mutually exclusive, as long as expectations are properly managed." (Russell Berman, The Atlantic)
Rand Paul's Bad Timing. Just over a year ago, Rand Paul's ideas seemed in sync with where parts of the GOP were moving: Away from surveillance and towards a less-involved foreign policy, all the while reaching out to minority voters. But the game changed with the rise of ISIS. (David French, National Review)
---
Top Views
Just How Toxic Is Flint's Water? Very. An analysis, conducted by Virginia Tech, found that some water samples had lead levels high enough to be qualified as "toxic waste." This graphic puts it in visual perspective. (Christopher Ingraham, The Washington Post)
---
We want to hear from you! We're reimagining what The Edge can be, and would love to receive your complaints, compliments, and suggestions. Tell us what you'd like to find in your inbox by sending a message to newsletters@theatlantic.com.