The Edge: Entire District Panics Ahead of Historic Winter Storm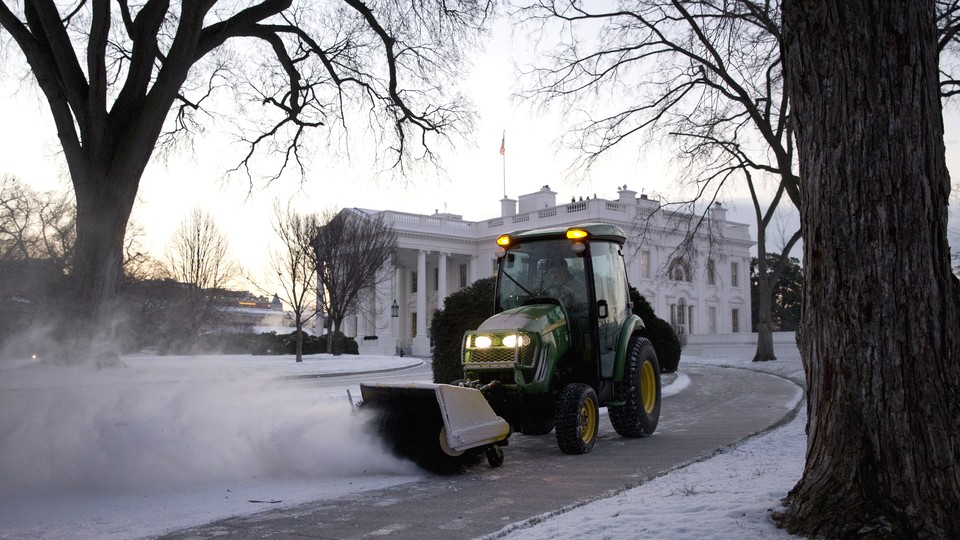 Today in One Paragraph
Senate Majority Leader Mitch McConnell surprised his colleagues in his prep to bring a measure on the use of military force against the Islamic State to the floor. Michigan Governor Rick Snyder released a batch of emails regarding the growing water crisis in his state. A British inquiry links Russian President Vladimir Putin to the 2006 death of a former KGB agent. And the mid-Atlantic is bracing for a massive winter storm.
---
Top News
A Senate Surprise. Majority Leader Mitch McConnell moved to push a new authorization for the use of military force against the Islamic State forward, paving the way for a possible vote. The measure has been a point of contention in the Senate, and was dismissed by McConnell earlier this month. (Sarah Mimms and Alex Rogers, National Journal)
Flint in the Spotlight. Michigan Governor Rick Snyder, in the wake of protests calling for him to resign, released 274 pages of emails, revealing that his aides worried last September that the Flint water-contamination crisis was being politicized. (John Wisely, Paul Egan, and Jennifer Dixon; Detroit Free Press)
#Snowmageddon2016. The East Coast is bracing for what is likely to be a historic winter storm. The National Weather Service said more than 60 million could be impacted by the storm, which is expected to drop over two feet of snow in some places over the weekend. (Meghan Keneally, ABC News)
'Probably Approved' by Putin. A British inquiry into the 2006 death of Alexander V. Litvinenko, a former KGB agent, concluded in a report that Russian President Vladimir Putin and the country's intelligence agency "probably approved" the operation to kill him. (Alan Cowell, The New York Times)
Tomorrow in One Paragraph: New Hampshire will be crowded, as all three Democratic candidates—Hillary Clinton, Bernie Sanders, and Martin O'Malley—along with Republicans Chris Christie, John Kasich, Marco Rubio, Rick Santorum, Rand Paul, and Jeb Bush make the rounds. Mike Huckabee and Ben Carson are in Iowa, while Carly Fiorina headlines an event in Washington, D.C. Bill Clinton will stump for Hillary in California and Nevada.
---
Follow stories throughout the day with our new Politics & Policy page. And keep on top of the campaign with our 2016 Distilled election dashboard.
---
Top Read:
"He switches like this, back and forth between past and present tense, throughout our conversation. It lends itself to a reasonable conclusion that Huckabee's campaign is a lost cause. Yet he clearly believes otherwise, and offers an assessment that while arguably detached from the realities of the GOP race, is impossible to repudiate." National Review's Tim Alberta on Mike Huckabee's last-ditch, home-stretch effort.
---
Top Lines
McConnell's Criminal-Justice Dilemma. Democrats and Republicans have been converging on a policy consensus on criminal-justice reform. The next task is convincing the Senate majority leader that legislation that reduces prison sentences wouldn't backfire on Republicans in an election year. (Russell Berman, The Atlantic)
Running From Rubio? The Florida Senator was held up by the GOP establishment as the party's practical and reliable answer to Donald Trump—but that support is fading quickly. (Burgess Everett, Politico)
---
Top Views
And the Attendance Award Goes to... Senator Chuck Grassley, who "broke the record for longest streak without missing a vote." See a chart comparing Grassley's attendance to the senators running for president here. (Amber Phillips, The Washington Post)
---
We want to hear from you! We're reimagining what The Edge can be, and would love to receive your complaints, compliments, and suggestions. Tell us what you'd like to find in your inbox by sending a message to newsletters@theatlantic.com.