The Edge: Emailgate Saga Continues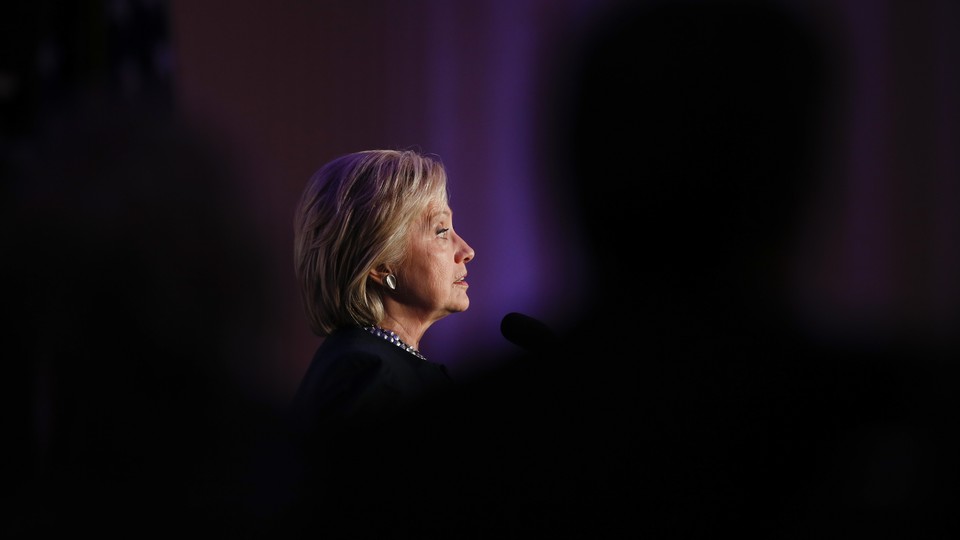 Today in One Paragraph
The U.S. State Department said that former Secretary of State Hillary Clinton's private server contained "top secret" information. A report from the Commerce Department displayed a sluggish fourth quarter in 2015. Michigan's governor signed a bill allocating $28 million in additional aid to Flint. And overseas, Iran said it flew a surveillance drone near a U.S. aircraft carrier.
---
Top News
Emailgate Continues. Hillary Clinton's private server contained at least 22 emails with "top secret" information, according to the State Department. It's unclear if the information was classified when it was sent or was deemed sensitive after the fact. (Bradley Klapper, Associated Press)
A Rough Fourth Quarter. Economic growth sharply fell in the last three months of 2015, the U.S. Commerce Department said on Friday. But economists expect that growth will snap back in the first quarter of 2016. (Lucia Mutikani, Reuters)
Developments in Flint. Michigan Governor Rick Snyder signed a bill authorizing $28 million of the state's budget to cover more bottled water, health screenings, and other emergency responses. (Paul Egan, Detroit Free Press)
Tension With Iran. Iranian state media reported Friday that it flew a surveillance drone over a U.S. aircraft carrier and released a video of the encounter. The U.S. Navy said it couldn't confirm the authenticity of the video, but it had noticed an unarmed Iranian drone fly near a vessel earlier this month. (Nasser Karimi and Jon Gambrell, Associated Press)
'In the Interest of Transparency.' The FBI released footage of a traffic stop late Thursday that shows Robert "LaVoy" Finicum being shot and killed by state police officers after trying to barrel through a roadblock and getting out of his car. Five militants, including leader Ammon Bundy, who had been illegally occupying the Malheur National Wildlife Refuge in Oregon were arrested earlier this week. (Gordon Friedman and Melanie Eversley, USA Today)
Tomorrow in One Paragraph: Almost the entire field of presidential candidates are in Iowa, as they make their final rounds before the first votes of the 2016 presidential primary are cast on Monday. John Kasich, however, is focusing his weekend efforts in New Hampshire
---
Follow stories throughout the day with our new Politics & Policy page. And keep on top of the campaign with our 2016 Distilled election dashboard.
---
Top Read:
"The evening offered an almost perfect reflection of the state of the Republican race, with Trump occupying his own space and the rest of the candidates competing with one another to emerge as his principal rival. In his absence, the other hopefuls struggled with only limited success to distinguish themselves as the best of the rest." The Washington Post's Dan Beiz on how Thursday's debate illustrates the GOP race in a "nutshell."
---
Top Lines
'A Strong Third.' That's where Marco Rubio hopes to finish in Iowa, part of his long game that some have criticized as too "generic." But too generic might just be starting to pay off. (Benjamin Wallace Wells, The New Yorker)
Trouble at Home. Rand Paul's struggling presidential campaign could soon be the least of his worries—he has a challenger to represent Kentucky in the Senate. (Russell Berman, The Atlantic)
---
Top Views
Experience the Campaign Trail. This virtual reality film produced by The New York Times puts viewers in the arenas, auditoriums, restaurants, and banquet halls visited by presidential candidates.
The Week in Cartoons. Politico compiled a gallery of political cartoons that depict campaign blunders, hypocrisies, and other events from across the country.
---
We want to hear from you! We're reimagining what The Edge can be, and would love to receive your complaints, compliments, and suggestions. Tell us what you'd like to find in your inbox by sending a message to newsletters@theatlantic.com.