The Edge: Candidates Gear Up for the Sixth Republican Debate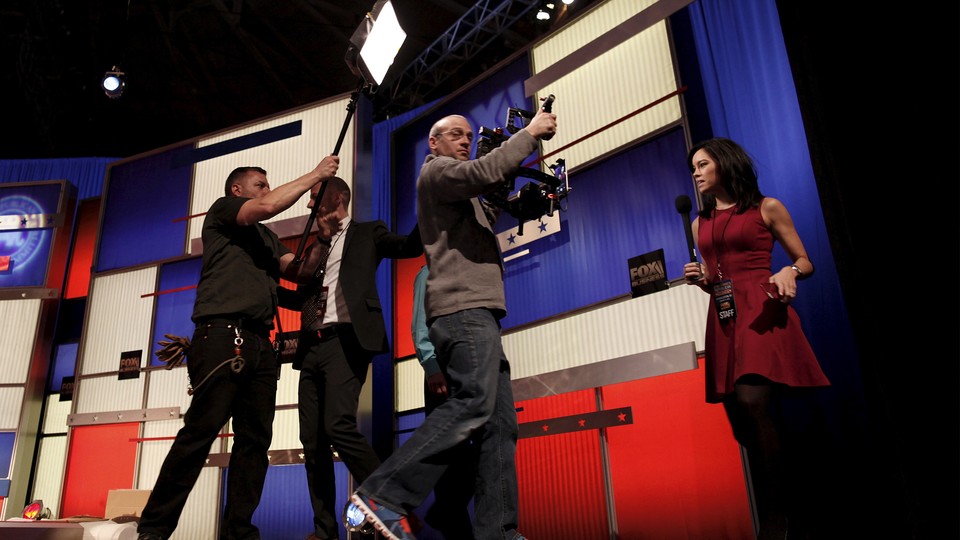 Today in One Paragraph
Republican presidential hopefuls are gearing up for tonight's debate. For some it'll be an opportunity to make a much-needed impression, including Ben Carson, whose finance chair resigned hours before the gathering. Overseas, a terrorist attack killed seven, including five attackers, and injured at least 19 in Indonesia. In legal news, a federal judge ordered the release of a video that shows a Chicago police officer shooting and killing a black teenager in 2013, and Planned Parenthood sued the group that took and posted undercover videos alleging the organization profited from selling fetal tissue from abortions.
---
Top News
Back in the Ring. Fox Business Network will host one of the last Republican debates before the Iowa caucuses. The debate, which takes place in South Carolina and begins airing at 6 p.m., will feature seven candidates on the main stage. Rand Paul, who was demoted to the undercard debate due to low polling numbers, said he will not participate. (Russell Berman, The Atlantic)
Attack in Jakarta. Secretary of State John Kerry condemned today's attacks on Jakarta, the capital of Indonesia, saying that "acts of terror are not going to intimidate nation-states." A message allegedly from the Islamic State claimed responsibility for the attacks, which left seven dead, including five attackers, and injured at least 19. (Fred Barbash and Brian Murphy, The Washington Post)
More Questions for Chicago. Videos that show a Chicago police officer fatally shooting 17-year-old Cedrick Chatman were released by the city Thursday afternoon, a day after the city reversed course on more than two years of fighting to keep the video private. (Jason Meisner, The Chicago Tribune)
Another One Bites the Dust. Ben Carson's finance chair, Dean Parker, resigned "amid questions about his use of campaign funds and criticism from Carson allies and donors." This is the latest in a string of staff departures from the Carson campaign. (Kyle Cheney, Politico)
Served. Planned Parenthood filed a lawsuit accusing the anti-abortion group, the Center for Medical Progress, "of unlawful behavior ranging from secret taping to trespassing." (Sarah Ferris, The Hill)
Tomorrow in One Paragraph: Marco Rubio, Jeb Bush, John Kasich, Rand Paul, and Carly Fiorina will be in New Hampshire. Bill Clinton will stump for Hillary Clinton in Iowa, where Martin O'Malley and Donald Trump will also be campaigning. Mike Huckabee will be in South Carolina.
---
Follow stories throughout the day with our new Politics & Policy page. And keep on top of the campaign with our 2016 Distilled election dashboard.
---
Top Read:
"Politically speaking, Garrett is a fascinating anomaly—a bit like encountering a penguin in the desert. His views are those of a rural Alabama conservative, yet he represents a prosperous New Jersey district just over the George Washington Bridge from Manhattan that's home to many bankers, brokers, and financial analysts." Bloomberg's Joshua Green on how the anti-gay views of Republican Representative Scott Garrett, the chair of the capital markets subcommittee, are presenting a challenge to Wall Street.
---
Top Lines
Seeking Approval. Bernie Sanders and Hillary Clinton are vying for the endorsement of Massachusetts Senator Elizabeth Warren, who has said she will pick a candidate in the primaries. Why? The liberal senator, best known for her positions on banking reform, is "one of the few national figures who carry real sway with Democratic base voters." (Annie Linskey, The Boston Globe)
Wooing the Disillusioned Voter. National Review's Henry Olsen argues that the GOP establishment shouldn't be turned off by the blue-collar voters backing Trump. Instead, the party should try to win their support, but that "means gaining their trust, and that means first affirming the core elements of their worldview." (Henry Olsen, National Review)
Top Views
#Trending. Track what emojis are being used to describe the presidential candidates on Twitter during tonight's GOP debate here. (Andrew McGill, The Atlantic)  
---
We want to hear from you! We're reimagining what The Edge can be, and would love to receive your complaints, compliments, and suggestions. Tell us what you'd like to find in your inbox by sending a message to newsletters@theatlantic.com.